Canon Printer Troubleshooting, Ink, and Toner Beginner's Guide
Do you own a Canon printer, or are you planning to buy one? If you are interested in purchasing the best Canon printer that suits your needs, it is a must to learn about Canon ink and toner cartridges first. This Canon printer troubleshooting for beginner's guide will tackle the different Canon ink, toner, and printer issues. You will get to know important information so you can be ready to start your printing journey. We will teach you basic troubleshooting steps that can save you time and money. Also, allow us to help you choose Canon printer ink and toner cartridges that cater to your specific printing demands.
If you already own a Canon printer and you are trying to figure out what ink you should buy, feel free to check what ink does my printer use . On the other hand, if you are still planning to buy a Canon printer, we will introduce you to different printer ink and toner types to help you decide the best one you should buy. But first, let us answer some common questions that you might have in mind about Canon printer inks. This Canon ink guide will provide comprehensive information in choosing the best cartridge to purchase
How to find Canon printer model?
What model is my Canon printer? If you are unsure or want to know what your printer model is, this guide is for you. Printer names are composed of the brand name, printer series, and printer model number. A good example is the Canon Pixma MX922. So how do you find all that information? Your printer manual is your best bet. You can also check it in the following areas of your printer:
Front
Top (near the control panel)
Inside the cartridge holder
You can also take a look at this guide on how to find the printer name . Knowing the exact Canon printer model is essential to save you from purchasing the wrong cartridges.
Why is Canon ink so expensive?
Original Canon ink is expensive since it is how big companies level the cost of their printers. You can purchase a printer for $200 or less. However, the running cost may be a bit higher. You may consider using remanufactured or compatible cartridges. These cartridges produce identical quality prints as the original ones but at a budget-friendly price. You can check cheap Canon cartridge from CompAndSave.
What are compatible and remanufactured Canon ink and toner cartridges?
Canon remanufactured ink cartridges are cleaned and inspected thoroughly before being refilled with ink or toner powder. It is the chosen alternative to original cartridges. Reusing the original cartridges enables manufacturers to sell them at a lower price.
Canon compatible cartridges, on the other hand, are brand-new and are produced by a third-party company. The goal is to meet the standards of the genuine ones or exceed them. There is no need to worry about its performance since it is made to match your printer model and to work just like the original cartridges.
Does printing with third-party ink or toner voids Canon printer warranties?
We understand that you may feel hesitant to use other types of cartridges. Printer companies make you believe that it will void your warranty if you choose other alternatives. Take note that using compatible or remanufactured cartridges will not void your warranty according to MAGNUSON-MOSS WARRANTY IMPROVEMENT ACT, United States Code Annotated Title 15 Commerce Trade Chapter 50, Consumer Product Warranties 15 Sections 2302.
How long does Canon ink last?
Generally, ink and toner cartridges have the same shelf life of two years when unopened, regardless of the brand. However, once you open the cartridge, you should consume it within six months. The ink tends to dry up if not used within the recommended period. It is also vital to ensure a good storage area for your Canon cartridges to last long. Avoid putting them directly under artificial or natural light. Check our article on how to store ink cartridges and toner cartridges to preserve its shelf life.
---
What does XL mean on Canon ink cartridges?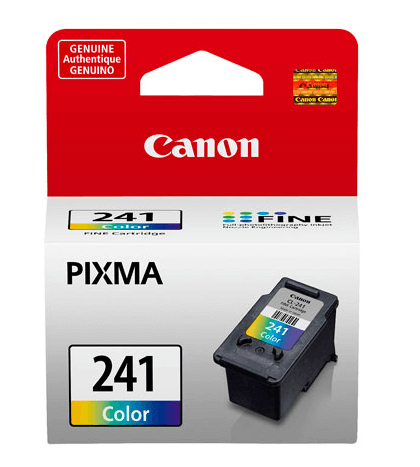 Canon 241 Tri-color Cartridge (Standard)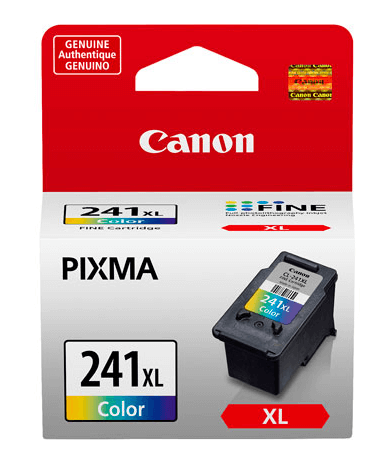 Canon 241XL Tri-color Cartridge (High Yield)
Canon produces standard yield and higher yields like high-yield and super high-yield for its ink cartridges. If a cartridge is high-yield, you will see the 'XL' sign on the packaging right after the cartridge number. You can see an 'XXL' for super high-yield cartridges, while standard cartridges will only bear the cartridge number on the package and cartridge itself. Please note that there are other higher-yield cartridges aside from high and super high-yield printer ink. For those who are only printing from time to time, a standard cartridge would be enough. If you print often, you can save more if you use the cartridges at higher yields.
As mentioned above, XL means high-yield but let us dig further to understand how it works. Standard and high-yield cartridges look the same in size and shape, but they differ in the amount of ink inside. High-yield cartridges contain more ink. Therefore it can produce more printouts. It also means you do not need to replace the cartridges as often when using the standard ones. Like the Canon 241 cartridges, standard variants can produce 180 prints, while the high-yield ones, which is the Canon 241XL provide 400 pages.
What does XL mean on Canon ink cartridges?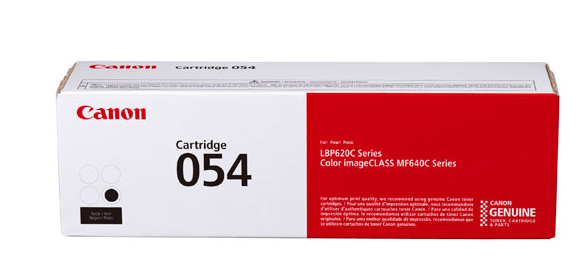 Standard Canon 054 Black Toner Cartridge (3024C00)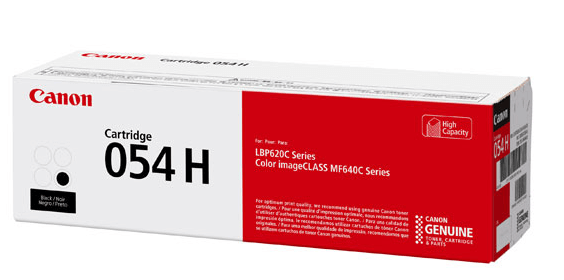 High Yield Canon 054H Black Toner Cartridge (3028C001)
As for Canon toner cartridges, the 'H' on the packaging means high yield, while the standard variants only have the cartridge number. A high-yield toner can produce twice as many printouts as the standard type. For example, the standard Canon 054 black toner cartridge has a page yield of 1,500, while the high-yield Canon 054H black toner cartridge has 3,100.
---
What are the kinds of Canon printer ink and toner cartridges?
For Canon printers, you can purchase different types of ink cartridges. Some inkjet printers only use two cartridges to print - a Canon black ink cartridge such as Canon PG-245 , and a tri-color cartridge like Canon CL-246 ink .
Other printer types use individual ink cartridges for all colors, like Canon 281XXL cartridges . Canon also manufactures ink bottles such as the Canon GI-21 ink bottles for their MegaTank printers. Aside from that, they also have toner cartridges if you prefer laser printing. Let us start discussing their qualities to determine the best type of Canon printer ink and toner cartridges for your home, office, or business. The first stop for our discussion is Canon ink cartridges.
Index
Related articles:
Need Help?
Our customer support is available from Mon-Fri, 6am-4pm PT