Remanufactured Cartridges Are Good For The Earth
Do you know how long it takes for ink cartridges to decompose in landfills? The answer is 450 to 1000 years. Ink cartridges consist of several parts including a silicon circuit, an ink tank, and a flexible piece that controls ink distribution. Each time a manufacturer produces an ink cartridge the process uses more than 2 pints of oil while making a toner cartridge uses more than 5 pints.
Every time we produce a beautiful printout, we are also depleting the earth.
Where can you find eco-friendly cartridges?
We have the solution. CompAndSave sells environmentally friendly remanufactured cartridges, which reduce landfill waste while also conserving resources and saving you money. A remanufactured cartridge is an OEM (Original Equipment Manufacturer) cartridge that has been previously used but is remanufactured (recycled) and refilled with ink. Remanufactured cartridges work just like OEM cartridges but with added advantages.
Through choosing eco-friendly ink cartridges you:
Help the Environment: Each year, millions of people toss their empty ink and toner cartridges into the garbage. The cartridges ultimately end up in a landfill, polluting our Earth. Just imagine if every person recycled his or her printer cartridges, future landfills could become nature preserves, schools, or recreational parks.
Conserve Resources: Remanufactured products reduce the use of plastic, aluminum, steel, and rubber.
Save Money: CompAndSave remanufactured ink and toner cartridges cost up to 80% less than new, brand-name cartridges. You can save money and the earth at the same time!
New ink and toner cartridge packaging often includes instructions on where to recycle your spent cartridges, and many office supply stores also offer drop-off stations. Thank you for going green with CompAndSave!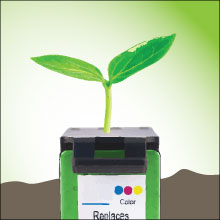 Numbers you should know:
Each cartridge becomes 3.5 pounds of solid waste.
80% of cartridges (over 350 million cartridges each year) are thrown away instead of recycled.
It takes 450-1000 years for a cartridge to decompose in landfills.