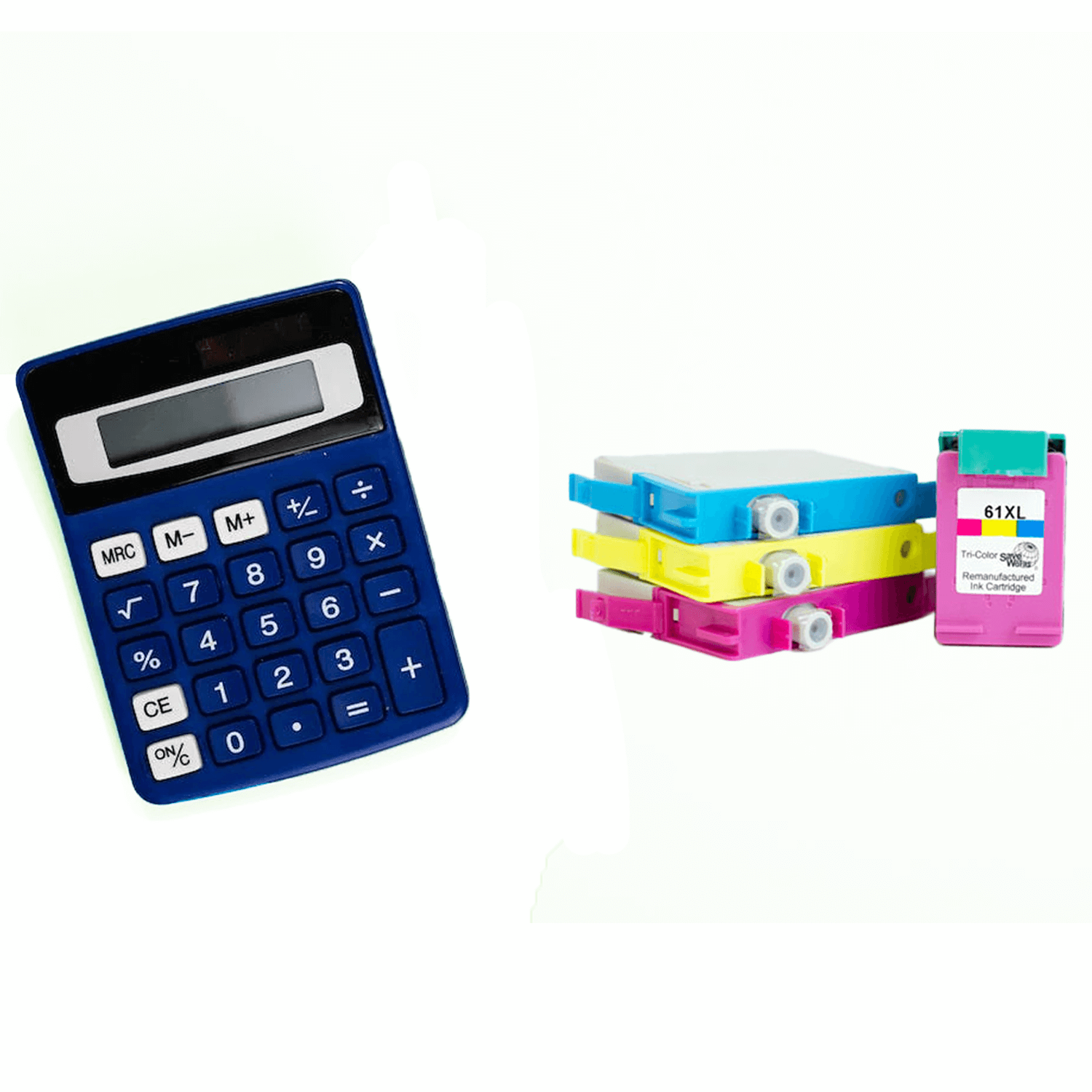 Printing costs can be a major headache, whether you're a small business or a large corporation. Add in the cost of paper, ink, and other materials, and you can quickly see how expensive it can be to print large quantities of paperwork. To save money on printing, you'll need to understand how to calculate printing cost per page.
Not only will this help you cut down on your average cost per page, but you will also know why it's important to use a printer more responsibly. We'll also discuss which type of ink cartridge can potentially save you money in the long run. Interested? Read on to know it all.
How to Calculate the Cost Per Page for Black and Colors
When calculating the ink cost per page, you need to know about two key elements involved in the mix of the equation; printer cartridge cost and page yield for each cartridge. The formula for cost per page is:
Cartridge price/Page yield = Cost per page
To better understand the average cost to print a page we need to understand all of these involved elements as well. Knowing their role in your costs will help you make better decisions when it comes to saving money on buying printing supplies. So let's start by understanding the factors in the cost per page calculator.
Page Yield
The first factor in calculating the ink cost per page is the approximate number of pages you can print before a cartridge runs out. Page yield is the total number of pages the ink inside a cartridge can be used to print.
However, it is not the actual number of printed pages a cartridge can produce for everyone. The yield per page can fluctuate significantly, mainly because of:
To ensure the comparison between brands and products is easy for consumers, manufacturers base their cartridge yield on 5% coverage per page.
---
What is 5% coverage per page?
This means that they count 5% page coverage as one page printed. If a printer cartridge has a yield of 500 pages, you can print 500 small paragraphs or short emails.
So if you are printing text-heavy documents like for legal or academic purposes and one A4 size page has 25 paragraphs, you can expect one cartridge to yield 200 pages instead of the manufacturer's mentioned 500 pages (with 5% coverage per page). Does that make sense?
You can find the page yield mentioned at the side of the cartridge box or on its product page on the seller's website.
Here's how 5% coverage looks like: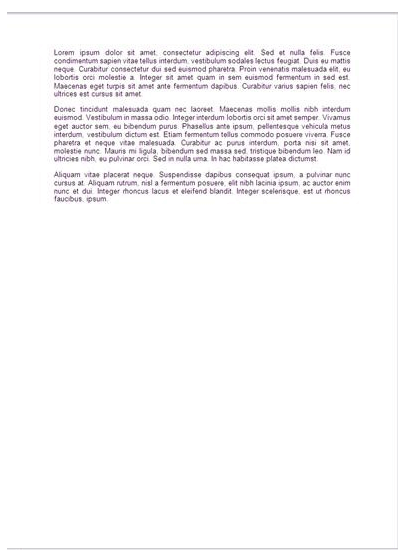 5% coverage image via tonergiant.co.uk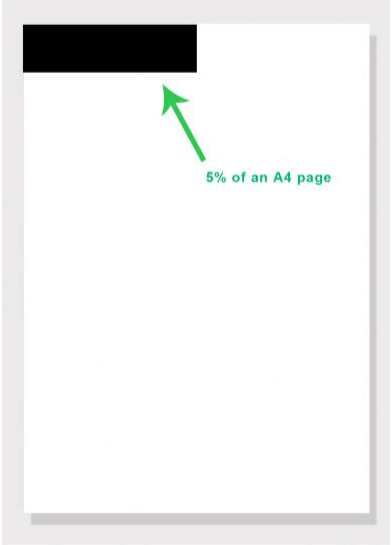 5% coverage image via tonergiant.co.uk
---
Cartridge Cost
The second factor in how to calculate printing cost per page is the cartridge price. This varies from one product to another and from one manufacturer to another. Some ink cartridges can be purchased for under $10, while some toner cartridges can go for hundreds of dollars. This doesn't immediately mean that the inkjet printer cost per page is lower since toner cartridges have higher page yields.
You can expect that genuine cartridges from major printer brands are more expensive compared to remanufactured or compatible cartridges. The two kinds of cartridges offer the exact same yield but vary greatly in price. Major printer brands claim that the high price of the cartridges is due to the cost of manufacturing them, such as research, manpower, and technology.
On the other hand, remanufactured or compatible cartridges from third party companies can lower their price since some parts are recycled after thorough examination and cleaning. CompAndSave orders a lot of products directly from the factory and sells them exclusively online. Cutting down on operating costs allows the company to sell cheap ink cartridges but with the same quality as genuine ones.
For instance, the HP 65 XL black ink cartridge has a 300 page yield. OEM HP 65 XL black ink cartridges costs $32.99 while CompAndSave's remanufactured HP 65 XL is only $20.95.
Remember, even the slightest variations in page yield and cartridge cost can lead to a much higher or lower cost to print a page. So, understanding the printing cost per page would mean you could make a smart decision on what cheapest per page printer to buy.
---
Printing Price per Page Calculation
Now the question is, how to take this data of page yield and cartridge cost and calculate how much printing each page with a specific cartridge will cost you? That's what we'll calculate now.
Black and White Print Cost Per Page
The total ink cost per page will define how much you will spend on each page, down to the specific number of cents. Now that you know what the page yield and cartridge costs are, you can put them into the formula and find out the costs yourself. The match is actually quite simple; here's how to do that: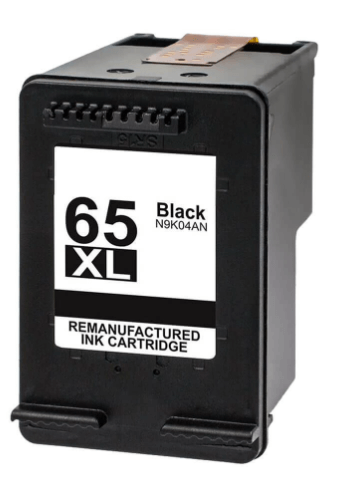 High-yield Remanufactured HP 65 XL Black Ink Cartridge
First, know the formula, black and white print cost per page = Cartridge Price / Cartridge Page Yield
Now, let's calculate the OEM HP 65 XL black ink cartridge:
$32.99/300 = 11 cents cost per page
This time, let's do the printing price per page calculation of remanufactured HP 65 XL black ink cartridge: $20.95/300 = 7 cents cost per page
Color Print Cost Per Page
Some color ink cartridges, like HP, are already three in one. For a tri-color cartridge, you can use the same formula: Cartridge Price / Cartridge Page Yield. However, if you're using individual ink or toner cartridges, the formula will be a little different. That's because you have multiple, typically three, cartridges involved instead of just one black cartridge.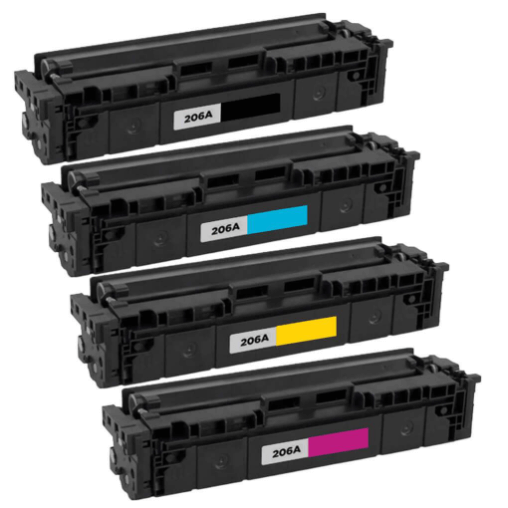 Remanufactured HP 206A black, cyan, magenta, and yellow toner cartridges
To calculate the color print cost per page, you need to calculate the separate cost for each of the cartridges first, using the same formula:
Cost Per Page = Cartridge Price / Cartridge Page Yield
Once done, you can add up the costs for all the cartridges. Most magnet, yellow, and cyan cartridges will have the same page yield, while black cartridges will have a higher page count.
If your printer uses all four individual ink cartridges, you will have to add the cost of all four of them to calculate the color print price per page. The formula then will be:
Color Print Cost Per Page = (black cartridge price / page yield) + (Colored cartridge price / page yield) x 3)
Note: The reason we have multiplied the price of colored cartridges by three is that there are three color cartridges in a toner. So instead of calculating their separate prices and adding them up, we just calculate the price of a single cartridge, multiply it by 3, and then add it to the black print cost per page.
For this calculation, let's use a toner cartridge to get the laser printer cost per page. We take the remanufactured HP 206A yellow toner cartridge as all 206A (yellow, cyan, magenta, etc.) go for $49.95. Even the black one has the same price, but the yield is different.
The page yield for 206A colored cartridges is 1,250, while the remanufactured 206A black cartridge is 1,350 pages. Let's put these values into the formula.
($49.95/1,350) + ($49.95/1,250) x 3
=> 3.7 cents + (3.9 cents x 3)
=> 3.7 cents + 11.98 cents
=> 15.68 cents
This is our total cost per page for remanufactured HP 206A colored cartridges, which is 15.68 cents.
Printing in color can be pricey, but if you know some tips and tricks, like buying a combo set, you can save even more. Remanufactured HP 206A toner set of 4 already has black, cyan, magenta, and yellow for the price of $183.80. Here's how to calculate the printing cost per page for the combo set.
Add all individual page yields.
Cyan: 1,250
Yellow: 1,250
Magenta: 1,250
Black: 1,350
TOTAL: 5,100 pages
Apply the formula: Cost Per Page = Cartridge Price / Cartridge Page Yield
$183.80/5,100 = 3.6 cents cost per page
For only 3.6 cents printing price per page, you can save so much more when you opt for combo sets!
---
Different Ink Cost Comparison
Now that you know how much difference there can be in cost between inks depending on the yields, let's make a detailed comparison of the costs of inks on the basis of page yields.
Standard vs. High-yield
The word "yield" refers to the number of pages you can get out of ink cartridges, as we discussed above. So if one cartridge is standard yield while the other is high yield, then it's a no-brainer that the higher one will be going to print more pages. This is because the higher-yield ink has a bigger storage tank that deposits a higher volume of ink.
Similarly, if there's an extra high/jumbo yield, then it can pump out even more pages than its higher yield counterpart because of the bigger tank. But what does it mean when it comes to cost savings for an end user like you? Let's put these cartridges side by side and compare the printing price per page.
For this table, we are taking HP 61 cartridges in standard and high-yield variants:
SPECIFICATIONS
OEM
COMPANDSAVE
(Remanufactured)
INK CARTRIDGE
PAGE YIELD
Price
Cost Per Page
Price
Cost Per Page
Standard HP Black 61 Ink Cartridge
200
$18.99
9.49 cents
$22.95
11.48 cents
High-yield HP Black 61XL Ink Cartridge
480
$41.99
8.74 cents
$22.95
4.16 cents
Standard HP Tri-color 61 Ink Cartridge
165
$24.99
15.14 cents
$24.95
13.3 cents
High-yield HP Tri-color 61XL Ink Cartridge
330
$45.99
13.93 cents
$22.95
6.95 cents
So if you print often, using the high-yield variant definitely gives you more savings in the long run. The best cost per page printer is the one that accepts higher yields of cartridges.
CompAndSave offers combo sets for remanufactured HP 61 black and tri-color ink cartridges for even bigger printing charges per page savings. Choose from HP 61 combo set of 2, set of 3 or set of 5 with 3 black cartridges and 2 tri-color ink cartridges.
---
Tips to Save on Ink Cartridge Costs
Just knowing how much different yields and colors of ink cost and the cost per page calculation is not enough. You should also know how you can save the most money the next time you shop for ink cartridges. Here's how to do it:
Get the Right Printer
One of the main problems many offices and individuals face is that they get the wrong type of printer when it comes to cost savings. By 'wrong', we mean using a printer that doesn't suit well with your printing needs. Your printer will be the basis for what cartridge you will use. Consider first if you should use an inkjet or laser based on what you need.
Choosing a low cost per page printer is crucial in saving printing costs. For businesses and offices that print often, laser printers are the first choice due to their high page yield. If you don't print in color, monochrome printers are the way to go. All-in-one inkjet printers are the must-haves for those who print in color. It's necessary to do a printer cost per page comparison before you decide on the right machine for your needs. Get the low cost print per page printer that can cater to all your printing jobs.
Go for High Yield Ink
Higher yield inks almost always offer better cost savings as compared to the standard ones. The rule here is simple, which applies to global trade as well; buying a higher quantity of something results in a lower price.
Buying one roll of tissue paper will cost more than the one roll you get if you buy a whole pack of 10. The same is with ink cartridges. If you buy high or extra-high yield, you get more ink for less money, resulting in lower print costs per page. So do your cost per page comparison with standard vs. high yield cartridges before deciding what variant to buy. The cost of printing one page can vary greatly!
Purchase From 3rd Parties
We cannot stress this one enough because that's what ultimately saves you the MOST money! As a 3rd-party seller of printer ink cartridges that are compatible with all brands of printers, we can proudly say that CompAndSave has up to 40% or even more OFF on the OEM costs. And not just that, we also offer various discount coupons and even free shipping on orders above $50, saving you some more money. You will enjoy a lower price of printing per page with eco-friendly and high-quality cartridges.
Remember, the most important factors that you need to pay close attention to in calculating the cost of printing one page include the page yield and the cost of the cartridge. The lower the cost and the higher the page yield it has, the lower your overall printing cost per page is going to be.
Knowing exactly how to calculate printing cost per page will help you not only be more careful with how much you print, but you can also better manage your monthly printing expenses. You can finally do an ink cost per page comparison to keep your budget in check.
Got questions on how to calculate ink cost per page and how to save on printer ink costs? You can contact our toll-free number: 1-833-465-6888 from Mondays to Fridays from 6am-4pm PT. Our customer service representatives will be glad to assist you with your printing inquiries.
Index
Related articles:
Need Help?
Our customer support is available from Mon-Fri, 6am-4pm PT