The printhead is a part of the printer or cartridge that aids in transmitting ink onto the paper. It does this by shooting tiny droplets of ink through several printer nozzles to produce the printouts. Printheads can get clogged over time due to dust or dried ink. It can be frustrating if your printed pages are of bad quality.
How Can You Tell if a Printhead is Clogged?
Your printhead is clogged if you notice the following signs below:
Your printer's LCD screen indicates that your ink cartridges are full, but no ink is getting to the paper.
Your printouts are either faded or blue, even if there is enough ink.
You are seeing streaks or spots on your printouts.
Knowing how to clean printer heads is a must to maximize the use of your printer and cartridges. The first thing you should know is the location of your printhead. It can differ per printer or cartridge. To start with the printhead cleaning guide, we'll help you locate your printhead.
---
Where is the Printhead on a Printer?
Black and tri-color cartridges that are box-types, such as HP 61 to 67 series and Canon 245, 246 series, have built-in printheads. Most individual ink cartridges that are rectangular don't have built-in printheads, such as HP 952 series and Epson 252 series. You can find the printhead once you uninstall all the ink cartridges. Remove the cartridge carrier, then flip it over to see the printhead nozzles at the back.
How to clean a printhead? Locate it first. You can start by looking at the sample images below:
Ink Cartridges with Integrated Printhead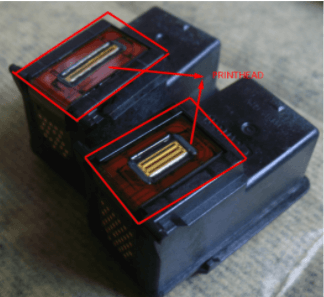 Printheads at the back of a cartridge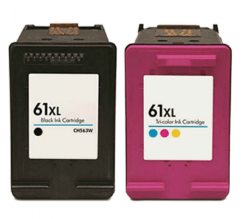 Replacement high yield HP 61XL black and tri-color ink cartridges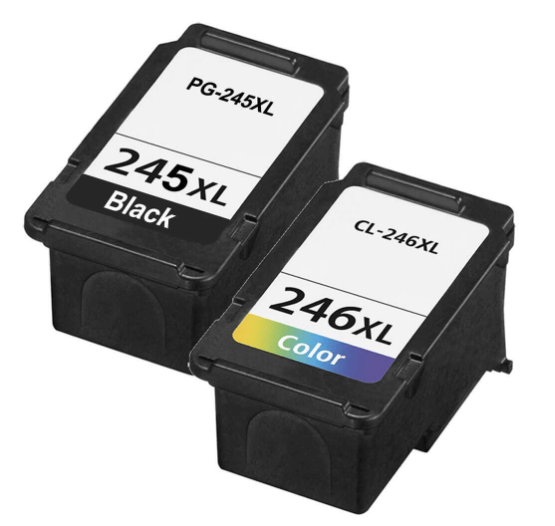 Replacement high yield Canon 245XL black and 246XL color ink cartridges
Ink Cartridges Without Integrated Printhead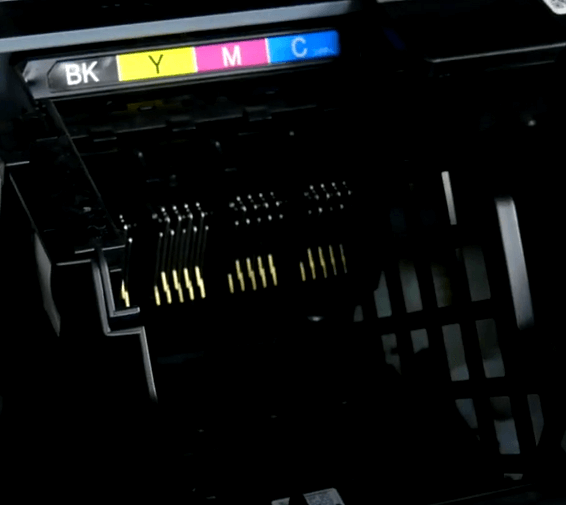 Printhead installed in a printer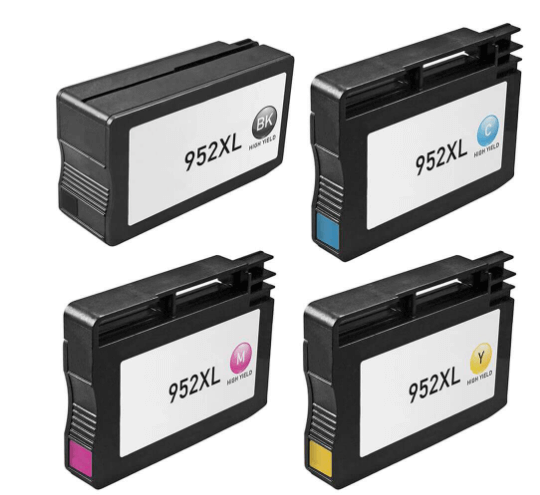 Replacement high yield HP 952 XL ink cartridges in black, cyan, magenta, and yellow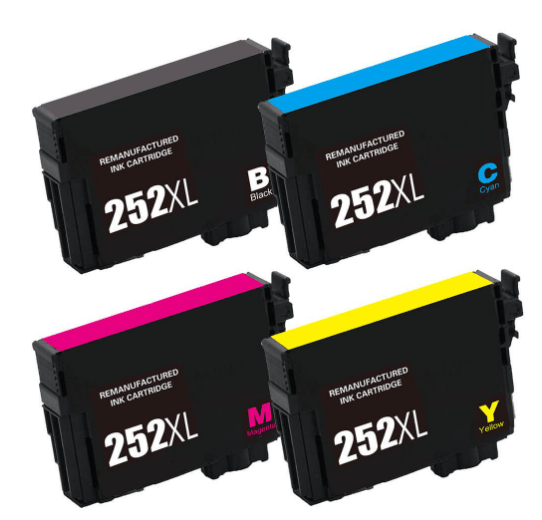 Remanufactured high yield Epson 252XL ink cartridges in black, cyan, magenta, and yellow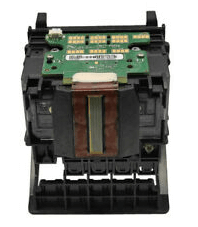 Printhead at the back of the cartridge cradle
---
How to Clean a Printhead?
Now you know where to find the printhead, let's proceed with how to clean a printhead. You can either do the printhead cleaning through your printer's software or unclog it manually. The easiest way to unclog printhead is by running the cleaning function. You can check your printer manual for specific instructions or follow the steps below on how to clean printer heads.
How to run print head cleaning?
You can run a printhead cleaning cycle on your printer using cartridges with or without integrated printheads. Keep in mind that the printhead cleaning cycle uses a lot of ink. This is not recommended if your printer cartridges are running low on ink, as this method might damage your printer.
Here's how to clean clogged printhead automatically:
Check your printer's display menu.
Select Printer Maintenance, then choose Clean Printhead function.
Once done, you can do a test print to check if it works.
If the printouts still have bad quality, unplug your printer, then take out the cartridges.
Clean the cartridges' contacts with a dry, clean cloth. (This step is applicable for cartridges with integrated printheads.)
Plug in your printer. Allow the printer to start up and complete the automated setup process.
Do another printer head cleaning test page. You can do it a few times to achieve desired printout results.
If running a printhead cleaning cycle doesn't work, we recommend cleaning it manually instead. It's important to note that printheads might be situated on the cartridge or within the printer, therefore cleaning them slightly varies from printer to printer. For ink bottles, running a printhead cycle will do.
---
How to manually clean print head?
If your cartridge has an integrated printhead, you can perform printhead cleaning by following the steps below: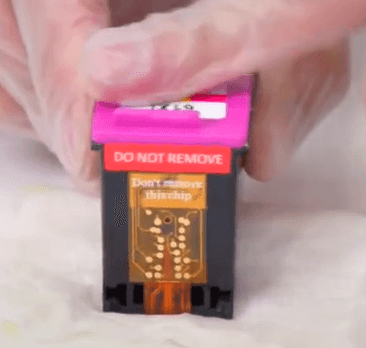 Prepare a damp paper towel and a dry paper towel. Use gloves to protect your hands from the ink.
Remove the ink from the printer. To prevent damaging the ink cartridge, be careful not to touch the nozzle or circuitry.
Place your ink cartridge face down on the damp paper towel, then tap it several times to shake the ink inside.
Slide the ink cartridge gently from the top of the paper towel to the bottom. Do it several times until all the colors of your tri-color ink cartridge are visible, which are cyan, magenta, and yellow.
After this, use the dry paper towel to blot the ink cartridge gently after cleaning it with the damp towel. Be gentle and ensure that all moisture is removed.
Reinsert the ink cartridge back into the printer, and print a test page to ensure that the printhead is working properly.
---
How to unclog printhead on a printer?
Now, what if you're using individual cartridges? It means your printhead is inside the printer. This time, we'll give you the steps on how to clean inkjet printhead.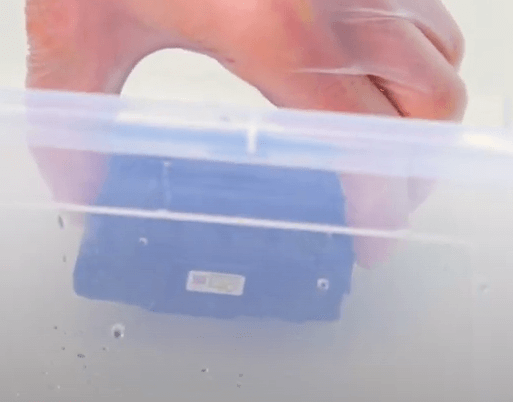 Prepare a dry paper towel in a plastic container, folded into quarters.
Pour roughly two inches of distilled warm water over the paper towel, totally submerging it. You can also use 50% isopropyl alcohol and 50% distilled water.
Uninstall all the ink cartridges from your printer. Place the cartridges on a paper towel. Ensure that it is facing upwards.
Remove the cartridge carrier or the printhead from the printer.
Use a microfiber cloth dipped in the distilled warm water to clean the clogged printer nozzles.
Submerge the printhead in the container with water for 10 minutes. Make sure the nozzles are at the bottom.
Dry the printhead by placing it on a paper towel with the nozzles up. Make sure not to touch the nozzles to avoid damaging them.
When the printhead is dry, reinstall it in your machine. Ensure that the latch is secure.
Insert the ink cartridges back, then do a test print to confirm if the printhead problem is fixed.
Once your test print is clear and fine, you have successfully resolved your clogged printhead problem. If all else fails, it's best to call an expert in printhead cleaning. You can also talk to our customer service staff at our toll-free number: 1-833-465-6888 from Monday to Friday, 6am-4pm PT for further assistance.
Index
Related articles:
Need Help?
Our customer support is available from Mon-Fri, 6am-4pm PT