Ink is essential for printing, but the ink cartridges that printers use can be expensive and wasteful. That's where eco-solvent printers come in - they use less ink, less energy to print, have higher yields, and therefore save money. Eco-solvent ink is also environmentally friendly, as it doesn't have VOCs and reduces waste in landfills.
In this blog post, we'll discuss what is an eco-solvent printer, what eco-solvent ink is used for, and the benefits of eco-solvent printing. So, stay tuned for these topics below:
What is an Eco-solvent Printer?
Epson SureColor F6470H digital print
In the world of printing, eco-solvent printers are a popular choice. This type of printer uses a low-toxicity ink that is environmentally friendly and has lower emissions than traditional printing methods.
Not only is this printer more sustainable, but it's also safer and more user-friendly. Because it doesn't use regular inks that release VOCs (Volatile Organic Compounds) into the air, it's a great choice for closed work environments with no ventilation where workers are constantly breathing in fumes from printers that use traditional inks.
What is Eco-solvent Ink?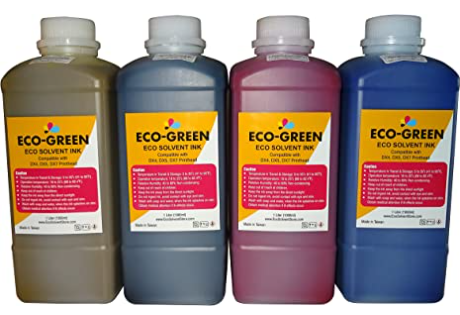 Eco Solvent Ink for Wide Format Sign Printers
These are printer inks that have colors suspended in mild, biodegradable solvents like mineral oils. Since it's biodegradable ink, it won't contaminate the water or soil and won't affect the environment. Therefore, you're doing environmentally friendly printing. Eco-solvent ink doesn't have a strong smell compared to solvent ink.
Also, printing with an eco-solvent printer is easier on the printer because the compounds in the ink don't attack the inkjet parts and nozzles as much as solvent inks do. If you want to reduce your organization's or your personal printer's carbon footprint and increase your efficiency when printing, biodegradable inks are a great choice!
What is eco-solvent ink used for?
Now that you know what an eco-solvent printer is, let's discuss what is eco-solvent printing. Signage and garment manufacturers are important industries that use eco-solvent ink. This printer ink is mixed with mild solvents that break down over time. It is also very resistant to water and other chemicals. Because of this, eco-solvent printer ink is great for a wide range of industrial uses, like printing and coating. It is also ideal for:
Outdoor Signage. Once dried, the scratch and water-resistant properties of eco-solvent inks work great for long-term outdoor printing for large formats.
Indoor Signs. Since they don't contain VOCs, eco-solvent printer inks are free of the lingering smell that oil-based inks often leave. This makes them the ideal printer ink for printing indoor signs and banners.
Vehicle Wraps. Eco-solvent printer ink is also perfect for printing high-quality vehicle wraps. Thanks to its durable and long-lasting properties, eco-solvent printing can create prints lasting for months or even years without fading or tarnishing. Plus, their low VOCs are not as corrosive as regular inks.
Banners. Because eco-solvent inks produce vibrant colors without toxic pigments, banners made with eco-solvent ink are a great way to communicate your brand's message and attract attention.
Textile Printing. They have a high resistance to water, which means they're ideal for printing on fabrics that absorb liquid easily. This type of ink is also great for printing in large formats because it doesn't fade or smear when exposed to the elements.
---
What are the Benefits of Eco-solvent Printing?
They're many! Eco-solvent printing is more efficient and economical, eliminates waste, and is eco-friendly. Some of the key benefits include:
Better Print Quality
Eco-solvent inks produce high-quality prints that are resistant to water and other chemicals. They also produce vibrant colors without the use of toxic pigments, which means they're great for printing on fabric that absorbs liquid easily.
Since they have faster drying times and a wider color gamut, they have better scratch and chemical resistance, giving you better and longer-lasting print quality.
Low Environmental Impact
Many business owners are concerned about the impact of their actions on the environment. One way to reduce environmental impact and improve print quality is through using biodegradable printer ink.
This process uses less energy and ink that is better for the environment and has a lower carbon footprint than ink made from gasoline. This means that the air is less polluted. Plus, the solvents in these inks evaporate completely, so they don't make much waste and don't need to be thrown away, which can be dangerous.
Low Cost of Printing
Eco-solvent inks, unlike oil-based inks, do not require a pre-treatment because they are water soluble. This means that you can save on both the cost of printing supplies and ink. Plus, because these inks are less toxic and nonflammable, your staff will be able to work with them without risking internal injury.
Also, when printing, they are not as harsh as regular inks, so they use less energy, which means your utility bill will be lower. Lastly, since these inks don't produce much waste, this also saves you money on disposal fees and environmental costs down the line!
Reduced Wear and Tear on Printer
Reduced print head wear is an important benefit of using eco-solvent inks. These inks are water-based and use less energy to produce prints, which reduces the wear and tear on the printer components. As a result, prints with eco-solvent inks can last longer than traditional inkjet prints.
These Inks Don't Produce Fumes
The main problem with regular inks is that they produce fumes containing VOCs (Volatile Organic Compounds), which can cause severe health issues if inhaled over the long term.
Eco-solvent inks have very few or no volatile organic compounds (VOCs), so it's safe to use this ink to print in places with little or no air flow. Because of its low VOCs, it also doesn't have the lingering printing smell that other inks have.
---
Solvent vs Eco-solvent Ink
To help you decide if it's high time to invest in eco-solvent ink, let's compare it with regular solvent ink. What is the difference between the two? Check out the table below:
| | |
| --- | --- |
| Solvent Printer Ink | Eco-solvent Ink |
| Affordable | More expensive |
| High content of chemicals | Low chemical content |
| Strong smell of solvent | Minimal smell of solvent |
| Corrosive to printer parts | Safer for printer parts |
| Printouts may fade over time | Printouts are longer lasting |
| Quality can be mediocre depending on the solvent ink | High-quality prints |
| Generally resistant to weather conditions | Resistance to weather conditions may depend on the components of the eco-solvent ink. Some printouts may require lamination for extra protection. |
Parting Words
We hope that our guide on what is an eco-solvent printer and eco-solvent ink has helped you make more informed purchasing decisions. The most eco-friendly printer for you is the one that meets your printing needs while practicing environmentally friendly printing.
CompAndSave aims to help you cut down on your printing costs with cheap printer ink that's environmentally friendly. We also support recycling cartridges . Get to know more about our products and the discount coupons we offer. You can reach us at our toll-free number, 1-833-465-6888, from 6am-4pm PT, Monday through Friday
Frequently Asked Questions
In this part, we'll discuss common questions that users have regarding eco-solvent printers and ink. You're a few steps away from starting your eco-solvent printing journey.
Index
Related articles:
Need Help?
Our customer support is available from Mon-Fri, 6am-4pm PT