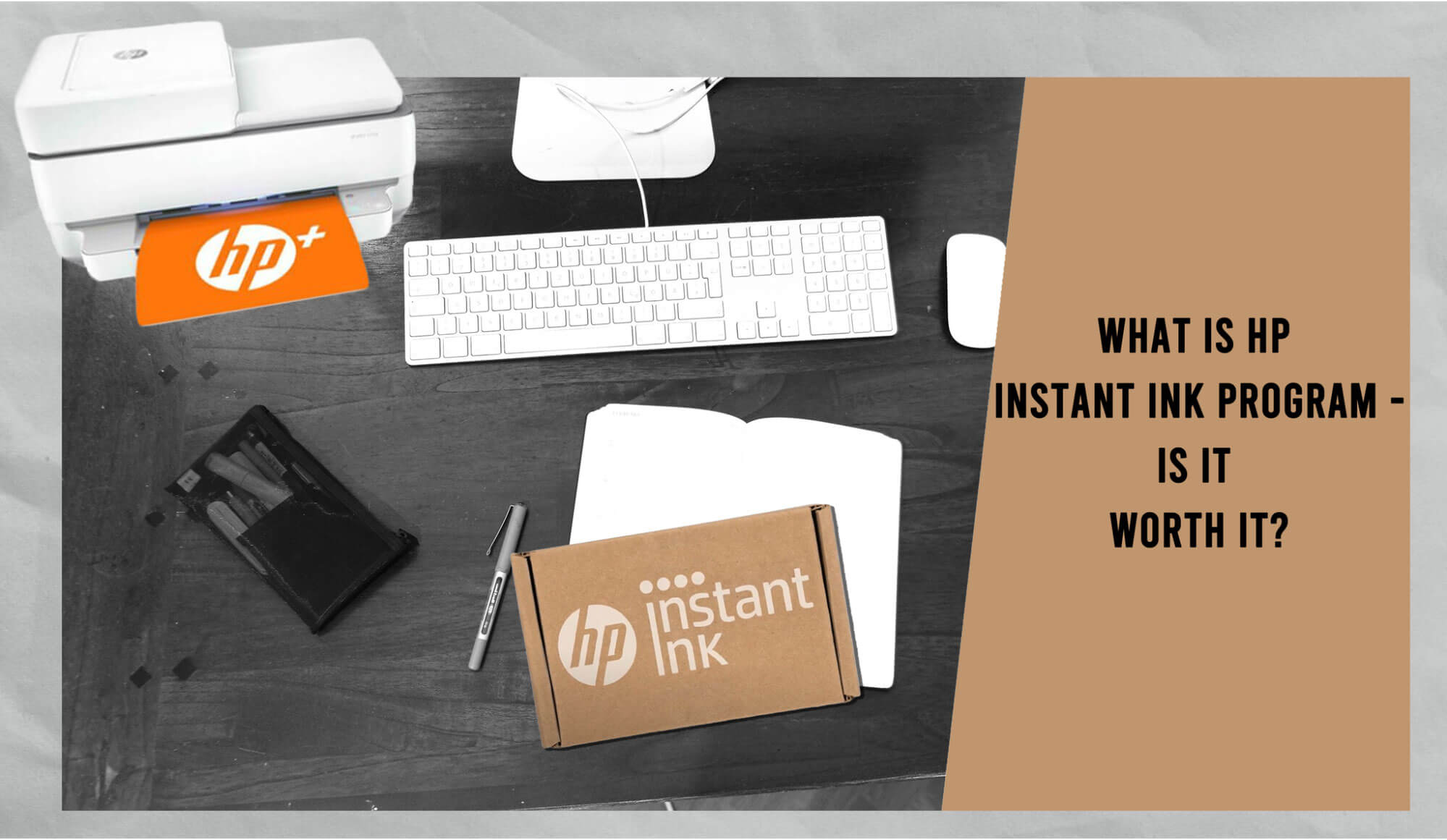 Whether you are running a business or doing home office printing, you know that printer ink is a vital part of your operations. Since so many documents and reports need to be printed, it is important to have a reliable and inexpensive printing solution.
That's why the HP ink subscription program is such a valuable one. It offers businesses of all sizes access to ink cartridges at lower prices than the market. But the question is, what is HP Instant Ink Program, and is it beneficial for your business in terms of long-term cost cutting? To help you decide, we'll cover the following topics in this guide:
What is HP Ink Subscription?
The HP Instant Ink program is a service that sends printer ink or toner cartridges to your door automatically when you need them. So you just pay a monthly fee and get ink cartridges delivered to your door.
This way, you never have to buy an ink or toner cartridge again. HP will ship you the amount depending on your signed-up plan, like clockwork.
How Does HP Instant Ink Work?
Instead of buying a cartridge and printing pages as needed, you can sign up for an HP ink subscription and pay a set price each month based on the package you choose. There are different packages, so the users can sign up for the one that suits their printing needs.
You can read below to learn more about the main features of HP Instant Ink:
Automatic ink delivery. With the HP Instant Ink program, you can have printer ink or toner cartridges automatically delivered to your door whenever you need them.
Free shipping, postage, and recycling. Shipping and recycling are free with the HP Instant Ink Program. As a customer, you are not required to pay for anything other than plan pricing. HP takes care of the costs for shipping, postage, and recycling.
No annual contracts or commitments. With the HP Instant Ink Program, there are no annual contracts or commitments. You can cancel your subscription to Instant Ink at any time without penalty.
Page count is the same for colored and monochrome. Every page counts as the same, which means whether you print a black or colored page, you can print as many as your Instant Ink plan allows. However, printing small labels will count as much as printing full-size documents. For instance, if your plan permits 300 pages, you may print all 300 in color, 300 in black and white, 150 in black and 150 in color, etc., as long as the total number of pages you print does not exceed 300. When the end of the month approaches, they will send out the new batch of HP Instant Ink cartridges, ensuring that you have enough ink for the following month.
Any pages left over are carried over to the next month. Let's say that at the end of the month you still have some of your page limit remaining. Then HP will carry it over to the following month, so you will not lose money by subscribing to a second set of plans. Similarly, if you print more than your HP ink subscription, you can just pay an additional fee for that; there's no need to wait for the month to end so you can get a renewed page quota.
Free to downgrade or upgrade. If you think you signed up for a higher or a lower tier, you can always downgrade or upgrade depending on your printing needs at a given time.
How Much is HP Instant Ink?
The HP Instant Ink program is a subscription service that sends you ink cartridges at a lower price than if you bought them individually. The HP Instant Ink prices depend on the number of pages you print per month. The more pages you print, the higher the tier you will be in, and the more you will pay per month. Let's see what is HP Instant Ink program's monthly costs are for their ink cartridges and toner cartridges below:
HP Instant Ink Plans - Ink Cartridges:
| | | |
| --- | --- | --- |
| Plan Type | Pages Per Month | Cost for Ink Cartridge |
| Light | 10 Pages | $0.99 |
| Occasional | 50 Pages | $3.99 |
| Moderate | 100 Pages | $5.99 |
| Frequent | 300 Pages | $11.99 |
| Business | 700 Pages | $24.99 |
HP Instant Ink Plans - Toner Cartridges:
| | |
| --- | --- |
| Pages Per Month | Cost For Toner Cartridge |
| 50 Pages | $1.99 |
| 100 Pages | $3.99 |
| 400 Pages | $13.99 |
| 800 Pages | $19.99 |
| 1,500 Pages | $25.99 |
What are the Drawbacks of the HP Instant Ink Program?
Page count is controversial. What's the first thing that comes to mind when you think of one page's worth of print? We're assuming it's a big, juicy document printed on a page? Well, HP's definition disagrees. Even if you print just a few lines on a page, they'll count it as one page and deduct one page's worth of print from your HP ink plan. Before signing up, you should consider this factor first, especially if you're on a tight budget.
Overage costs. If you have reached your page limit of the month but still have a few days remaining at the month's end and want to print more, you can do so but at an overage fee. This means you will pay $0.99 for 10 pages. So let's say you have the 50-page package, but you run out of it. Now, if you print 30 pages extra (costing $3 in overage fees), it goes over the $1.99 monthly package of 50 pages, so you're not really saving much. So you need to carefully plan how many pages you'll be printing to get the right HP printer ink subscription from the get-go.
Unused pages roller up to a certain number. Yes, the rollover feature is great, but it's not unlimited, meaning the rollover pages will be limited to the number of pages your tier comes with. For instance, the cheapest HP printing plan will only allow rollover up to 45 pages, the next one will go up to only 150 pages, the plan after that will allow up to 300 pages only, the next plan will give a 900 page limit, and the most expensive one will allow only 2,100 page rollover cap.
Only eligible printers work with HP Instant Ink. Not all HP printers will work with an HP Instant Ink subscription. Most of the newer models do. You find your printer model on the signup page when HP asks you to select your printer. If it's not there, chances are it won't work with the Instant Ink plans. Besides these, there are issues like HP requiring an internet connection to the printer when you print so it can count the pages printed. Also, if you don't pay the fees for a month, it can cancel your subscription, and reactivating your account can cause a short wait.
Activity monitoring. Keep in mind that HP requires you to stay connected to the internet, which means it will monitor your activity, such as the document types you're printing (PowerPoint, Word, PNG, etc.), the device you're using to print, the type of cartridge (used or new), and ink levels. All of this is mentioned in their terms of service, which also state that they can share this information, as well as your address, name, printer serial number and model, and your email, with the retailer who sold you the HP printing subscription.
Pay on time. It's also stated that if you don't pay for the HP ink program, they can temporarily cut off your access to the HP Instant Ink services, and the cartridge won't work until you pay again.
---
HP Instant Ink Alternatives
If you're not happy with the HP printer ink subscription, or you don't see any savings coming out of the subscription, you can opt for the alternatives we've provided below:
Remanufactured Cartridges
If you want to save a good chunk of money but don't want to be bound by the HP Ink program, you can go for the remanufactured cartridges. At CompAndSave, we sell HP remanufactured cartridges for up to 50% less than the official manufacturers' offer. Plus, we always have discounts and coupons available to further save you money. And you can also avail yourself of free shipping on orders over $50. Same quality as the original, but at a price you can't refuse! Check out our guide for the cheapest HP ink cartridges.
High Yield Ink Cartridges
This is another great way to save a few bucks on each cartridge. The high-yield cartridges have more ink inside them and print more pages than the standard ones. There's also a bit of a price difference that means you save on high-yield ones. It's just like buying one piece of toilet paper versus a whole pack of them. You save some money when you get a pack.
For instance, if you buy the standard HP 61 black ink cartridge, it may look identical to the 61XL, which is the high-yield version. However, the XL has a higher ink volume. Here are some of their main differences:
As you can see, you can save a good chunk of money by buying high-yield cartridges.
Tank Printers
You can also opt for printers that come with ink tanks instead of cartridges. They run longer and have a higher page yield at a lower cost than cartridges. Plus, you can save even more by buying HP Smart Tank ink bottles from CompAndSave at up to 50% lower prices than the original manufacturers.
---
Conclusion
Is HP Instant Ink Worth It?
HP says that they've designed the service to save people money, but is it actually worth it? Now that you know what is HP Instant Ink Program, you can see it's a good choice for many, but it's still not for everyone, especially if saving on printing costs is your biggest motivation. You can also read HP instant ink reviews and weigh in HP Instant Ink pros and cons to see if it's a good fit for you.
Do you have more questions about cartridges and our products? Feel free to connect with us at our toll-free number: 1-833-465-6888, from Mondays to Fridays from 6am-4pm PT. CompAndSave wants to help you save money on printing!
HP Instant Ink Frequently Asked Questions
In this part, we'll discuss commonly asked questions about HP instant ink, such as cancellation and pros and cons.
Can I Use HP Printer Without Instant Ink?
Yes, you can use your HP printer even if it's instant ink eligible without the HP Instant Ink cartridges. You can just buy regular cartridges separately, pop them in, and start printing without any worries.
We believe this is the right way to go when you buy the printer for the first time because you don't know what your printing needs will be. So you first try ink cartridges from affordable vendors that offer significant discounts.
Then, after 2–3 months of use, you can compare the number of pages you're printing per month and how much it's costing you to buy cartridges with the plans offered by HP printer ink program. Go for the route that is more affordable.
How to Cancel HP Instant Ink?
How do I cancel HP Instant Ink? You can visit the HP Instant Ink website and sign into your account.
Select enrolled printer from the dropdown located at the top right corner
Now go to the Status menu, then Printer Details, and select the model.
You'll see Plan Details and Change Plan under it to go to the next screen.
Now scroll down and select 'Cancel my Subscription.' Click Confirm to cancel HP Instant Ink
Your HP ink plan will end, and you'll only be able to use the last month's worth of ink that you've already paid for.
How to Bypass HP Instant Ink?
Maybe you are having technical issues with your HP Instant Ink subscription, and you cannot print until it's solved. If that's the case, you need to bypass it to continue with your printing work.
The first and easiest way to do so is to just cancel your HP printing subscription, as we've described above.
However, if that doesn't work or if you're unable to do so, there's another method. Here are the steps:
Go to the Printer Tools utility settings of your printer
Go to the Menu located at the top of the screen
Click on the Restore Printer to Factory Default
This mostly works because when you reset the printer to factory settings, it cancels the subscription on its own. So then you can just change the HP ink cartridges with regular ones in the printer and continue printing.
Index
Related articles:
Need Help?
Our customer support is available from Mon-Fri, 6am-4pm PT