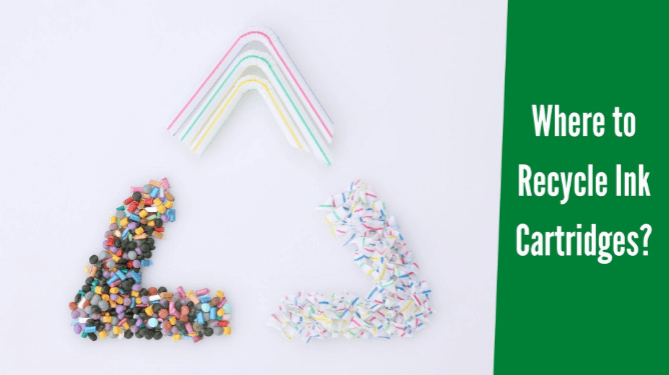 Recycling ink cartridges not only saves you time and money but also helps to reduce the amount of plastic and other waste that ends up in landfills. In the United States, around 500 million cartridges are sold every year, and over 350 million of those end up in landfills, a significant amount of clutter occupying space without any hope of decomposing anytime soon.
But if you know where to recycle ink cartridges and make it a regular practice, you will be helping to protect the environment and even save money in the process. This article will show you where to recycle your ink cartridges and where to recycle toner cartridges by brand. Plus, some ways to get your money back by recycling.
---
Printer Cartridge Recycling by Brand
Each brand has its own way of recycling cartridges. Recycling is the best way on how to dispose of printer ink cartridges. Find your brand-specific recycling steps here:
Recycle HP Ink Cartridges
How to recycle HP ink cartridges? HP inkjet cartridge recycling uses a process called Closed-Loop recycling to make cartridges out of recycled hangers, bottles, and old HP cartridges.
If you have over 1,000 empty HP ink cartridges or 76 pieces for HP toner recycling, you can request a free pickup from HP, and they'll take them off your hands for HP cartridge recycling. Or, if you have fewer than this quantity, you can get a free shipping label for them from HP's website and ship them off. You can also recycle HP ink cartridges for cash by going to recycling stations at department stores. Check first if your local shop offers this HP ink recycling program.
Brother Ink Cartridge Recycling
Where to recycle printer ink cartridges for Brother? Brother is also another company that recycles used printer cartridges. They are committed to minimizing landfill waste by recycling materials, reusing parts and saving energy.
To start the process, you need to check the Brother ink recycling and Brother toner recycling steps:
Print a free shipping label from your account for Brother cartridge recycling.
Pack the cartridges securely (you can use the packaging of new cartridges for this) for Brother printer cartridge recycling.
Print the label you generated, put it on the package and ship via USPS location or personnel.
Recycle Canon Ink Cartridges
Canon is pursuing a goal of keeping its landfill waste to zero. And to accomplish this, they've teamed up with FedEx to offer free Canon cartridge recycling.
The Canon printer cartridge recycling program has been active since 1990 and was the first program to collect and recycle ink and toner cartridges.
How to Recycle Canon Toner Cartridges?
You can do Canon toner recycling by going to their website, printing a free shipping label and then mailing it to this address:
Canon Toner Recycling Center
5980 Industrial Drive
Gloucester, VA 23061
Or you can also drop the cartridge package at any of the 1600 FedEx offices to recycle printer ink cartridges.
How to Recycle Canon Ink Cartridges?
The process of Canon ink recycling is similar to that of toners, but there's no free label for shipping here, and the address where you need to mail them is also different.
CETI
ITCG Return Program
5980 Industrial Dr
Gloucester, VA 23061
You can find the nearest FedEx Office to drop off the package.
Epson Ink Cartridge Recycling
Epson claims to be a huge supporter of sustainability and that every consumer must be responsible for keeping ink and toner cartridges from reaching landfills. Therefore, they've launched the Product Stewardship Program that allows its customers to send in used Epson cartridge recycling for free. They also offer free Epson hardware recycling, such as their scanners and printers.
If you have Epson toner and ink cartridges, you can send them by mail for Epson ink recycling. Put the cartridges in a plastic bag, seal it with tape, put the bag in a shipping box or envelope and ship it to the following address for Epson printer cartridge recycling:
Epson America, Inc.
Attn: Recycling Cente
2350 Stafford Road, Suite 101
Plainfield, IN 46168
You can also visit your local department stores to see if they recycle Epson ink cartridges for cash.
Ricoh Toner Recycling
Where can I recycle ink cartridges for Ricoh? Ricoh is one of the oldest imaging companies and is among the handful that take CO2 emission reduction very seriously. The company makes its toner cartridges from partially recycled cartridges and calls them "Environmental Contribution Toners."
Make sure to save the original packaging in which the printer cartridges came, as you can pack the cartridges back in them to ship to Ricoh. Here's how you can go about Ricoh cartridge recycling:
Ricoh cartridges that have UPS or FedEx shipping labels inside
If the Ricoh cartridge has a FedEx or UPS shipping label inside, you can remove it. Put the used cartridge back in its original box. Seal it, and stick the prepaid shipping label on it. Ship it by following the instructions on the label for Ricoh toner cartridge recycling.
Multiple Ricoh cartridges
For multiple Ricoh printer cartridge recycling, you can pack all of them in one large box, but make sure the weight and dimensions are under the limits set by UPS . Seal the box, put the label on top, and drop it off at any nearby UPS location.
Ricoh cartridges that do not have prepaid shipping labels
If you don't find the shipping label inside, you can generate a prepaid shipping label for your Ricoh cartridges on their site. You will have to look for the EDP code on the cartridge or its packaging to generate the label. Once you have the label, put it on the box and drop the box at any USP location.
Xerox Toner Recycling
Xerox has created a Green World Alliance that has kept over 145 million pounds of waste from reaching landfills for the past two decades. According to them, their customers return over 2.5 million cartridges and toner containers to them every year through their Green World Alliance program to recycle Xerox ink cartridges and toners.
Customers can either recycle toner cartridges and printer ink locally, or they can request free shipping boxes from their website. If you have their business machines, you can also recycle them by paying only the shipping cost while Xerox handles recycling costs.
Here's their address to mail cartridges or machines to:
Xerox Corporation
ESSO – Scrap
6500 State Route 63
Middletown, OH 45044
Lexmark Cartridge Recycling
Lexmark offers free printer ink recycling and has been doing so for over three decades. They recycle toner cartridge and device collection programs in over 60 countries, making up more than 90% of their global market. Here's how to do Lexmark printer cartridge recycling through their Cartridge Collection Program:
To start with the Lexmark toner recycling, take the plastic bag or package your cartridges came in or the one in which the new cartridges came, and put the used cartridges inside.
Put that bag into the box in which new or old cartridges came in and seal it with tape.
Request a return label from the Lexmark website, print it, and put it on the box.
Place the cartridge for return pick up by the dedicated carrier for Lexmark toner cartridge recycling.
Dell Printer Cartridge Recycling
Dell has always been big on its machines and accessories, like ink and toner cartridge recycling. Although they encourage customers to drop off the empty toner and ink cartridges at the local recycling center, they've also partnered with FedEx to facilitate free mail-back of used cartridges for the Dell toner cartridge recycling program.
Customers can recycle toners and ink cartridges without leaving their houses. Dell will arrange for a free pickup anywhere in the U.S. using the FedEx Package Return Program. Here's how you can go about Dell toner recycling steps:
Find the UIN (unique identification number), aka service tag, on the equipment.
Fill out the Online Waybill Form on Dell's website and print the shipping label.
Carefully package and seal the cartridges and paste the label on the box.
Drop the cartridge package at your local FedEx office or call (800) Go-FedEx (800-463-3339) to get a pickup. Let them know you want to schedule a pickup for Dell Package Return Program.
In addition to this, if you purchase a new Dell product, they will recycle your old computer even if it is not a Dell product. Just go to the 'free recycling' option when getting your new system, and they will recycle the old one free of charge.
---
Recycle Ink and Toner Cartridges for Cash
If you're wondering where to recycle ink cartridges for cash, you can go to third-party buyers if the cartridges meet the following conditions:
They're in unopened and original packaging.
They're under the expiration date printed on their package
Failing to meet these two conditions would result in a cash decline. You can sell empty ink cartridges at most office supply stores and many places where you buy printers.
---
Some 3rd Party Recycling Facilities Include
Other than brand-specific recycling, there are third party companies who are also into cartridge recycling. Find out how to recycle ink cartridges via third parties.
eCycle
They are one of the largest printer cartridge recycling organizations in the U.S. You can collect 20 items or 20 lbs. worth of qualifying products, print out the free shipping label, and send them off. Depending on the type and quantity of printer cartridges and their condition, you will be paid anywhere from 0.23 cents to $9 profit.
Checks are issued every month when your amount reaches $25. With them, you cannot only recycle ink cartridges for cash, but you can also send off other items like unused paint, plastic waste, used mattresses, and so on that you don't need anymore and want to recycle.
Cash4Toners
How to recycle toner cartridges for cash? You can go to Cash4Toners and sell your used cartridges to them for money. They support almost all popular printer brands, and you can get a sweet deal over there. Besides printer toner recycling, they also take printer ribbons, staples, maintenance kits, solid inks, and many more products. Plus, they are trusted as they're BBB accredited with A+ ratings, so you know you'll get paid what you owe.
Best Buy Ink And Toner Cartridge Recycling
Best Buy recycling program can get you paid a standard $2 in-store credit for a cartridge if it meets the conditions we mentioned above. All you need to do is take your cartridges to Best Buy, put them into their recycling kiosk near the front doors, and get in-store credit.
---
Other Ways to Empty Ink Cartridge Recycling
There are other ways to dispose of ink cartridges. Another option is taking advantage of the recycling stations at department stores. Learn more about it below.
Recycle at Department Stores
Walgreens Ink and Toner Cartridge Recycling

The process of recycling your ink and toner cartridges at Walgreens is pretty simple. They started collecting old cell phones and printer cartridges for recycling purposes over a decade back and have been successfully doing so till now. You can also get inkjet cartridge refills at some Walgreen locations to save some money and time.

Target Ink and Toner Recycling

Every Target store has a kiosk at the front where you can recycle plastic, glass, electronics, and aluminum. To recycle your ink and toner cartridges, toss them into the e-waste recycling machine, and that's it!
---
Refill the Cartridges
If you want to save a good amount of money while ensuring the plastic cartridge waste doesn't end up in landfills, you can refill the cartridges. However, you cannot do that after 1 or 2 refills, cartridges won't be usable then. Still, according to most users, it's still better than buying new cartridges.
This is because when you refill the cartridges, they are refilled to the top, which is not the case with new ones, so they run more. You can purchase CompAndSave's ink refill kit at a lower than average market price and use your cartridges even after emptying them out. And once you've refilled them 1-2 times, you can always send them for recycling.
Now you know where to recycle ink cartridges. In the end, recycling an ink cartridge is a more eco-friendly option. By recycling, you are not just making the world a better place for yourself but also for future generations, as the less waste ends up in landfills, the less pollution there will be, and the better the overall environment will be for future generations.
CompAndSave is committed to doing our part in helping save the environment through eco-friendly cartridges and encouraging recycling. Feel free to contact us for more information at the toll-free number 1-833-465-6888 from 6am-4pm PT on Mondays through Fridays.
Index
Related articles:
Need Help?
Our customer support is available from Mon-Fri, 6am-4pm PT