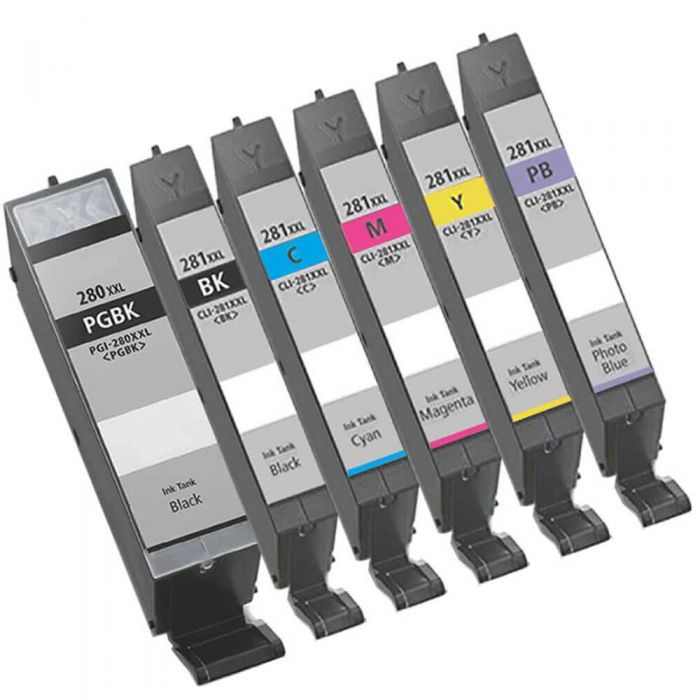 How To Install Canon Ink 280 281 XXL Cartridges
Compatible Canon Ink 280 281 XXL Cartridges Single and Combo Packs - Super High Yield
Free shipping on orders $50 or more
All ink & toner come with a one-year 100% satisfaction guarantee.
Our products will never void your printer's warranty.
Compatible Canon Ink 280 281 XXL Cartridges Single and Combo Packs - Super High Yield
---
How to install Canon ink 280 281 XXL cartridges?
Make sure that the printer is turned on, then lift the scanner.
The printhead holder will move and settle for a cartridge replacement position.
Pinch the cartridge tab and lift the ink cartridge off the printer.
Get your new CompAndSave Canon ink 280 281 XXL cartridge. Open the cartridge over a sink or garbage can to avoid any messes in case of a powder leak, as sometimes, factories tend to overfill cartridges. Avoid touching the bottom part of the cartridge, then remove the covering tape that is usually bright in color and the plastic protective case, if there is, before installing it.
Install your new ink cartridge to its respective slot. Insert the ink cartridge at an angle, head first. Push it in until it clicks into place.
Lower the scanner lid to close.
Most Common Canon Ink 280 281 XXL Cartridges Questions
Can I use generic ink in Canon printer?

Yes, you can. CompAndSave's remanufactured ink is engineered to meet or exceed OEM standards. That is, you can get the same print quality and page yield without spending too much money. Please keep in mind that using our Canon remanufactured ink would never void your printer warranty, so you can buy and print with confidence. For more information, click ink knowledge base and you will be redirected to the right page.

Are Canon XXL cartridges worth it?

Yes. Buying XXL cartridges is preferred as they work the same as standard ones but can print more pages. With that being said, you don't have to purchase and install a new ink as often as you do if you are using the standard ink. Although it's a bit pricier, buying an XXL ink cartridge will be cheaper in the long run, as the cost of printing per page with an XXL ink is way less than the cost per page of using standard ink.
Compatible Canon Ink 280 281 XXL Cartridges Single and Combo Packs Reviews
Review for

Compatible Canon Ink Cartridges 280 281 XXL 5-Pack - Super High Yield: 1 PGI-280XXL Black and 1 CLI-281XXL Black, 1 Cyan, 1 Magenta, 1 Yellow

quick delivery of what I ordered.

Review for

Compatible Canon 281 Black Ink XXL Cartridge - CLI-281XXLBK - Super High Yield

VERY good service and delivery.

excellent value

Review for

Compatible Canon 280 281 Ink Cartridges 6-Pack - Super High Yield: 1 PGI-280XXL Black and 1 CLI-281XXL Black, 1 Cyan, 1 Magenta, 1 Yellow, 1 Photo Blue

Review for

Compatible Canon Ink Cartridges 280 281 XXL 5-Pack - Super High Yield: 1 PGI-280XXL Black and 1 CLI-281XXL Black, 1 Cyan, 1 Magenta, 1 Yellow

I always receive my order promptly.

Review for

Compatible Canon Ink Cartridges 280 281 XXL 5-Pack - Super High Yield: 1 PGI-280XXL Black and 1 CLI-281XXL Black, 1 Cyan, 1 Magenta, 1 Yellow

I have been ordering from Comp&Save for years and have never been disappointed of the items bought or the purchase prices. Both have been outstanding and, let's not forget shipping on time. Keep it up, guys

Ink cartriges

Review for

Compatible Canon Printer Ink 280 281 XXL Cartridges 12-Pack - Super High Yield: 4 PGI-280XXL Black and 2 CLI-281XXL Black, 2 Cyan, 2 Magenta, 2 Yellow

Good quality cartriges at a reasonable price.

WILL CONTINUE TO DO BUSINESS WITH THIS COMPANY

Review for

Compatible Canon Ink Cartridges 280 281 XXL 5-Pack - Super High Yield: 1 PGI-280XXL Black and 1 CLI-281XXL Black, 1 Cyan, 1 Magenta, 1 Yellow

EXCELLENT PRICE & QUICK SERVICE

Great Generic Printer Ink Product

Review for

Compatible Canon 280 281 Ink Cartridges 6-Pack - Super High Yield: 1 PGI-280XXL Black and 1 CLI-281XXL Black, 1 Cyan, 1 Magenta, 1 Yellow, 1 Photo Blue

Great product and lasts a long time.

Great Product and Service

Review for

Compatible Canon CLI-281 Cyan XXL Ink Cartridge - CLI-281XXLC - Super High Yield

Always a quick response when I need ink! Great product.

Review for

Compatible Canon 281 Magenta Ink XXL Cartridge - CLI-281XXLM - Super High Yield