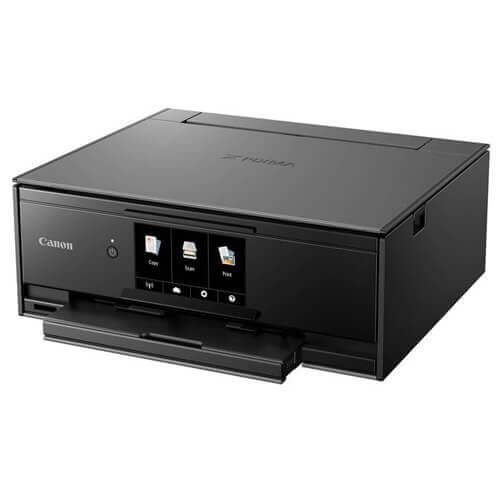 Canon TS9120 Ink Cartridges - Pixma TS9120 All-in-One Ink
Free shipping on orders $50 or more
All ink & toner come with a one-year 100% satisfaction guarantee.
Our products will never void your printer's warranty.
Compatible Canon TS9120 Ink Cartridges from $10.95
---
How to change Canon TS9120 ink cartridges on printer?
Make sure that the printer is turned on, then lift the scanner.
The printhead holder will move and settle for cartridge replacement position. Do not move or stop the print holder by touching it or forcing it to move. Allow it to settle without interruption.
Press the cartridge tab and lift the ink cartridge off the printer.
Get your new CompAndSave Canon Pixma TS9120 ink cartridge. Open the cartridge over a sink or garbage can to avoid any messes in case of an ink leak, as sometimes, factories tend to overfill cartridges. Remove the covering tape that is usually bright in color and the plastic protective case, if there is, before installing it. Make sure that you only touch the black plastic part.
Install your ink for the Canon TS9120 printer to its respective slot. Insert the ink cartridge at an angle, head first. Push it in until it clicks into place.
Lower the scanner lid to close.
Most Common Canon TS9120 Ink Cartridges Questions
What ink does the Canon Pixma TS9120 use?

Canon TS9120 uses the standard yield PGI-280 pigment black and CLI-281 for black, cyan, magenta, and yellow cartridges. The printer can also use the high-yield PGI-280 XL for pigment black and CLI-281 XL for black, cyan, magenta, and yellow cartridges. The good news is that CompAndSave offers discounted compatible super high yield Canon PGI-280 XXL and CLI-281 XXL ink cartridges with genuine-like quality and satisfaction. These ink cartridges are designed to print more sheets than the standard and high-yield cartridges. It will work as a replacement for the original Canon PGI-280XXL and CLI-281XXL cartridges but at a very affordable price!

Can you refill a Canon TS9120 ink cartridge?

The answer is yes. You can have your Canon Pixma ink cartridges refilled as long as it is the genuine cartridge and not the generic or remanufactured one. Since refilling ink cartridges is an alternative to buying a new one, you can have your empty Canon cartridge refilled by doing it yourself. You will need to have the right tools and clear instructions or a manual. You can also visit your nearest stores or retailers that offer refilling services if you prefer to have them refill your empty cartridge. However, to avoid printing issues, we highly suggest you replace any empty ink cartridges. CompAndSave offers a wide variety of cheap printer ink cartridges without compromising their quality so you can print to your heart's content.
Compatible Canon TS9120 Ink Cartridges Reviews
Review for

Compatible Canon Ink Cartridges 280 281 XXL 5-Pack - Super High Yield: 1 PGI-280XXL Black and 1 CLI-281XXL Black, 1 Cyan, 1 Magenta, 1 Yellow

quick delivery of what I ordered.

Review for

Compatible Canon 281 Black Ink XXL Cartridge - CLI-281XXLBK - Super High Yield

VERY good service and delivery.

excellent value

Review for

Compatible Canon 280 281 Ink Cartridges 6-Pack - Super High Yield: 1 PGI-280XXL Black and 1 CLI-281XXL Black, 1 Cyan, 1 Magenta, 1 Yellow, 1 Photo Blue

Review for

Compatible Canon Ink Cartridges 280 281 XXL 5-Pack - Super High Yield: 1 PGI-280XXL Black and 1 CLI-281XXL Black, 1 Cyan, 1 Magenta, 1 Yellow

I always receive my order promptly.

Review for

Compatible Canon Ink Cartridges 280 281 XXL 5-Pack - Super High Yield: 1 PGI-280XXL Black and 1 CLI-281XXL Black, 1 Cyan, 1 Magenta, 1 Yellow

I have been ordering from Comp&Save for years and have never been disappointed of the items bought or the purchase prices. Both have been outstanding and, let's not forget shipping on time. Keep it up, guys

Ink cartriges

Review for

Compatible Canon Printer Ink 280 281 XXL Cartridges 12-Pack - Super High Yield: 4 PGI-280XXL Black and 2 CLI-281XXL Black, 2 Cyan, 2 Magenta, 2 Yellow

Good quality cartriges at a reasonable price.

WILL CONTINUE TO DO BUSINESS WITH THIS COMPANY

Review for

Compatible Canon Ink Cartridges 280 281 XXL 5-Pack - Super High Yield: 1 PGI-280XXL Black and 1 CLI-281XXL Black, 1 Cyan, 1 Magenta, 1 Yellow

EXCELLENT PRICE & QUICK SERVICE

Great Generic Printer Ink Product

Review for

Compatible Canon 280 281 Ink Cartridges 6-Pack - Super High Yield: 1 PGI-280XXL Black and 1 CLI-281XXL Black, 1 Cyan, 1 Magenta, 1 Yellow, 1 Photo Blue

Great product and lasts a long time.

Great Product and Service

Review for

Compatible Canon CLI-281 Cyan XXL Ink Cartridge - CLI-281XXLC - Super High Yield

Always a quick response when I need ink! Great product.

Review for

Compatible Canon 281 Magenta Ink XXL Cartridge - CLI-281XXLM - Super High Yield