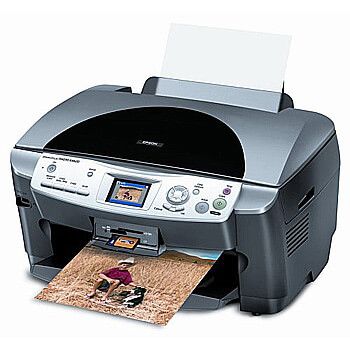 Epson Stylus Photo RX620 Ink Cartridges
Free shipping on orders $50 or more
All ink & toner come with a one-year 100% satisfaction guarantee.
Our products will never void your printer's warranty.
Remanufactured Epson Stylus Photo RX620 Ink Cartridges from $2.99
---
How to change Epson Stylus Photo RX620 ink cartridges on printer?
Make sure that the printer is turned on. If you are replacing a low ink cartridge, just go to "Setup", then select "Ink Cartridge", followed by pressing "OK" and at the confirmation message on the screen press "OK" again.
Lift the scanned lid of the printer to access the ink cartridges. Wait until the carriage move to the area where the cartridges can be replaced, then open the ink cartridge cover.
To release the ink cartridge, just press the tab at the end of it then pull the cartridge out from the printer.
Get your new CompAndSave's Epson Stylus Photo RX620 ink cartridge, open it over a sink or garbage can to avoid any messes in case it leaks as sometimes, factories tend to overfill ink cartridges. Make sure to touch the black plastic part only, then remove the covering tape that is usually bright in color as well as the plastic protective case, if there is, before installing it.
Insert the Epson Stylus Photo RX620 ink cartridge to its respective slot until it snaps lock into place.
Close the ink cartridge cover and the scanner lid. The printer will go through the ink charging process, wait until you get the "Completed" message then press "OK".
Most Common Epson Stylus Photo RX620 Ink Cartridges Questions
Why do you need color ink to print black?

Even if you are only printing in black, your printer uses small amount of ink from the color cartridges. This is why most printer requires all cartridges to be installed and have ink in order to print. Your printer uses the color cartridges when printing black to create different shades or tone. So even if a text or document appears pure black in our eyes, it is usually consisted or a combination of black, cyan, magenta and yellow.

Can you use compatible ink cartridges in Epson printers?

Yes, you can use compatible ink cartridges in Epson printers. Compatible ink cartridges are brand new cartridges that have the same quality as the original ones at a very low price. The only difference is compatible ink cartridges are made by a third-party manufacturer while the original cartridges are made by the same printer brand manufacturer. A compatible ink cartridge is the type of cheap ink cartridge that can save you a lot of money and function the same way as OEM cartridges. CompAndSave offers a wide variety of cheap compatible ink cartridges in Epson printers without compromising its quality so you can print to your heart's content.
Remanufactured Epson Stylus Photo RX620 Ink Cartridges Reviews
As always, the cartridges fit ...

Review for

Remanufactured Epson T0484 Ink Cartridge - Epson 48/T048420 - Yellow

As always, the cartridges fit and do the job as expected.

It works!

Review for

Remanufactured Epson T048 Ink Cartridges 8-Pack - Epson 48: 3 Black, 1 Cyan, 1 Magenta, 1 Yellow, 1 Light Cyan, 1 Light Magenta

It works! I'm so glad somebody still carries this. CompAndSave does a GREAT job of low price and very speedy delivery. I also like the web pages improvement where they have already GROUPED my typical products together so I don't have to search item by item. It is a very POSITIVE experience to order here.

Better Price, And Communication Than Ebay.

Review for

Remanufactured Epson T0481 Black Ink Cartridge - Epson 48/T048120

I tried purchasing this item on ebay, the seller said they shipped it, and it never arrived. I found your website which actually had a better price, and shipping was faster too!

Totally satisfied!

Review for

Remanufactured Epson T0485 Ink Cartridge - Epson 48/T048520 - Light Cyan

I was totally satisfied by the whole procedure of ordering and the quality of the product.

Review for

Remanufactured Epson Printer Ink 48 Cartridges 15-Pack - T048: 5 Black, 2 Cyan, 2 Magenta, 2 Yellow, 2 Light Cyan, 2 Light Magenta

Review for

Remanufactured Epson T0486 Ink Cartridge - Epson 48/T048620 - Light Magenta

Excellent price and speedy delivery

Easy choice.

Review for

Remanufactured Epson T048 Ink Cartridges 8-Pack - Epson 48: 3 Black, 1 Cyan, 1 Magenta, 1 Yellow, 1 Light Cyan, 1 Light Magenta

Hard to resist the savings; and hey, ink is ink.

Review for

Remanufactured Epson T048 Ink Cartridges 8-Pack - Epson 48: 3 Black, 1 Cyan, 1 Magenta, 1 Yellow, 1 Light Cyan, 1 Light Magenta

The cartridges work okay. The ink doesn't print very sharp on very small print especially on numbers.

Review for

Remanufactured Epson Printer Ink 48 Cartridges 15-Pack - T048: 5 Black, 2 Cyan, 2 Magenta, 2 Yellow, 2 Light Cyan, 2 Light Magenta

good product - great price

Quality and ease of installation.

Review for

Remanufactured Epson T0481 Black Ink Cartridge - Epson 48/T048120