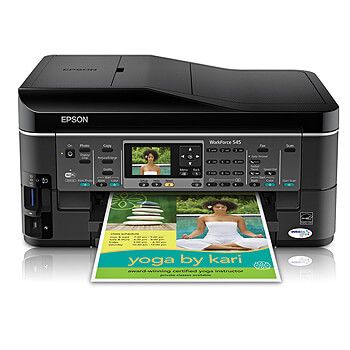 Epson WorkForce 545 Ink Cartridges
Free shipping on orders $50 or more
All ink & toner come with a one-year 100% satisfaction guarantee.
Our products will never void your printer's warranty.
Remanufactured Epson WorkForce 545 Ink Cartridges from $4.99
---
How do I change the ink in my Epson WF-545?
Turn on your printer.
Open the scanner bed, then the cartridge cover.
Removed the used ink cartridge by squeezing the tab, then lifting it.
Shake the unopened cartridges at least 5 times.
Get your new CompAndSave Epson 545 ink cartridge. Open it over a sink or garbage can to avoid any mess in case it leaks, as sometimes, factories tend to overfill the ink cartridges. Make sure to touch the black plastic part only, then remove the covering tape that is usually bright in color along with the plastic protective case, if there is, before installing it.
Insert the Epson WF 545 ink cartridge down until it snaps lock into place.
Close the cartridge cover, then the scanner bed. Ink charging will take about 2 1/2 minutes. You will see a completion message on the control panel when done.
Epson WorkForce 545 Ink Cartridges FAQs
What type of ink does an Epson WorkForce 545 use?

CompAndSave offers remanufactured high yield Epson 126 ink cartridges and extra high capacity Epson 127 in black, cyan, magenta, and yellow. The high yield Epson 126 black ink cartridge can produce up to 415 prints while the color cartridges can give up to 440 pages each at 5% page yield. The extra high capacity Epson 127 in black prints up to 945 sheets, while the color cartridges can produce up to 755 each at 5% page yield. To know more about remanufactured and compatible ink cartridges, check our Ink Knowledge Base.

Can you refill Epson WorkForce ink cartridge?

You can have your Epson WorkForce ink cartridges refilled up to three times. However, it is not recommended since it can cause printing issues such as smudges, uneven and poor print quality. If you wish to refill an empty ink cartridge, you will need the right tools and instructions to refill it properly. CompAndSave offers a wide variety of cheap printer ink cartridges at a much lesser price without compromising their quality if you choose to purchase a new one. Our ink cartridges are manufactured to meet or exceed the OEM specifications, which will save you from all the trouble of going through the process of refilling an ink cartridge.
Remanufactured Epson WorkForce 545 Ink Cartridges Reviews
Waiting for reimbursement on a return. I got over charged.

Review for

Remanufactured Epson 126 Ink Cartridges Combo 6 - T126 - High Yield: 3 Black, 1 Cyan, 1 Magenta, 1 Yellow

I like Comp and save. Have used you maybe 2 years now. But you over charged me on a return item. Please review my messages

When the Printer tells me I'm short on ink, I tell Comp and Save and it's here before I run out.

Review for

Remanufactured Epson 126 T126320 (T1263) High Yield Magenta Pigment Based Ink Cartridge

2nd. time I've used them, and they delivered. By the way, they saved me 75% over the cost at an Office store, and even more directly from the Printer Maker.

Nice

Review for

Remanufactured Epson 126 T126220 (T1262) High Yield Cyan Pigment Based Ink Cartridge

Review for

Remanufactured Epson T127120 Ink Cartridge - Epson 127/T1271 Black - Extra High Capacity

I have placed two orders from this company and only one cartridge of twenty was bad. Customer service was great and took care of it right away. I would recommend this company.

Review for

Remanufactured Epson T127120 Ink Cartridge - Epson 127/T1271 Black - Extra High Capacity

1st one produced spotty results. Some clear ink other areas I couldn't see any ink. Put in a second cartridge and it was fine.

Review for

Remanufactured Epson 127 Ink Cartridges 11-Pack - T127 - Extra High Capacity: 5 Black, 2 Cyan, 2 Magenta, 2 Yellow

Excellent product and outstanding price. Never had a single issue when using this ink

Review for

Remanufactured Epson 126 Ink Cartridges Combo 6 - T126 - High Yield: 3 Black, 1 Cyan, 1 Magenta, 1 Yellow

Your product is as good as you claimed it would be. I will definitely order from you again.

Review for

Remanufactured Epson 126 Ink Cartridges Combo 6 - T126 - High Yield: 3 Black, 1 Cyan, 1 Magenta, 1 Yellow

Fast and economical

Review for

Remanufactured Epson 126 Black & Epson 126 Color Ink Combo 11 - T126 - High Yield: 5 Black, 2, Cyan, 2 Magenta, 2 Yellow

Epson Cartridge

Review for

Remanufactured Epson T127120 Ink Cartridge - Epson 127/T1271 Black - Extra High Capacity

Epson print cartridges worked as advertised