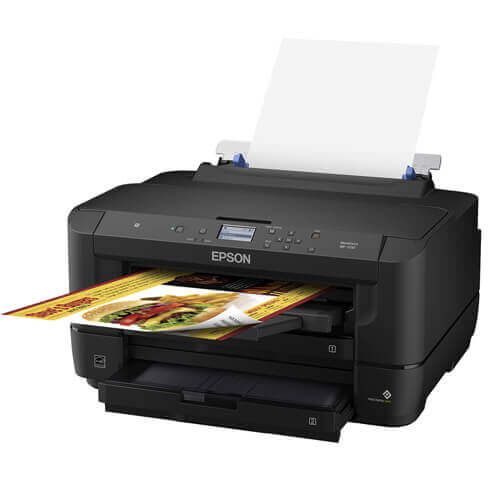 Epson WF-7210 Ink Cartridges
Free shipping on orders $50 or more
All ink & toner come with a one-year 100% satisfaction guarantee.
Our products will never void your printer's warranty.
Remanufactured Epson WF-7210 Ink Cartridges from $6.79
---
How to change Epson WF-7210 ink cartridges on printer?
Make sure that the printer is turned on. If you are replacing the ink cartridge before it runs out, just go to "Settings", then "Maintenance", followed by "Ink Cartridge Replacement", and lastly press the "OK" button.
Open the scanner lid of the printer and the ink cartridge access door.
To release the ink cartridge, just push the tab at the end of the cartridge then pull it out from the printer.
Get your new CompAndSave's Epson WF-7210 ink cartridge, shake it for about four to six times before opening from the package. Open it over a sink or garbage can to avoid any messes in case it leaks as sometimes, factories tend to overfill ink cartridges. Make sure to touch the plastic part only, then remove the covering tape that is usually bright in color as well as the plastic protective case, if there is, before installing it.
Insert the Epson WF-7210 ink cartridge to its respective slot, you should hear a snap indicating that its locked in place.
Close the ink cartridge access door and the scanner. Press the "OK" button on the printer to start the ink charging process, let this process continue until its done to avoid wasting ink.
Most Common Epson WF-7210 Ink Cartridges Questions
Can I print if one cartridge is empty Epson?

Yes, on some Epson printer models it is possible to continue printing even if one ink cartridge is empty. To enable this feature temporarily, make sure you have the printer driver and status monitor installed on your computer. Next is to cancel any print jobs on queue, then load a plain white paper or envelope in the paper tray. Open the Epson program on your computer and go to the "Main Tab", after this select "Quality Option Setting". On the "Type Setting" select "Plain Papers" or "Envelope" and select "Grayscale" in the print options. Once done, press "OK" to apply changes and to close the Epson status monitor. Proceed with printing your file, the Epson status monitor should appear on your computer screen again, once this happens click "Print in Black" to finish printing your file. Please note that these steps and feature are not applicable for all Epson printer models. To verify you may contact your printer manufacturer to check if you can do this on your printer, but we highly encourage you to replace any empty or low ink cartridges to avoid printing issues. CompAndSave offers a wide variety of cheap printer ink cartridges without compromising its quality so you can print to your heart's content.

Why does my Epson printer run out of ink so fast?

There are a lot of reasons why the Epson printer run out of ink quickly. Faulty cartridge, habitual printer cleanings, incorrect printer settings, frequent use of large fonts and bolds, or printing excessively. The amount of ink that the printer will use varies based on what is being printed, what print quality is selected, and what paper type is being used. You may try to adjust your printer settings, avoid large fonts and bolds, and select "draft mode" to use considerably less ink to conserve the amount of ink that is used by the printer.
Remanufactured Epson WF-7210 Ink Cartridges Reviews
Probably the best deal around...BH

Review for

Remanufactured Epson 252 Black Ink Cartridge XL - T252XL120/252XL - High Capacity

My order was promptly filled and cartridges were all I could want.When I need more..this will be the place I go...Bob

The ink is working well ...

Review for

Remanufactured Epson 252 Black Ink Cartridge XL - T252XL120/252XL - High Capacity

The ink is working well and the price was great. I am well satisfied.

Review for

Remanufactured Epson 252 Ink Cartridges XL 6-Pack - High Capacity: 3 Black, 1 Cyan, 1 Magenta, 1 Yellow

Very good service, price and product

Great product great value of

Review for

Remanufactured Epson 252XL Ink Cartridge Combo Pack of 4 - High Yield: 1 Black, 1 Cyan, 1 Magenta, 1 Yellow

Items came quick. Instructions were easy to follow.

Review for

Remanufactured Epson 252XL Ink Cartridge Combo Pack of 4 - High Yield: 1 Black, 1 Cyan, 1 Magenta, 1 Yellow

Great product. I highly reccommend purchasing

Review for

Remanufactured Epson 252 Black Ink Cartridge XL - T252XL120/252XL - High Capacity

After installing this cartridge the prints are not coming good. Much of text is missing. Tried cleaning print head but no use

Love getting ink at discount price when you use it alot

Review for

Remanufactured Epson 252 Ink Cartridges XL 6-Pack - High Capacity: 3 Black, 1 Cyan, 1 Magenta, 1 Yellow

This product is just like what I pay much much more for at staples and works fine in printer.

Great

Review for

Remanufactured Epson T252XL320 Ink Cartridge - 252XL Magenta - High Capacity

quick delivery and excellent product and best of all great prices. I'll definately buy from them again.

Review for

Remanufactured Epson 252 Printer Ink Cartridges XL 11-Pack - High Capacity: 5 Black, 2 Cyan, 2 Magenta, 2 Yellow

product works good, prints sharp.

Review for

Remanufactured Epson 252XL Ink Cartridge Combo Pack of 4 - High Yield: 1 Black, 1 Cyan, 1 Magenta, 1 Yellow