Ordering your printing supplies from our website is as easy as pie. In this guide, we will cover the following:
---
Before You Order: What to Prepare
Product Details. Before placing your order, double-check your cartridge model number to save future headaches. Unsure about the cartridge model number compatible with your printer? Check out our helpful guide: What Ink Does My Printer Use?
Billing and Shipping Information. If your Shipping Address differs from your card's Billing Address, no worries! Just make sure to enter the correct address in the order form to ensure your order ends up where they're supposed to.
Payment Details. If you've recently updated your card info, awesome! Just keep those up-to-date details handy to make sure your payment process goes without a hitch.
---
How to Order: 5 Easy Steps
Once you've got all your info ready, let's dive right into placing your order on our website.
Step 1. Search for Your Cartridge
There are two ways to search for your cartridge on our website. You can either search using the cartridge model number or your printer model.
Searching using cartridge model:
If you know the cartridge model you want to order, type it in the search bar.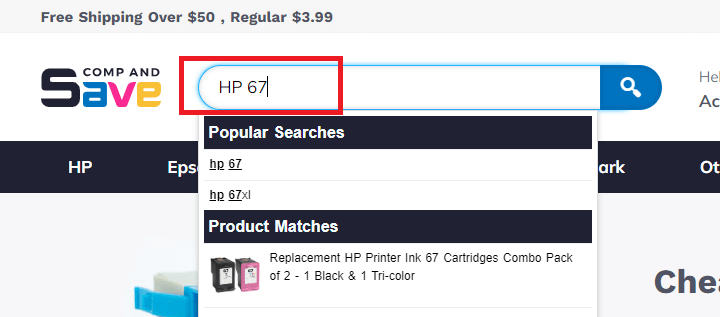 If you do not know the model number of the cartridge for your printer, you can find that information in the cartridge box or your printer manual. You can also check our guide: What Ink Does My Printer Use?
Searching using the printer name:
Do you know your printer's name? If so, simply type it in the search bar. Ensure to click on the correct printer model from the search result.
Step 2. Add to Cart
Once you've found your cartridge, add it to your cart. For multiple items, simply use the drop-down menu beside the "Add to Cart" button.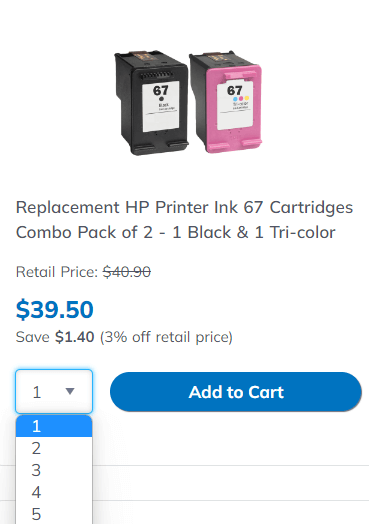 Note: Double-check that you have ordered the right ones for your printer to save you from future hassles.
Step 3. View Cart
View your cart by clicking on the cart icon in the page's top-right corner, then click the View Cart & Checkout blue button to be redirected to the checkout page.

Step 4. Review and Proceed
Click Proceed to Checkout blue button after ensuring that you have ordered the right cartridges and order quantity. Enter coupon code as well, if you have one.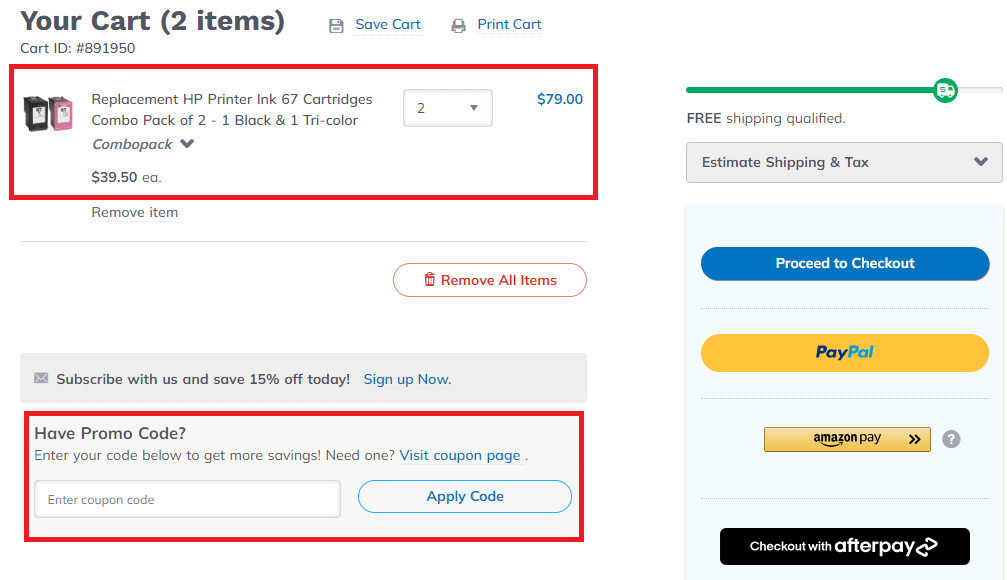 Tip: Get a 15% discount by subscribing! Click "Sign Up Now" to subscribe
Step 5. Checkout
At checkout, you will have two options: to create an account or checkout as a Guest. Click on the button of your preferred option, follow the instructions, and fill in the necessary information to complete the order process.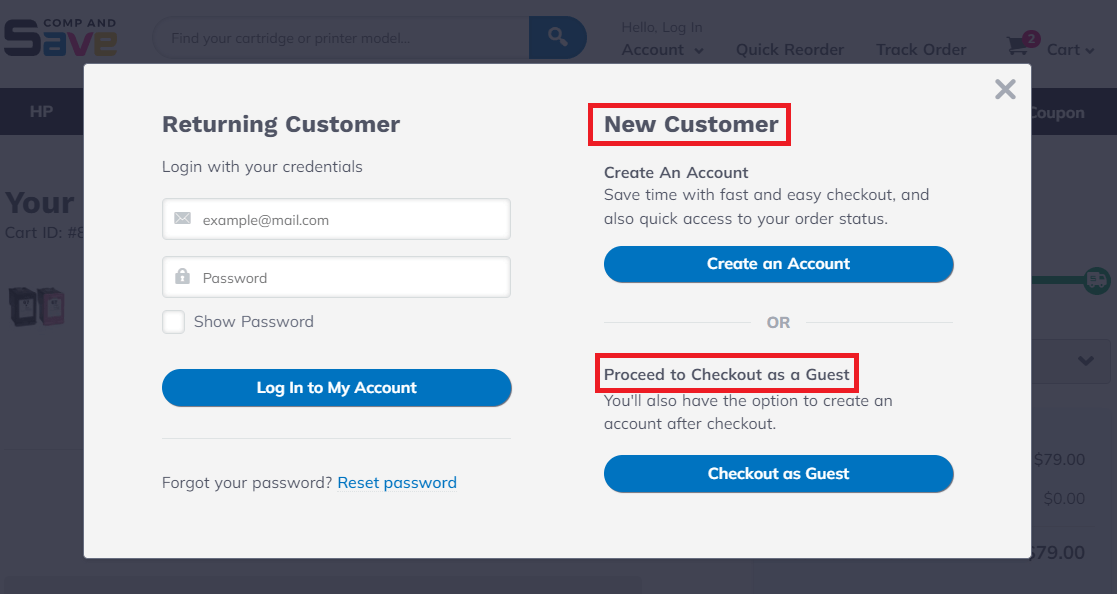 Important things to note when placing the order:
Ensure to follow password requirements if you choose to create an account. Minimum of 6 characters, with at least one uppercase, one lowercase, one number, and one special character or symbol (e.g., ! @ # ?).
If you choose to create an account, you will need to go over Steps 3, 4, and 5 again to complete the order process after successfully creating an account and filling in your Shipping and Billing addresses.
By default, our system sets your Shipping address as the same as your Billing address. Make sure that both addresses are correct. If any changes are needed, make them before you finish placing your order. This little step ensures your order goes to the right address!
Once done placing the order, you will be redirected to a confirmation page displaying your Order number. Make sure to take note of the Order number for future reference.
---
Common Purchasing Issues and Solutions
1. Cannot Log in or Reset Password
You may encounter this issue when you try to log in after placing an order. You can solve this by following the steps in our Reset Password guide. If it doesn't work, contact our Customer Support Representatives to help you reset your password.
2. Address Verification Service Error
While at the Billing & Payment form, ensure to uncheck "My billing and shipping address are the same" if your Shipping address differs from the Billing Address of the card you are using. Also, check for typos before submitting the information.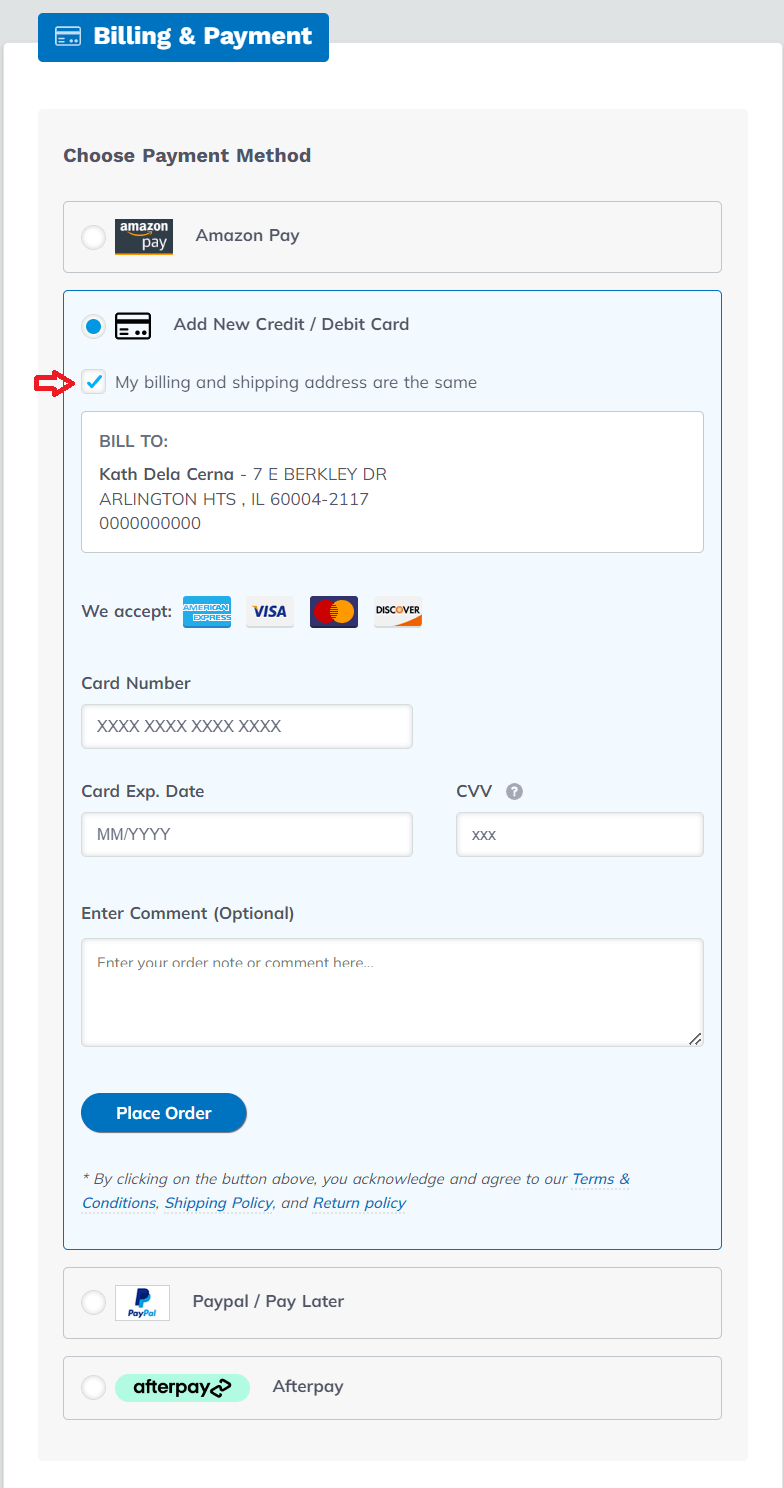 3. Why is my credit card declined?
A declined credit card can happen for various reasons. Some common factors include:
Mismatch between Shipping and Credit Card Billing Address
Reached Credit Limit
Suspected Fraudulent Transactions
Transactions on Hold
Expired Card
Travel Activity
Missed Payments
For detailed information and tips on what to do if your card is declined, check our "Why is My Credit Card Declined?" guide.
4. Did Not Receive a Confirmation Email
Don't see your confirmation email? Check your spam and junk folders. If it's still missing, get in touch with our Customer Support to verify if your order went through. Feel free to give us a call at our toll-free number, 1-833-465-6888, from Monday to Friday, 6am-4pm PT.
---
Parting Words:
We're here to make your ordering experience seamless. If you run into any bumps or have suggestions for improving the process, please don't hesitate to contact us at our toll-free number, 1-833-465-6888, Monday to Friday, 6am-4pm PT. Your feedback matters greatly to us!
Thank you for choosing CompAndSave for your printing needs. Happy printing and saving!
---
Frequently Asked Questions:
Index
Related articles:
Need Help?
Our customer support is available from Mon-Fri, 6am-4pm PT