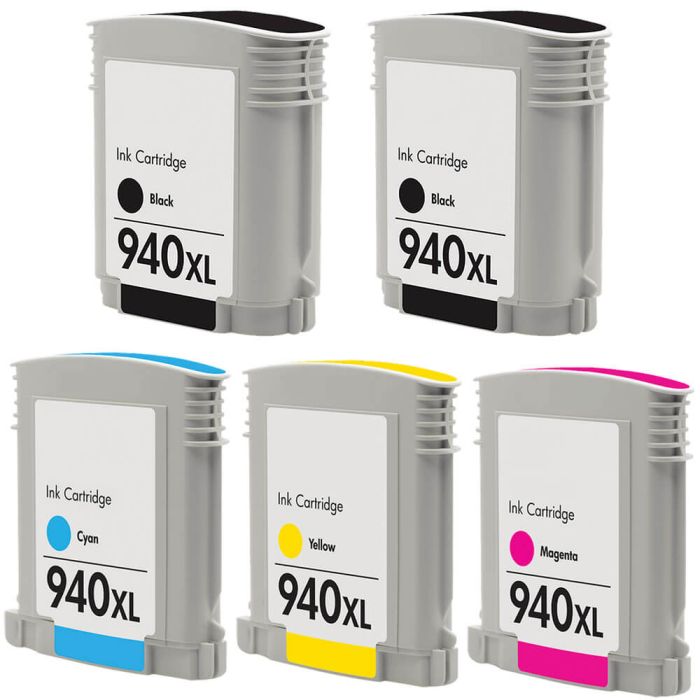 *Stock photo is for reference only.
Retail Price: $207.95
Save $163.45 (79% off retail price)
Buy 3 or more: $43.16 per pack | $8.63 per cartridge
Buy More for Lower Price
Buy 3 to 5

$43.16

per pack
$8.63 per cartridge
Buy 5 to 7

$42.28

per pack
$8.46 per cartridge
Buy 7+

$41.38

per pack
$8.28 per cartridge
Buy 100+
Get Quotes
Free shipping over $50 and .
Subscribe and Save 15% off Today!
Subscribers will get free shipping on orders over $35. Plus, you'll receive exclusive email offers or news weekly. Don't worry. Your email address is never shared or sold. See our privacy policy for details.
HP 940XL Ink Cartridges 5-Pack Related Products
About HP 940XL Ink Cartridges 5-Pack
Replacement HP 940XL Ink Cartridges 5-Pack - High Yield
Bundle up and save a lot more with our high yield 5-pack of HP 940XL ink cartridges!
CompAndSave offers the HP 940XL cartridges with genuine-like quality and satisfaction. Our value pack replaces the original HP cartridges but at a very affordable price!
Get more while paying less! Buy our HP 940XL printer cartridges value pack of 5 and get 2 x HP 940XL black ink cartridges (C4906AN), 1 x HP 940XL cyan ink cartridge (C4907AN), 1 x HP C4908AN ink cartridge (940XL magenta) and 1 x HP 940XL yellow ink cartridge (C4909AN).
Proven and tested to work like the original! Our HP 940XL ink cartridges are professionally engineered with brand new parts at a manufacturing facility that uses state-of-the-art processes to ensure that you will get the same print quality and performance at a cheaper price.
Need to print tons of paperwork? Worry no more as our HP 940XL cartridges are designed to match the number of prints of the original HP printer cartridges without compromising the print quality and with a shelf life of 20 months. Talk about getting the most of your money!
Backed with a 1-year 100% satisfaction guarantee, that is how confident we are in our HP 940XL value pack of 5 ink cartridges!
FREE shipping on orders over $50 anytime, anywhere in the US! Order our low-priced HP 940XL ink cartridges combo pack of 5 before 2:00 PM PT and it will be shipped the same day.
Simply find your printer model from the compatible printer list below and take advantage of our great prices for the high yield HP 940XL cartridges today. SAVE Now!
IMPORTANT: Please be informed that using replacement, compatible or remanufactured printer cartridges will never void your printer warranty. Please contact us for any further questions.
All ink & toner come with a one-year 100% satisfaction guarantee.
Our products will never void your printer's warranty.
HP 940XL Ink Cartridges 5-Pack Product Specifications
SKU
ZINK-HP-940XL-COMBO5
Product Type
INK
Replace OEM #
C4906AN, C4907AN, C4908AN, C4909AN
Colors
Black, Cyan, Magenta, Yellow
Ink Type
Pigment
Product Capacity
High
Ink Volumes

Black

: 49 ml |

Cyan

: 16 ml |

Magenta

: 16 ml |

Yellow

: 16 ml
Approximate Page Yields

Black

: 2200 |

Cyan

: 1400 |

Magenta

: 1400 |

Yellow

: 1400
Cost per page
0.52 cents
Number of pieces
5
Product Shelf Life
18-24 months
Replacement HP 940XL Ink Cartridges 5-Pack Reviews
100%
Recommend
this product
Review for

Replacement HP 940XL Ink Cartridges 5-Pack - High Yield: 2 Black, 1 Cyan, 1 Magenta, 1 Yellow

the Cyan 940XL C4907A would not fit into the printer.

Review for

Replacement HP 940XL Ink Cartridges 5-Pack - High Yield: 2 Black, 1 Cyan, 1 Magenta, 1 Yellow

I have had a little bit of experience with getting ink cartridges refilled at Costco. Most of the time, either the ink didn't print correctly, printer thought they were empty, or printer could not read them. So, I was not a big fan of the process. I found your web site when I could not find HP ink for my older printer at Costco anymore. I was still a bit wary of "non factory ink cartridges", but I liked your prices and I liked your guarantee. I thought I would give you a try "once", and see how things worked out. First, I ordered just enough ink cartridges to allow me to get free shipping. Having had experience with slow shipping times with Amazon during the covid19 pandemic, I figured I would get the order in about three weeks. I was happily surprised when the order arrived in less than five days. A bit shocked, actually. The order arrived complete, in very nice shape and with a set of directions to help newbies like me to get the best results with your ink cartridges. At the time they arrived, I was not even able to use my printer because I was out of the "yellow" cartridge. I changed this one out and my printer worked, but not well because my other ink cartridges were old, and even the different maintenance modes and deep cleaning modes did not help. I changed out the old cyan, magenta and black cartridges and replaced them with the new cartridges I purchased from you and my old HP Officejet Pro 8000 printed out a perfect test page. I have used the printer several times since then and the ink cartridges have worked flawlessly. My printer even recognized them as being completely full when I installed them. I will definitely purchase ink cartridges from your company again for my printer, and when my daughters HP printer runs low on ink you will also get another order from me.