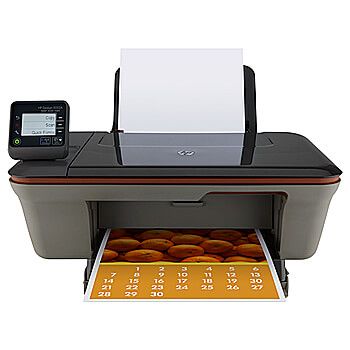 How To Install HP DeskJet 3052A Ink Cartridges?
HP DeskJet 3052A Ink Cartridges - J611g
Free shipping on orders $50 or more
All ink & toner come with a one-year 100% satisfaction guarantee.
Our products will never void your printer's warranty.
Replacement HP DeskJet 3052A Ink Cartridges from $18.95
---
How to change HP DeskJet 3052A ink replacement cartridges on printer?
Make sure the printer is turned on.
Put a stack of paper into the tray.
Open the front cover to get access to the cartridges. The ink cartridge carrier will move and settle for the cartridge replacement position. Do not move or stop the print holder by touching it or forcing it to move. Allow it to settle without interruption.
Gently push the used HP DeskJet 3052A ink cartridge down to release it. Then, take it off of the machine.
Get your new CompAndSave HP 3052A ink cartridge. Open the cartridge over a sink or garbage can to avoid any mess in case of a leak, as sometimes, factories tend to overfill cartridges. Make sure to touch the black plastic part only, then remove the covering tape that is usually bright in color and the plastic protective case, if there is, before installing it.
Insert the HP DeskJet 3052A printer ink cartridge into the machine. Push it until it clicks in place.
Close the front cover.
HP DeskJet 3052A Ink Cartridge FAQs
What ink does HP DeskJet use?

HP DeskJet printer uses different ink cartridge model numbers. To find the ink cartridge number or mostly known as the model number of your cartridge, you may check the printer's manual and look for the supply model number that your printer uses. You may also check the ink slot on your printer as it usually has a label for the model number of the ink it takes. For example, the HP DeskJet 3052A - J611g printer uses the HP 61 and HP 61XL ink cartridges. For more information, just click our guide What ink does my printer use?

Can you use other ink cartridges in a HP printer?

You can use other ink cartridges such as replacement, compatible, or off-brand as long as it replaces the OEM counterpart. For example, HP DeskJet 3052A can use replacement ink HP 61 black and tri-color cartridges. It cannot use other ink cartridges with a different model number. Head on to CompAndSave to shop for your ink cartridge! CompAndSave offers great deals on replacement HP DeskJet 3052A printer cartridges. Plus, our low-priced HP DeskJet 3052A cartridges are backed up with a 1-year 100% satisfaction guarantee.
Replacement HP DeskJet 3052A Ink Cartridges Reviews
excellent product

Review for

Replacement HP Ink 61XL Black and Color Combo Pack of 3 - High Yield: 2 Black and 1 Tri-color

very good and greatly priced

Review for

Replacement HP 61XL Black and Tri-color Ink Cartridges 2-Pack - High Yield: 1 Black, 1 Tri-color

Best supplier

Review for

Replacement HP 61XL Tri-color Ink Cartridge - CH564WN - High Yield

Comp and Save is the only place I'll buy ink from. I've been buying from them for years, for different printers. Ink always last a while and I trust them.

Always the best.

Review for

Replacement HP 61XL Ink Cartridge - CH563WN Black - High Yield

Always the best. Only place I'll buy ink from, and it last a good while. I trust them. I've been buying from them for years.

You can not beat the service or price.

Review for

Replacement HP 61XL Black and Tri-color Ink Cartridges 2-Pack - High Yield: 1 Black, 1 Tri-color

Outstanding INK and service.

Review for

Replacement HP Ink 61XL Black and Color Combo Pack of 3 - High Yield: 2 Black and 1 Tri-color

Cartridges work great. However, my printer continues to caution me about using counterfeit items, which is very annoying.

Review for

Replacement Cheap HP 61 Ink Cartridge Combo Pack of 2 - 1 Black and 1 Tricolor

This is my second order and the prices for the cartridges are better than buying at a store. I will keep buying from this company.

Review for

Replacement HP 61XL Black and Tri-color Ink Cartridges 2-Pack - High Yield: 1 Black, 1 Tri-color

Always promo with great prices & high quality! Every time!

Review for

Replacement Cheap HP 61 Ink Cartridge Combo Pack of 2 - 1 Black and 1 Tricolor

Looks good. Haven't tried them yet.

None

Review for

Replacement HP 61XL Black and Tri-color Ink Cartridges 2-Pack - High Yield: 1 Black, 1 Tri-color