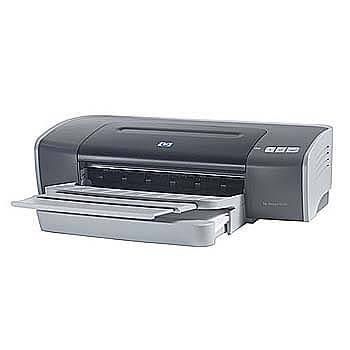 HP 9600 Ink Cartridges - Deskjet 9600 Ink
Free shipping on orders $50 or more
All ink & toner come with a one-year 100% satisfaction guarantee.
Our products will never void your printer's warranty.
Replacement HP 9600 Ink Cartridges from $11.99
---
How to install HP 9600 ink cartridges?
To turn on the printer, press the power button. Open the cartridge access door.
The ink cartridge's carriage will automatically move, so make sure to wait for it to stop moving before you proceed entirely.
Press down, then pull out slowly the old ink cartridges.
Get your new CompAndSave Hp 9600 printer ink cartridge. Open it over a sink or garbage can to avoid any mess in case it leaks, as sometimes factories tend to overfill the ink cartridges. Make sure to touch the black plastic part only, then remove the covering tape that is usually bright in color along with the plastic protective case, if there is, before installing it.
Slide the new printer ink into their correct color slots until it snaps lock into place. The black ink cartridge should be on the right slot, while the tri-color should be left.
Close the ink cartridge access door.
HP 9600 Ink Cartridge FAQs
What ink does HP DeskJet 9600 use?

The HP DeskJet 9600 printer uses the HP 56 black ink cartridge and HP 57 tri-color ink cartridge. CompAndSave offers the replacement standard yield HP 56 black ink cartridge that can print up to 520 pages, and the HP 57 tri-color ink cartridge that can yield up to 500 pages at 5% page coverage. To know more about remanufactured and compatible ink cartridges, check our Ink Knowledge Base.

How do I know what ink cartridge I need?

The best way to check what ink cartridge you need is by checking your printer manual, cartridge package, or by doing a quick search using your printer name. If you need more specific instructions, you can check our guide What Ink Does My Printer Use? CompandSave offers the replacement HP 56 black ink cartridge and HP 57 tri-color ink cartridge for your HP DeskJet 9600 printer.
Replacement HP 9600 Ink Cartridges Reviews
Review for

Replacement HP 56 Black Ink Cartridge & HP 57 Color Ink Cartridge 2-Pack: 1 x 56 Black, 1 x 57 Tri-Color

The cartridges worked great in my older HP 5150 printer, so I ordered them again. Thank you CompAndSave.

Review for

Replacement HP 56 Black Ink Cartridge & HP 57 Color Ink Cartridge 2-Pack: 1 x 56 Black, 1 x 57 Tri-Color

Review for

Replacement HP C6656AN Ink Cartridge - HP 56 - Black

Great replacement product

Affordable and quick!

Review for

Replacement HP 56 Black Ink Cartridge & HP 57 Color Ink Cartridge 2-Pack: 1 x 56 Black, 1 x 57 Tri-Color

Good Source

Review for

Replacement HP 56 Black Ink Cartridge & HP 57 Color Ink Cartridge 2-Pack: 1 x 56 Black, 1 x 57 Tri-Color

This site was helpful and product was delivered promptly.

Review for

Replacement HP 56 Black Ink Cartridge & HP 57 Color Ink Cartridge 2-Pack: 1 x 56 Black, 1 x 57 Tri-Color

Excellent product and priced reasonable

Review for

Replacement HP 56 Black Ink Cartridge & HP 57 Color Ink Cartridge 2-Pack: 1 x 56 Black, 1 x 57 Tri-Color

Just what I wanted

Review for

Replacement HP 56 Black Ink Cartridge & HP 57 Color Ink Cartridge 2-Pack: 1 x 56 Black, 1 x 57 Tri-Color

Great product, great price.

Review for

Replacement HP C6656AN Ink Cartridge - HP 56 - Black

Review for

Replacement HP 56 Black Ink Cartridge & HP 57 Color Ink Cartridge 2-Pack: 1 x 56 Black, 1 x 57 Tri-Color