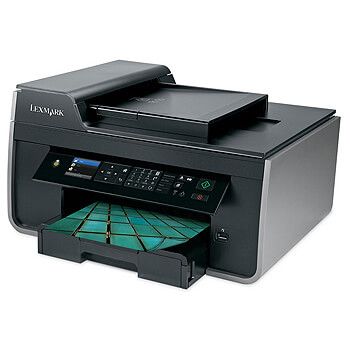 Lexmark Pro715 Ink Cartridges
Free shipping on orders $50 or more
All ink & toner come with a one-year 100% satisfaction guarantee.
Our products will never void your printer's warranty.
Compatible Lexmark Pro715 Ink Cartridges from $6.99
---
How to change Lexmark Pro715 ink cartridges on printer?
Plug the machine to the power source and turn it on.
Raise the printer cover. This will automatically move the ink cartridge carrier ready for cartridge installation.
Push the tab down to raise the used cartridge then unload it from its slot.
Get your new CompAndSave's Lexmark Pro715 ink cartridge. Open it over a sink or garbage can to avoid any messes in case it leaks as sometimes, factories tend to overfill ink cartridges.
Remove the covering tape that is usually bright in color as well as the plastic protective case, if there is, before installing it.
Install the Lexmark 715 ink cartridges on their respective slot.
Lower the printer cover to close.
Most Common Lexmark Pro715 Ink Cartridges Questions
Can cheap ink damage printer?

Remanufactured and compatible ink cartridges are the types of cheap ink cartridges that sold for a much lesser price compared to the OEM cartridges brand. These types of cheap ink cartridges are assembled exactly like the OEM cartridge's specifications. Thoroughly tested before stocking for potential leaks and carefully cleaned including the printhead nozzles. In other words, cheap ink cartridges will not damage your printer. CompAndSave offers a wide variety of cheap printer ink cartridges without compromising their quality so you can print to your heart's content.

Is it better to buy XL cartridges?

Buying XL cartridges are preferred as they work the same as standard cartridges but can print more pages. With that being said, you don't have to purchase and install a new ink as often as you do if you are using the standard ink. Although it's a bit pricier, buying an XL ink cartridge will be cheaper in the long run, as the cost of printing per page with an XL ink is definitely way less than the cost per page of using a standard ink.
Compatible Lexmark Pro715 Ink Cartridges Reviews
received my product in a ...

Review for

Replacement Lexmark 150XL Multipack of 10 Ink Cartridges - High Yield: 4 Black, 2 Cyan, 2 Magenta, 2 Yellow

received my product in a timely manner

perfect

Review for

Replacement Lexmark 14N1614 Ink Cartridge - 150XL Black - High Yield

What can I say. Great price, fast shipping, product is as advertised.

Review for

Replacement Lexmark 150 Ink Cartridges XL - 150XL 4-Pack - High Yield: 1 Black, 1 Cyan, 1 Magenta, 1 Yellow

The black ink cartridge did not have a yellow tape strip covering the small hole, and the inside of the plastic shrink wrap was filled with black ink. I did not realize this until I tore open the plastic packaging and had ink everywhere! WHAT A MESS! I tried to phone the company to ask for a replacement cartridge, but couldn't get anyone to answer the phone number. (This is not the first time I've had a problem trying to call you.) Your follow-up Customer Service sucks! I'm thinking perhaps I should take my business elsewhere.

Review for

Replacement Lexmark 14N1618 Ink Cartridge - 150XL Yellow - High Yield

This order has been fine, so far. In the past, I have ordered ink cartridges from Comp & Save only to find them dry when inserted into my printer. One time I called your customer service number & spoke with a "foreign" sounding young lady who informed me that I could NOT (emphatically) return the defective cartridge for replacement. I have encountered this same problem again in subsequent orders, but did not waste my time calling. The price was attractive enough that I just absorbed the cost; however, it has influenced the amount I order from you.

Review for

Replacement Lexmark 150XL Multipack of 10 Ink Cartridges - High Yield: 4 Black, 2 Cyan, 2 Magenta, 2 Yellow

colors were true and easy to install the cartridges

Review for

Replacement Lexmark 155XL Ink Cartridge - 14N1619 Black - High Yield

So far so good. Leaked some ink when I first opened it though

The yellow doesn't last long.

Review for

Replacement Lexmark 14N1618 Ink Cartridge - 150XL Yellow - High Yield

The yellow doesn't last long.

Review for

Replacement Lexmark 150 Ink Cartridges XL - 150XL 4-Pack - High Yield: 1 Black, 1 Cyan, 1 Magenta, 1 Yellow

I replaced the cyan and it didn't work. It appeared to be dry. Not a good product.

good product

Review for

Replacement Lexmark 14N1614 Ink Cartridge - 150XL Black - High Yield

Review for

Replacement Lexmark 150 Ink Cartridges XL - 150XL 4-Pack - High Yield: 1 Black, 1 Cyan, 1 Magenta, 1 Yellow

Great fast service for my outdated copier;thanks for being there