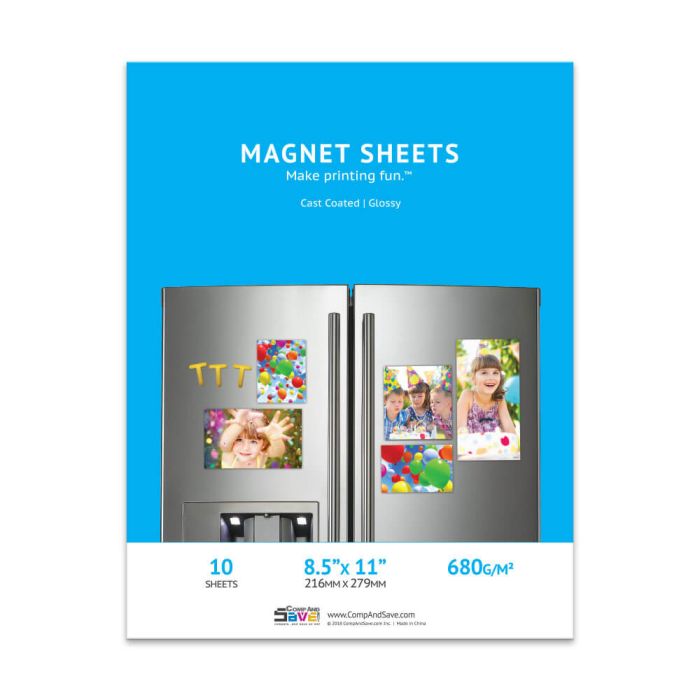 Retail Price: $34.99
Save $16.00 (46% off retail price)
Free shipping over $50 and .
Subscribe and Save 15% off Today!
Subscribers will get free shipping on orders over $35. Plus, you'll receive exclusive email offers or news weekly. Don't worry. Your email address is never shared or sold. See our privacy policy for details.
About Magnetic Sheets
Get ready to SAVE MORE with our 8.5" x 11" magnetic sheets - 10 sheets of inkjet printable magnetic sheets!
Looking for premium magnetic sheets that will give you those eye-catching and vibrant-colored finish on your project? CompAndSave.com is offering cast coated 8.5" x 11" inkjet printable magnetic sheets of 10 per pack at a lower price. If you are going for shiny and high-contrast print files that have a lustrous glossy coating to them for a crisp, bright-colored, fancy, and polished-looking high-quality print, then our glossy magnet sheets are perfect for you.
CAST-COATED: Need to work fast? Worry no more as our glossy printer magnet sheets are cast-coated, making it fast drying while giving you that smooth, high gloss, and shiny texture. Print more with our cast-coated glossy photo magnet sheet at a much lesser cost without compromising print quality.
WATER RESISTANT: Yup, you read that right! Our premium magnetic sheets are professionally designed to be water-resistant so you can enjoy long-lasting, high-quality looking printouts. Talk about getting the most of your money.
WORKS WITH MOST INKJET PRINTERS: Good news as our glossy magnet sheets are designed to be compatible with most inkjet printers! Now you can print vibrant glossy printer magnet sheets at home or work anytime you want, anytime you need.
SATISFACTION GUARANTEED: Backed with a 1-year 100% satisfaction guarantee, that is how confident we are in our high-quality glossy photo magnet sheet.
Get that extra shine you want on your project with our premium magnetic sheets that are best for color prints such as digital photo printing, labels, cards, invitations, and more! Let your creative imagination run wild with our inkjet printable magnetic sheets and get those bright-colored, eye-catching, and high-quality-looking prints at a very affordable price.
Get the best premium inkjet printable magnetic sheets today for all your printing needs and enjoy FREE shipping on orders over $50 anytime, anywhere in the US! Order before 2:00 PM PT, and it will be shipped the same day. SAVE Now!
To know more about photo printer paper types and its pros and cons, click 'Photography Paper for Inkjet Printer' and you will be redirected to the right page to help you make a decision.
All ink & toner come with a one-year 100% satisfaction guarantee.
Our products will never void your printer's warranty.
How to Choose the Best Inkjet Magnet Sheets
Magnetic Sheets Product Specification
| | |
| --- | --- |
| SKU | PH-MS-8.5x11-GLOSSY-10PK |
| Product Type | |
| Replaces OEM # | 8.5x11 Glossy Magnet Sheet |
| Color | - |
| Product Shelf Life | 18-24 months |