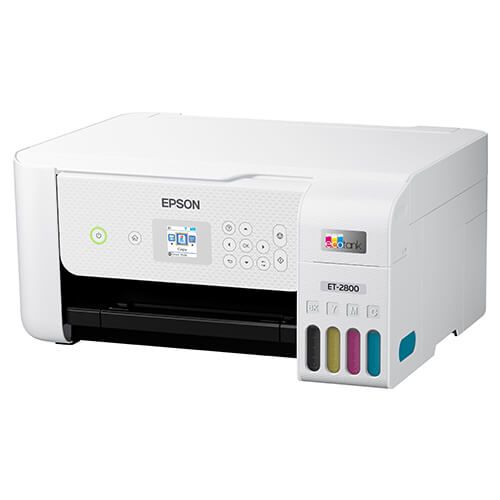 Epson ET-2800 Ink Refill Bottles - EcoTank ET-2800 Ink
Free shipping on orders $50 or more
All ink & toner come with a one-year 100% satisfaction guarantee.
Our products will never void your printer's warranty.
Compatible Epson ET-2800 Ink Refill Bottles from $6.99
---
Epson ET-2800 Ink Refill Guide
Open the lid covering the ink tank and then open the cap for the ink tank that needs to be refilled.
Open the ink tank lid and the cover for the color that needs to be refilled.
Get your new CompAndSave Epson EcoTank ET-2800 ink refill bottles. Do not shake the bottle and open it over a sink or garbage can to avoid any mess in case it leaks, as sometimes, factories tend to overfill ink cartridges. Remove the covering tape that is usually bright in color as well as the plastic protective case, if there is, before installing it.
Insert the Epson 2800 ink refill bottle straight into the ink tank port. Let the bottle refill the ink tank adequately on its own, and do not squeeze it.
Close the scanner assembly and press the 'Start' button on your printer's control panel to start the ink charging process. Let this process finish on its own to avoid wasting ink.
Epson ET-2800 Ink Refill Bottles FAQs
What are the disadvantages of ink tank printer?
Most common disadvantage of an ink tank printer is if you don't use the printer regularly, the ink inside the tank can dry up, which can cause a clogged nozzle. This would result in smudges, uneven or faded print quality. To avoid such issues, keep it a habit to print with your ink tank printer regularly or run maintenance cleaning on the printer to keep the nozzle moist.
Is ink tank better than inkjet?
If you print a lot on a daily basis, Ink Tank printers are a great option for you. This type of printer does not use the customary ink cartridge that most printers use. These printers have a built-in ink tank that you can just refill if needed. By having these built-in tanks, you can just physically see if you are running low on ink. These are also cost-efficient printers as one bottle of Epson 522 black ink bottle can print up to 4,500 pages, while the color ink bottles can print up to 7,500 pages. Ink Tank printers also produce great quality printouts, which are excellent for printing regular documents, photos, and even for sublimation T-shirt printing.
Can Epson EcoTank printer use generic ink?
Absolutely! CompAndSave's generic or compatible ink bottles are designed to meet or exceed the OEM specifications. This means that you can get the same print quality and the number of prints without paying as much compared to the original ink bottles. Aside from this, using generic ink bottles will never void the printer's warranty. So you can shop and use our ink bottles without any worry. For more information about our ink bottles and cartridges, check our ink knowledge base, and you will be redirected to the right page.
Compatible Epson ET-2800 Ink Refill Bottles Reviews
Review for

Compatible Epson T522 Black Ink Bottle - T522120-S - Ultra High Yield

Review for

Compatible Epson 522 Ink Refill Bottles 10-Pack - Ultra High Yield: 4 Black, 2 Cyan, 2 Magenta, 2 Yellow

Epson ink replacement

Review for

Compatible Epson Ink 522 Bottles 4-Pack - Ultra High Yield: 1 Black, 1 Cyan, 1 Magenta, 1 Yellow

Review for

Compatible Epson 522 Ink Refill Bottles 10-Pack - Ultra High Yield: 4 Black, 2 Cyan, 2 Magenta, 2 Yellow

Great to get my supply of bottled ink! The only concern I had was that it did not arrive packaged for cold weather, as we had Temps in the low 20's in our area & I was not home until the following day..so I was worried about the ink freezing, but it's working perfectly! Thank you!

Review for

Compatible Epson 522 Ink Refill Bottles 10-Pack - Ultra High Yield: 4 Black, 2 Cyan, 2 Magenta, 2 Yellow

professional service

Review for

Compatible Epson 522 Ink Refill Bottles 10-Pack - Ultra High Yield: 4 Black, 2 Cyan, 2 Magenta, 2 Yellow

excellent service and product

Met exoectations

Review for

Compatible Epson Ink 522 Bottles 4-Pack - Ultra High Yield: 1 Black, 1 Cyan, 1 Magenta, 1 Yellow

Same color bottles as specified by manufacturer just less money

Review for

Compatible Epson 522 Ink Refill Bottles 10-Pack - Ultra High Yield: 4 Black, 2 Cyan, 2 Magenta, 2 Yellow

Works as well as the other companies.

Review for

Compatible Epson T522 Black Ink Bottle - T522120-S - Ultra High Yield

I like it.

Review for

Compatible Epson Ink 522 Bottles 4-Pack - Ultra High Yield: 1 Black, 1 Cyan, 1 Magenta, 1 Yellow

Most economical way to refill. This lasted at least a year, and other cartridges run about the same price as a new printer. This four well refill cost less than one cartridge