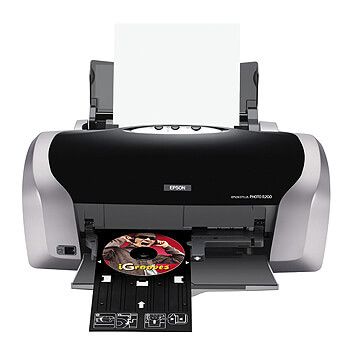 Epson Stylus Photo R200 Ink Cartridges
Free shipping on orders $50 or more
All ink & toner come with a one-year 100% satisfaction guarantee.
Our products will never void your printer's warranty.
Remanufactured Epson Stylus Photo R200 Ink Cartridges from $2.99
---
How do I change the ink cartridge in my Epson Stylus Photo R200?
Turn on your printer, then open the top cover.
Pull up the cartridge cover.
Lift the cartridge out of the printer by pressing the tab on the back of the cartridge. Take care when disposing of it.
Get your new CompAndSave Epson R200 ink cartridge. Open it over a sink or garbage can to avoid any mess in case it leaks, as sometimes, factories tend to overfill the ink cartridges. Make sure to touch the black plastic part only, then remove the covering tape that is usually bright in color along with the plastic protective case, if there is, before installing it.
Lower the cartridge into the holder, green circuit board facing forward. Carefully press the new Epson Stylus R200 ink cartridge into position until it clicks.
Close the cartridge cover.
Epson Stylus Photo R200 Ink Cartridge FAQs
How many times can you refill an ink cartridge?

You can have your ink cartridges refilled up to three times. However, it is not recommended since it can cause printing issues such as smudges, uneven and poor print quality. If you wish to refill an empty ink cartridge, you will need the right tools and instructions to refill it properly. CompAndSave offers a wide variety of cheap printer ink cartridges at a much lesser price without compromising their quality if you choose to purchase a new one. Our ink cartridges are manufactured to meet or exceed the OEM specifications, which will save you from all the trouble of going through the process of refilling an ink cartridge.

What ink does Epson Stylus Photo R200 use?

The Epson Stylus Photo R200 printer uses the Epson T048 ink cartridges in black, cyan, magenta, yellow, photo light magenta, and photo light cyan. CompAndSave offers the remanufactured Epson T048 ink cartridges in all color variants. Get high-quality printer ink that's budget-friendly. To know more about remanufactured and compatible ink cartridges, check our Ink Knowledge Base.
Remanufactured Epson Stylus Photo R200 Ink Cartridges Reviews
As always, the cartridges fit ...

Review for

Remanufactured Epson T0484 Ink Cartridge - Epson 48/T048420 - Yellow

As always, the cartridges fit and do the job as expected.

It works!

Review for

Remanufactured Epson T048 Ink Cartridges 8-Pack - Epson 48: 3 Black, 1 Cyan, 1 Magenta, 1 Yellow, 1 Light Cyan, 1 Light Magenta

It works! I'm so glad somebody still carries this. CompAndSave does a GREAT job of low price and very speedy delivery. I also like the web pages improvement where they have already GROUPED my typical products together so I don't have to search item by item. It is a very POSITIVE experience to order here.

Better Price, And Communication Than Ebay.

Review for

Remanufactured Epson T0481 Black Ink Cartridge - Epson 48/T048120

I tried purchasing this item on ebay, the seller said they shipped it, and it never arrived. I found your website which actually had a better price, and shipping was faster too!

Totally satisfied!

Review for

Remanufactured Epson T0485 Ink Cartridge - Epson 48/T048520 - Light Cyan

I was totally satisfied by the whole procedure of ordering and the quality of the product.

Review for

Remanufactured Epson Printer Ink 48 Cartridges 15-Pack - T048: 5 Black, 2 Cyan, 2 Magenta, 2 Yellow, 2 Light Cyan, 2 Light Magenta

Review for

Remanufactured Epson T0486 Ink Cartridge - Epson 48/T048620 - Light Magenta

Excellent price and speedy delivery

Easy choice.

Review for

Remanufactured Epson T048 Ink Cartridges 8-Pack - Epson 48: 3 Black, 1 Cyan, 1 Magenta, 1 Yellow, 1 Light Cyan, 1 Light Magenta

Hard to resist the savings; and hey, ink is ink.

Review for

Remanufactured Epson T048 Ink Cartridges 8-Pack - Epson 48: 3 Black, 1 Cyan, 1 Magenta, 1 Yellow, 1 Light Cyan, 1 Light Magenta

The cartridges work okay. The ink doesn't print very sharp on very small print especially on numbers.

Review for

Remanufactured Epson Printer Ink 48 Cartridges 15-Pack - T048: 5 Black, 2 Cyan, 2 Magenta, 2 Yellow, 2 Light Cyan, 2 Light Magenta

good product - great price

Quality and ease of installation.

Review for

Remanufactured Epson T0481 Black Ink Cartridge - Epson 48/T048120