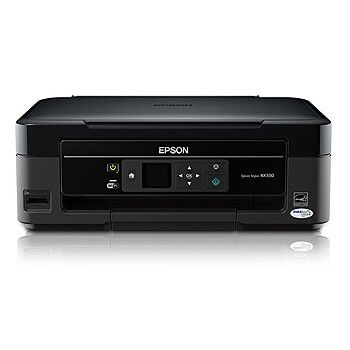 Epson Stylus NX330 Ink Cartridges
Free shipping on orders $50 or more
All ink & toner come with a one-year 100% satisfaction guarantee.
Our products will never void your printer's warranty.
Remanufactured Epson Stylus NX330 Ink Cartridges from $3.49
---
How to change Epson Stylus NX330 ink cartridges on printer?
Turn the printer on.
Raise the scanner unit.
Pinch on the cartridge's tab then pull it straight up from the printer.
Get your new CompAndSave Epson Stylus NX330 ink cartridge. Open the cartridge over a sink or garbage can to avoid any messes in case of a powder leak as sometimes, factories tend to overfill cartridges. Avoid touching the bottom part of the cartridge, then remove the covering tape that is usually bright in color as well as the plastic protective case, if there is, before installing it.
Install your CompAndSave Epson Stylus NX330 cartridge to it's respective slot and firmly push it until it snaps in place.
Tap the OK button and close the scanner unit.
The machine will start the ink charging process. Let this process finish on it's own to avoid wasting ink.
Most Common Epson Stylus NX330 Ink Cartridges Questions
What ink does Epson Stylus NX330 use?

Epson Stylus NX330 uses the standard yield Epson T124 cartridges or the high-yield Epson T126 cartridges. CompAndSave offers discounted replacement Epson T124 and Epson T126 ink cartridges with genuine-like quality and satisfaction. These ink cartridges will work as a replacement of the original Epson T124 and Epson T126 cartridges but at a very affordable price!

How do I get my Epson printer to ignore empty ink cartridges?

Most Epson inkjet printers have a metering system that notifies the customer when the cartridges are running low on ink. The microchip would then shut down the printer and prevent printing unless you install a new cartridge. In order to bypass or ignore the empty ink cartridges, you may try to follow these steps. Open the cover and hold the ink button down. When the ink holder returns to its original location, open the lid of the cartridge that does not contain ink and close it without withdrawing the cartridge. Now, close the cover and try to start printing. To avoid printing issues, we highly suggest you replace any empty ink cartridges. CompAndSave offers a wide variety of cheap printer ink cartridges without compromising its quality so you can print to your heart's content.
Remanufactured Epson Stylus NX330 Ink Cartridges Reviews
great service

Review for

Remanufactured Epson 126 T126420 (T1264) High Yield Yellow Pigment Based Ink Cartridge

Its exactly what they said ...

Review for

Remanufactured Epson 126 Black Ink Cartridge High Capacity - T126120

Its exactly what they said it was. Very happy with it and the company, service is excellent as well as product.

Excellent products and company

Review for

Remanufactured Epson 126 Black Ink Cartridge High Capacity - T126120

I've dealt with C&S for years and have never been disappointed in their products or service.

Review for

Remanufactured Epson 126 Ink Cartridges Combo 6 - T126 - High Yield: 3 Black, 1 Cyan, 1 Magenta, 1 Yellow

I will call them again when I want to reorder

Review for

Remanufactured Epson 126 Black & Epson 126 Color Ink Combo 11 - T126 - High Yield: 5 Black, 2, Cyan, 2 Magenta, 2 Yellow

I found the price to get was great

Review for

Remanufactured Epson 126 T126320 (T1263) High Yield Magenta Pigment Based Ink Cartridge

Excellent products and company

Review for

Remanufactured Epson 126 Black Ink Cartridge High Capacity - T126120

I've bought from C&S for years and have never been disappointed.

Review for

Remanufactured Epson 126 Black & Epson 126 Color Ink Combo 11 - T126 - High Yield: 5 Black, 2, Cyan, 2 Magenta, 2 Yellow

These work great and quality ink.

Works Great

Review for

Remanufactured Epson 124 Black Ink Cartridge - T124120 - Moderate Yield

Good price, great product. Will make this my regular place to order them moving forward.

I'll buy again and again!!

Review for

Remanufactured Epson 126 Ink Cartridges Combo 6 - T126 - High Yield: 3 Black, 1 Cyan, 1 Magenta, 1 Yellow