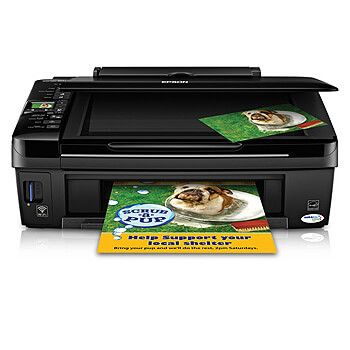 Epson Stylus NX420 Ink Cartridges
Free shipping on orders $50 or more
All ink & toner come with a one-year 100% satisfaction guarantee.
Our products will never void your printer's warranty.
Remanufactured Epson Stylus NX420 Ink Cartridges from $3.49
---
How to change Epson Stylus NX420 ink cartridges on printer?
Make sure that the printer is turned on.
If you are replacing the ink cartridge before it runs out, just go press the Setup followed by Ink Cartridge Replacement then choose Start.
To access the ink cartridges, just lift the scanner lid of the printer. Avoid touching the white cables inside the printer.
Raise the cartridge cover.
To release the ink cartridge, just gently press the tab at the end of the cartridge. Then pull it out from the printer.
Get your new CompAndSave's Epson Stylus NX420 ink cartridge, gently shake it sideways for about four to five times before opening from the package. Open it over a sink or garbage can to avoid any messes in case it leaks as sometimes, factories tend to overfill ink cartridges. Make sure to touch the black plastic part only, then remove the covering tape that is usually bright in color as well as the plastic protective case, if there is, before installing it.
Insert the Epson NX420 ink cartridge to its respective slot, you should hear a snap indicating that it's locked in place.
Close the cartridge lid until it snaps into place.
Close the scanner cover and the printer will automatically go through the ink priming process. Let this process finish to avoid wasting ink.
Most Common Epson Stylus NX420 Ink Cartridges Questions
What ink does Epson NX420 use?

Epson 124 and Epson 125 ink cartridges are the cartridges used for Epson Stylus NX420. CompAndSave offers discounted compatible Epson 124 and Epson 125 ink cartridges with genuine-like quality and satisfaction. These ink cartridges will work as a replacement of the original Epson 124 and Epson 125 cartridges but at a very affordable price!

Can I use my Epson printer with only black ink?

Some Epson printers allow users to print with only black ink when the color ink runs out. This is a temporary measure called Black Print mode. This can only be done in a short period of time and varies depending on the the documents printed and frequency of usage. It would stop printing when it exceeds the duration allotted for this setting. That is why it is recommended to always have both the black and color cartridge available on your printer to avoid downtime in printing.
Remanufactured Epson Stylus NX420 Ink Cartridges Reviews
Review for

Remanufactured Epson T1252 Cyan Ink Cartridge - Epson 125/T125220

These are adequate ink cartridges. No trouble printer reading them.

Review for

Remanufactured Epson T1251 Ink Cartridge - Epson 125/T125120 - Black

They've worked as well as the factory ones do…and at a much lower cost.

Review for

Remanufactured Epson T1251 Ink Cartridge - Epson 125/T125120 - Black

Works Great

Review for

Remanufactured Epson 124 Black Ink Cartridge - T124120 - Moderate Yield

Good price, great product. Will make this my regular place to order them moving forward.

Review for

Remanufactured Epson T1251 Ink Cartridge - Epson 125/T125120 - Black

Great price, fast delivery, and charged up with no problems. As long as the cartridge has decent life I'll definitely be back for more.

Review for

Remanufactured Epson T1251 Ink Cartridge - Epson 125/T125120 - Black

Review for

Remanufactured Epson T1251 Ink Cartridge - Epson 125/T125120 - Black

Good price

Review for

Remanufactured Epson 125 Combo Pack of 11 Ink Cartridges - T125: 5 Black, 2 Cyan, 2 Magenta, 2 Yellow

The first cartridge was recognized right aways-which in some off my other buys- it was a hasssle.

functions

Review for

Remanufactured Epson T1251 Ink Cartridge - Epson 125/T125120 - Black

quality refill that works

thank you

Review for

Remanufactured Epson 125 Ink Cartridge Combo Pack of 6 - T125: 3 Black, 1 Cyan, 1 Magenta, 1 Yellow