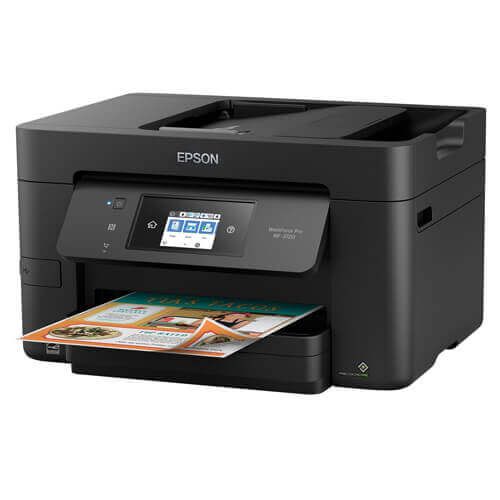 How To Install Epson WF-3720 Ink Cartridges
Epson WF-3720 Ink Cartridges - WorkForce Pro WF-3720 Ink
Free shipping on orders $50 or more
All ink & toner come with a one-year 100% satisfaction guarantee.
Our products will never void your printer's warranty.
Remanufactured Epson WF-3720 Ink Cartridges from $10.95
---
How do I change Epson Workforce Pro WF-3720 ink cartridges on printer?
First, make sure your printer is turned on.
To access the ink cartridge carriage, just gently lift the scanner lid of the printer until you hear a snap.
Press the plastic tab on both ends of the ink cartridge then pull it out of the printer.
Get your new CompAndSave ink cartridge, open it over a sink or garbage can to avoid any messes in case it leaks as sometimes, factories tend to overfill ink cartridges. Make sure to touch the black plastic part only, then remove the covering tape that is usually bright in color as well as the plastic protective case, if there is, before installing it.
Install the new cartridge immediately after removing the old one. If you do not, the print head may dry out and be unable to print.
Insert the Epson Workforce Pro WF-3720 ink cartridge and push it down until it clicks into place.
Put the scanner back into place then try to print a test page.
Most Common Epson Workforce Pro WF-3720 Ink Cartridge Questions
What ink does Epson WF-3720 use?

You can use the Epson WF-3720 ink cartridges which are the Epson 702XL black, cyan, magenta, and yellow ink cartridges.

Can I use generic ink in Epson printer?

Yes, you can as our remanufactured Epson WF-3720 ink cartridges are designed to meet or exceed the OEM specifications and our products is also covered with 1-year warranty.
Remanufactured Epson WF-3720 Ink Cartridges Reviews
I will use them again

Review for

Remanufactured Epson 702 Ink Cartridge XL - T702XL120/T702XL Black - High Capacity

Very good delivery and service. Couldn't be happier

Review for

Remanufactured Epson 702XL Combo Pack of 4 Ink Cartridges - T702XL - High Yield: 1 Black, 1 Cyan, 1 Magenta, 1 Yellow

I'm a customer now

Review for

Remanufactured Epson 702XL Combo Pack of 4 Ink Cartridges - T702XL - High Yield: 1 Black, 1 Cyan, 1 Magenta, 1 Yellow

Can't tell the difference—good deal

First time buying remanufactured Epson ink

Review for

Remanufactured Epson 702 Ink Value Pack of 10 XL Cartridges - T702XL - High Yield: 4 Black, 2 Cyan, 2 Magenta, 2 Yellow

First time buying remanufactured Epson ink

penny wise and pound foolish

Review for

Remanufactured Epson 702 Ink Cartridge XL - T702XL120/T702XL Black - High Capacity

ran out quickly, gummed up the black ports, colors did not develop and came 1/2 empty. good and quick service, nicee people not so nice product, you get what you pay for, I shoulda known.

Review for

Remanufactured Epson 702XL Combo Pack of 4 Ink Cartridges - T702XL - High Yield: 1 Black, 1 Cyan, 1 Magenta, 1 Yellow

Good service, good product and on time.

I ordered these cartridges and ...

Review for

Remanufactured Epson 702XL Combo Pack of 4 Ink Cartridges - T702XL - High Yield: 1 Black, 1 Cyan, 1 Magenta, 1 Yellow

I ordered these cartridges and the shipping was fast. The overall quality of the cartridges is ABSOLUTELY AMAZING and super easy to install, it took me less than 6 minutes to install and began my day. I will definitely be ordering again. Thanks again COMP AND SAVE!

Review for

Remanufactured Epson 702XL Combo Pack of 4 Ink Cartridges - T702XL - High Yield: 1 Black, 1 Cyan, 1 Magenta, 1 Yellow

Very good product and efficacious delivery. Thank you!

Review for

Remanufactured Epson 702XL Combo Pack of 4 Ink Cartridges - T702XL - High Yield: 1 Black, 1 Cyan, 1 Magenta, 1 Yellow

Good price and good product, all along with good service.

Good product

Review for

Remanufactured Epson 702XL Combo Pack of 4 Ink Cartridges - T702XL - High Yield: 1 Black, 1 Cyan, 1 Magenta, 1 Yellow