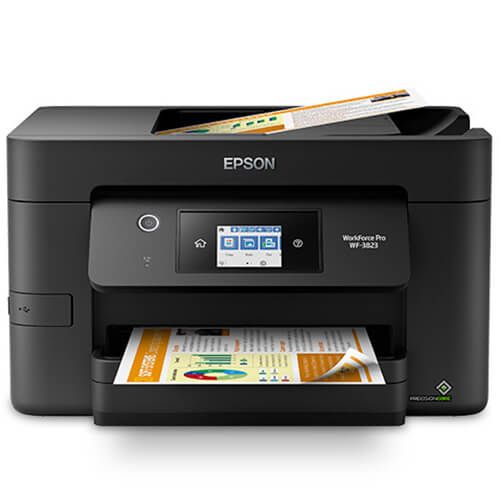 Epson WorkForce Pro WF-3823 Ink Cartridges
Free shipping on orders $50 or more
All ink & toner come with a one-year 100% satisfaction guarantee.
Our products will never void your printer's warranty.
Remanufactured Epson WorkForce Pro WF-3823 Ink Cartridges from $19.95
---
How to Install Epson WorkForce Pro WF-3823 Ink Cartridges
Make sure that the printer is turned on.
If you are replacing an empty ink cartridge, a notification will appear on the printer's LCD screen, then you just have to press 'How to'.
Raise the printer's scanner assembly until it clicks and stays in place.
The ink cartridge's carriage will automatically move, so make sure to wait for it to completely stop moving before you proceed.
Press the tab at the end of the cartridge that needs replacement to release it, then pull it out of the printer.
Get your new CompAndSave Epson WF-3823 ink cartridge. Shake the cartridge five to six times before opening it from the package. Open it over a sink or garbage can to avoid any messes in case it leaks as sometimes, factories tend to overfill ink cartridges. Make sure to touch the black plastic part only, then remove the covering tape that is usually bright in color as well as the plastic protective case, if there is, before installing it.
Insert the new ink cartridge into its respective slot and gently push it until it snaps lock into place.
Close the scanner assembly, then press 'Completed' on the printer's LCD screen. The printer will automatically start the ink charging process. Let this run until its done to avoid wasting ink.
Epson WorkForce Pro WF-3823 Ink Cartridges FAQ's
Can you use compatible ink cartridges in Epson printers?

Yes, you can. CompAndSave's generic, compatible, replacement, or remanufactured ink cartridges are designed to meet or exceed the OEM specifications. This means that you can get the same print quality and the number of prints without paying as much compared to original Epson ink cartridges. Aside from this, using generic ink will never void the printer's warranty. So you can shop and use our ink without any worry. For more information about our ink, click ink knowledge base, and you will be redirected to the right page.

Are all Epson cartridges the same?

No, they are not. Epson inks have different sizes, compatibility, color, and page yield depending on how they were manufactured and depending on their compatible printers. To know what type of ink your printer is using, you may check the manual that came with or check the existing ink cartridge that you're using on your printer. It usually has a label or sticker with the model number of the ink cartridge intended for your printer. For example, the Epson WorkForce Pro WF-3823 printer uses an ink cartridge that has the model code of Epson 822 or Epson 822XL.
Remanufactured Epson WorkForce Pro WF-3823 Ink Cartridges Reviews
very good performance and cost

Review for

Remanufactured Epson 822XL Ink Cartridges Combo Pack of 4 - High Capacity: 1 Black, 1 Cyan, 1 Magenta, 1 Yellow

very pleased with the performance of the ink cartridges, and the cost... no reason to stop using them, totally satisfied.

Very Happy!

Review for

Remanufactured Epson 822XL Ink Cartridges Combo Pack of 4 - High Capacity: 1 Black, 1 Cyan, 1 Magenta, 1 Yellow

I was leary when I placed the order, afraid I would just wrap the cartridges up and send them back, because I tried remanufactured 822's before and they wouldn't work...and Epson had a little notice on their screen saying so .... BUT, these work beautifully --Plus, the bonus is that the three color cartridges are XL -- can't get XL from Epson ( at least the last time I checked)

Review for

Remanufactured Epson 822XL Ink Cartridges Combo Pack of 4 - High Capacity: 1 Black, 1 Cyan, 1 Magenta, 1 Yellow

Find the ink is quite compatibles in various stores.

Review for

Remanufactured Epson Ink 822XL Cartridges Combo 10 - High Yield: 4 Black, 2 Cyan, 2 Magenta, 2 Yellow

Purched a Epson printer. Am satisfied

Perfect!

Review for

Remanufactured Epson 822XL Ink Cartridges Combo Pack of 4 - High Capacity: 1 Black, 1 Cyan, 1 Magenta, 1 Yellow

Got What I Needed When I Needed It

Review for

Remanufactured Epson 822XL Ink Cartridges Combo Pack of 4 - High Capacity: 1 Black, 1 Cyan, 1 Magenta, 1 Yellow

Got exactly what I wanted - original parts when I needed them!

Review for

Remanufactured Epson 822 Ink Cartridge XL - T822XL120 Black - High Capacity

Very good product

Review for

Remanufactured Epson 822 Ink Cartridge XL - T822XL120 Black - High Capacity

why is the comb package ...

Review for

Remanufactured Epson 822XL Ink Cartridges Combo Pack of 4 - High Capacity: 1 Black, 1 Cyan, 1 Magenta, 1 Yellow

why is the comb package all ways out of stock