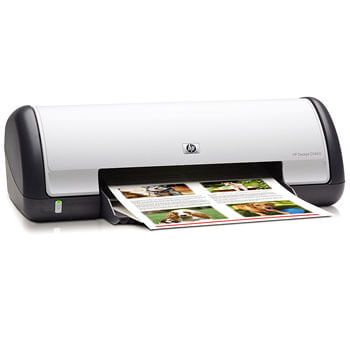 HP DeskJet D1460 Cartridges
Free shipping on orders $50 or more
All ink & toner come with a one-year 100% satisfaction guarantee.
Our products will never void your printer's warranty.
Replacement HP DeskJet D1460 Cartridges from $11.99
---
How to change HP Deskjet D1460 cartridges on printer?
Turn the printer on.
Open the printer's cover. The ink cartridge carrier will move and settle for cartridge replacement position. Do not move or stop the print holder by touching it or forcing it to move. Allow it to settle without interruption.
Gently push the old cartridge down to remove it from the machine.
Get your new CompAndSave HP Deskjet D1460 ink cartridge. Open the cartridge over a sink or garbage can to avoid any mess in case of an ink leak, as sometimes, factories tend to overfill the ink cartridges. Make sure to touch the black plastic part only, then remove the covering tape that is usually bright in color and the plastic protective case, if there is, before installing it.
Insert the new HP D1460 cartridge into the ink carrier until it clicks into place.
Close the front cover.
HP DeskJet D1460 Cartridge FAQs
Can you use other ink cartridges in a HP printer?

You can use other ink cartridges such as replacement, compatible, or off-brand as long as it replaces the OEM counterpart. For example, HP DeskJet D1460 can use replacement HP 21 black and HP 22 color ink cartridges. It cannot use ink cartridges with a different model number. Head on to CompAndSave to shop for your ink cartridge! CompAndSave offers great deals on replacement HP Deskjet D1460 ink cartridges. Plus, our low-priced D1460 cartridges are backed up with a 1-year 100% satisfaction guarantee.

Why does my HP printer say incompatible ink cartridge?

The most common reason for this error is installing a different model number of ink cartridges. Verify your printer's ink cartridge model and see if it's the one installed on your machine. Then, replace incompatible ink cartridges, if there are any.

If you have installed the correct cartridge, check if it still has the protective tape that hasn't been removed on the cartridge's contacts. Gently wipe the cartridge printhead and circuitry with a nonabrasive towel to ensure there is no debris. Cleaning the copper part and the contact points with alcohol can work very effectively as well. Do this step for the problem cartridge indicated in the display. For more detailed instructions, check our Troubleshooting Tips.
Replacement HP DeskJet D1460 Cartridges Reviews
Review for

CMYi Remanufactured Ink Cartridge for HP 21 Ink Cartridge - C9351AN - Black

I was not able to get it to work at all but I believe it was my own fault.

Replaced SP Cartridges 22 & 56 - work great!

Review for

Replacement HP 22 Ink Cartridge - C9352AN - Color

Quality ink at a very reasonable cost!

the replacement cartridges were quality.

Review for

Replacement HP21 HP22 Ink Cartridges 2-Pack - 1 HP 21 Black and 1 HP 22 Color

the replacement cartridges were quality.

Review for

CMYi Remanufactured Ink Cartridge for HP 21 Ink Cartridge - C9351AN - Black

The cartridge fits and preforms just like a HP cartridge but at a considerable less cost.

Review for

Replacement HP21 HP22 Ink Cartridges 2-Pack - 1 HP 21 Black and 1 HP 22 Color

Was correct product. Was at a good price. Arrived quickly. I'll certainly order again

These cartridges work great.

Review for

Replacement HP21 HP22 Ink Cartridges 2-Pack - 1 HP 21 Black and 1 HP 22 Color

Works like new cartridges. Price is much than OEM cartridges

Great alternative to the expensive HP cartridges

Review for

Replacement HP21 HP22 Ink Cartridges 2-Pack - 1 HP 21 Black and 1 HP 22 Color

These cartridges work just as good as the HP ones that are more expensive. Great quality and last through many print jobs. I am a student so i print a lot and these hold up to the job!

Review for

Replacement HP 22 Ink Cartridge - C9352AN - Color

Printer only worked after changing to new cartridges

Review for

Replacement HP21 HP22 Ink Cartridges 2-Pack - 1 HP 21 Black and 1 HP 22 Color

Excellent service and product

Working well.

Review for

Replacement HP Ink 21 and 22 Cartridges 3-Pack - 2 x 21 Black, 1 x 22 Color