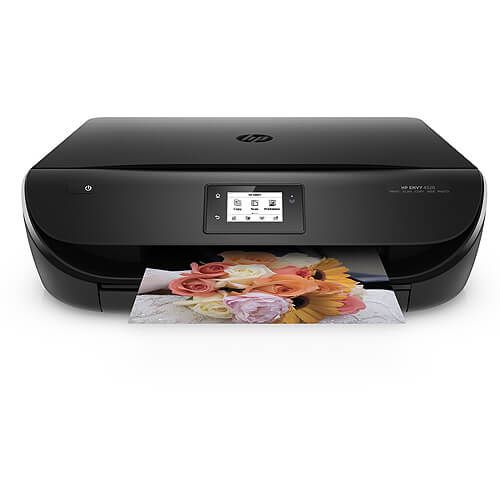 HP ENVY 4520 Ink Replacement Guide
HP ENVY 4520 Ink Cartridges
Free shipping on orders $50 or more
All ink & toner come with a one-year 100% satisfaction guarantee.
Our products will never void your printer's warranty.
Replacement HP ENVY 4520 Ink Cartridges from $20.95
---
HP ENVY 4520 Ink Replacement Guide
Make sure that the printer is turned on and put a white plain paper to the paper tray.
Locate the handle to lift the access door. This can be found on each side of the printer.
The ink cartridge's carriage will automatically move, so make sure to wait for it to completely stop moving before you proceed.
Gently press the cartridge lid after lifting it so you can pull the cartridge out from the printer.
Get your new CompAndSave HP ENVY 4520 printer ink cartridge. Open it over a sink or garbage can to avoid any mess in case it leaks, as sometimes, factories tend to overfill the ink cartridges. Make sure to touch the black plastic part only, then remove the covering tape that is usually bright in color as well as the plastic protective case, if there is, before installing it.
Insert the ink for HP ENVY 4520 into its respective slot. You should hear a snap indicating that it's locked in place.
Close the ink cartridge access door to the lid, and the exterior door.
HP ENVY 4520 Ink Cartridges FAQs
What ink does HP ENVY 4520 use?
The HP ENVY 4520 printer uses the standard-yield HP 63 and the high-yield HP 63XL ink cartridges. These cartridges come in black and tri-color variations. CompAndSave offers replacement HP 63 and HP 63XL ink cartridges that can provide the same quality and performance as the OEM cartridges but at a much more affordable price.
Are HP 63 and 64 ink cartridges interchangeable?
No, they are not interchangeable. HP ENVY 4520 can only use the standard-yield HP 63 or the high-yield HP 63XL ink cartridges. Printers that use HP 63 cannot use HP 64, and vice versa. Installing the wrong ink cartridge into your printer will not be recognized by the printer and might cause some printer damage. So make sure to only install the correct ink cartridge into your printer.
Are all HP ink cartridges compatible?
No, not all HP ink cartridges are compatible. HP ink cartridges have different sizes, appearances, and fittings depending on their compatible printer. So make sure to only install the ink cartridge intended for your printer to avoid any issues. If you need help finding the right cartridge model for your printer, you can check our find my ink guide, and you will be redirected to the right page.
Replacement HP ENVY 4520 Ink Cartridges Reviews
So far, ink cartridge worked fine.

Review for

Replacement HP63XL Color Ink Cartridge - F6U63AN - High Yield

Cartridge worked fine. Very satisfied.

Review for

Replacement HP 63XL Black Ink Cartridge - F6U64AN - High Yield

It has worked out great. Can't tell the difference!

I have always been satisfied ...

Review for

Replacement HP63XL Color Ink Cartridge - F6U63AN - High Yield

I have always been satisfied with the ink I have ordered from Compandsave. Great prices, quality, and quantity of prints. However, on occasion a cartridge is faulty and has to be returned. I am APPALLED that I am being charged a fee to return it! It's not that I ordered the wrong cartridge - it's that it DOES NOT WORK.Not my fault yet I am being penalized. Never have I experienced this before with any product I've ordered from any website. For that reason only, I will be looking for an alternative website to purchase from.

may try again

Review for

Replacement HP 63XL Ink Cartridge Combo Pack of 2 - High Yield: 1 Black, 1 Tri-color

last cartage did not work

Review for

Replacement HP 63 Ink XL Combo Pack of 3 Cartridges - High Yield: 2 Black, 1 Color

Great ink replacement and a great price

Review for

Replacement HP 63 Ink XL Combo Pack of 3 Cartridges - High Yield: 2 Black, 1 Color

Ongoing customer who is completely satisfied with product.

I am using themright now!

Review for

Replacement HP 63 Ink XL Combo Pack of 3 Cartridges - High Yield: 2 Black, 1 Color

Price is great - they work fine!

I want to be able to use this product.

Review for

Replacement HP 63XL Ink Cartridge Combo Pack of 2 - High Yield: 1 Black, 1 Tri-color

I have not tried the black cartridge yet, but the color cartridge gives me an error after 1 printing. I get the message to re-insert the cartridge, but it does not work, no matter how many times I do that. I put the old HP cartridge back in thinking it would re-set, but I continue to get the same error message with the Comp and Save cartridge.

Review for

Replacement HP 63 Ink XL Combo Pack of 3 Cartridges - High Yield: 2 Black, 1 Color

Great ink both black and color.

Met expectations.

Review for

Replacement HP 63 Ink Cartridge Combo Pack 2: 1 Black and 1 Tri-color