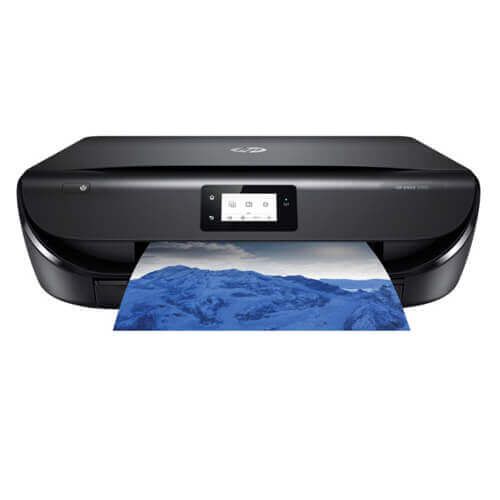 HP ENVY 5055 Ink Replacement Guide
HP ENVY 5055 Ink Cartridges
Free shipping on orders $50 or more
All ink & toner come with a one-year 100% satisfaction guarantee.
Our products will never void your printer's warranty.
Replacement HP ENVY 5055 Ink Cartridges from $20.95
---
HP ENVY 5055 Ink Replacement Guide
Make sure that the printer is turned on, and then load plain white paper on the printer's paper tray.
To access the ink cartridges, lift the ink cartridge access door by grasping the handles on each side of the printer.
The ink cartridge's carriage will automatically move, so make sure to wait for it to completely stop moving before you proceed.
To release the ink cartridge from the slot, gently lift the plastic lid covering the ink cartridge, then pull the cartridge out of the printer.
Get your new CompAndSave's HP 5055 ink cartridge. Open it over a sink or garbage can to avoid any mess in case it leaks, as sometimes, factories tend to overfill the ink cartridges. Make sure to touch the black plastic part only, then remove the covering tape that is usually bright in color and the plastic protective case, if there is, before installing it.
Insert the ink for HP ENVY 5055 into its respective slot; you should hear a snap indicating it is locked in place.
Close the plastic lid cover of the cartridge, then close the ink cartridge access door.
HP ENVY 5055 Ink Cartridges FAQs
What ink does HP ENVY 5055 use?
The HP ENVY 5055 printer uses the standard-yield HP 65 and the high-yield HP 65XL ink cartridges. CompAndSave offers replacement HP 65 and HP 65XL ink cartridges that can match the OEM specifications and performance but at a much more affordable price.
What can I do with used printer cartridges?
After emptying your ink or toner cartridges, you bring your cartridges to a recycling center in your area. You can also look for office supply stores that accept empty ink or toner cartridges for a reward. The last option is to register with your ink or toner manufacturer's recycling program, wherein they will provide a shipping return label so that you can recycle your cartridges for free.
Can I use different ink on my HP ENVY printer?
If what you mean by "different" is a different brand, then the answer is yes, you can. Just make sure that the ink cartridge that you are going to use is the right model for your printer. CompAndSave offers replacement, remanufactured, or compatible ink cartridges that are designed to match the OEM specifications. This means that you can get the same quality and number of prints without paying as much compared to original ink cartridges. For more information, click ink knowledge base, and you will be redirected to the right page.
Replacement HP ENVY 5055 Ink Cartridges Reviews
Review for

Replacement HP Ink Cartridge 65XL Combo Pack of 3 - High Yield: 2 Black, 1 Tri-color

Great price, no problem so far

Review for

Replacement HP 65 Ink Combo Pack of 2 - 1 Black, 1 Tri-color

Work great

Review for

Replacement HP 65XL 2-Pack Ink Cartridges - High Yield: 1 Black, 1 Tri-color

shipping and ordering went smoothly.

Review for

Replacement HP 65XL 2-Pack Ink Cartridges - High Yield: 1 Black, 1 Tri-color

got them for backup incase I need them

Review for

Replacement HP 65XL 2-Pack Ink Cartridges - High Yield: 1 Black, 1 Tri-color

muy bueno

Review for

Replacement HP 65XL 2-Pack Ink Cartridges - High Yield: 1 Black, 1 Tri-color

I recommend this website for ease of ordering, price and quality.

Review for

Replacement HP 65XL Black Ink Cartridge - N9K04AN - High Yield

I've always had fast and good service from CompAndSave. Reasonable prices and never had a bad product. I have recommended them to several friends.

Review for

Replacement HP 65 Ink Combo Pack of 2 - 1 Black, 1 Tri-color

I'm very pleased with my purchase . It was sent to me in a very short time. I will buy my ink from you every time I need it. I'm also sharing your ad with all my friends. Thank you

Savings vs cost

Review for

Replacement HP Ink Cartridge 65XL Combo Pack of 3 - High Yield: 2 Black, 1 Tri-color

Very happy with my purchase. Big savings from your company.

Review for

Replacement HP 65XL Black Ink Cartridge - N9K04AN - High Yield

Great products. Great prices