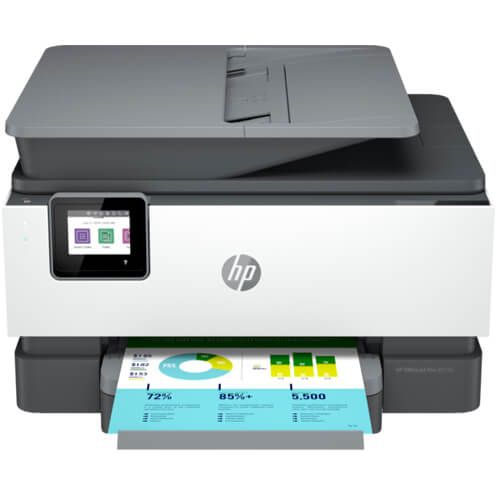 How To Install HP OfficeJet Pro 9015e Ink Cartridges
HP OfficeJet Pro 9015e Ink Cartridges
Free shipping on orders $50 or more
All ink & toner come with a one-year 100% satisfaction guarantee.
Our products will never void your printer's warranty.
Replacement HP OfficeJet Pro 9015e Ink Cartridges from $19.95
---
HP OfficeJet Pro 9015e Ink Replacement Guide
Make sure that the printer is turned on.
To access the ink cartridges, just open the front cover and lift the ink access door.
The ink cartridge's carriage will automatically move, so make sure to wait for it to completely stop moving before you proceed.
To release the ink cartridge, just simply push it forward to unlock it, then pull the cartridge out from the printer.
Get your new CompAndSave HP 9015e ink cartridge. Open it over a sink or garbage can to avoid any mess in case it leaks as sometimes, factories tend to overfill the ink cartridges. Make sure to touch the black plastic part only, then remove the covering tape that is usually bright in color as well as the plastic protective case, if there is, before installing it.
Insert the ink for HP OfficeJet Pro 9015e into its respective slot. Gently push it in until it clicks into place.
Close the ink access door and put the front cover back into place.
HP OfficeJet Pro 9015e Ink Cartridges FAQs
What ink does HP OfficeJet Pro 9015e use?
HP OfficeJet Pro 9015e printer uses the standard yield HP 962 black, cyan, magenta, and yellow ink cartridges. It is also compatible with the high yield HP 962XL ink cartridges, which come in the same color variation. CompAndSave offers the standard yield HP 962 and high yield HP 962XL that works as a replacement for the original or OEM HP ink cartridges at a much lesser price.
What is the difference between 962 and 962XL ink cartridges?
In terms of size and printer compatibility, they are practically the same. The only difference between these two is the number of pages they can print. The standard-yield HP 962 ink cartridges can only print up to 700 pages for all colors at 5% page coverage, while the high-yield HP 962XL ink cartridges can print up to 2,000 pages for black and up to 1,600 pages for cyan, magenta, and yellow at 5% page coverage.
Can you mix regular and XL ink cartridges?
The short answer is yes. Just make sure that the standard or the XL ink cartridge that you are going to use is the ink cartridge model intended for your printer. Installing the wrong ink will not be recognized by the printer and might cause some issues.
Replacement HP OfficeJet Pro 9015e Ink Cartridges Reviews
Review for

Replacement HP 962 Ink 4-Pack Cartridges: 1 Black, 1 Cyan, 1 Magenta, 1 Yellow

We have had no problems with your products. It is fast service.

Review for

Replacement HP 962XL Combo Pack of 4 Ink Cartridges - High Yield: 1 Black, 1 Cyan, 1 Magenta, 1 Yellow

inexpensive and is a good as name brands..,.

Great products and Great pricing!

Review for

Replacement HP 962XL Combo Pack of 10 Ink Cartridges - High Yield: 4 Black, 2 Cyan, 2 Magenta, 2 Yellow

I applaud Comp and Save for their business practice. They are fast and have very good products. On the downside, I was unable to use their ink for my printer due to Unscrupulous practices by Hewlett Packard. HP is terrible as you can only use THEIR ink. Any other ink will not be acknowledged by the printer and will fail!!! Comp and save refunded my money. Once this store bought ink runs out, I am tossing the printer in the trash and my next non HP printer will be using Comp and Save Inks.

How the ink works, which is well

Review for

Replacement HP 962XL Combo Pack of 4 Ink Cartridges - High Yield: 1 Black, 1 Cyan, 1 Magenta, 1 Yellow

It works well and that's all I care about.

Review for

Replacement HP 962XL Ink Cartridge Black - High Yield - 3JA03AN

It works and I'm saving money! I am happy!

good produck

Review for

Replacement HP 962XL Combo Pack of 10 Ink Cartridges - High Yield: 4 Black, 2 Cyan, 2 Magenta, 2 Yellow

Very satisfied!

Review for

Replacement HP 962XL Combo Pack of 4 Ink Cartridges - High Yield: 1 Black, 1 Cyan, 1 Magenta, 1 Yellow

Great savings. No problems with my printer, and I use it all the time.

GOOD PRODUCT

Review for

Replacement HP 962XL Combo Pack of 4 Ink Cartridges - High Yield: 1 Black, 1 Cyan, 1 Magenta, 1 Yellow

PRODUCT IS WORKING WITH NO ISSUES IN MY HP9012

JUST AS GOOD AS HP INK CARTRIDGES BUT GREAT PRICE

Review for

Replacement HP Ink 962XL Cartridge Yellow - High Yield - 3JA02AN

YOUR SERVICES ARE A1 AND SO WELL WRAPPED TO SURVIVE SHIPMENT WHICH ALWAYS COMES SO QUICKLY TO MY HOME.

Review for

Replacement HP 962 Ink 4-Pack Cartridges: 1 Black, 1 Cyan, 1 Magenta, 1 Yellow