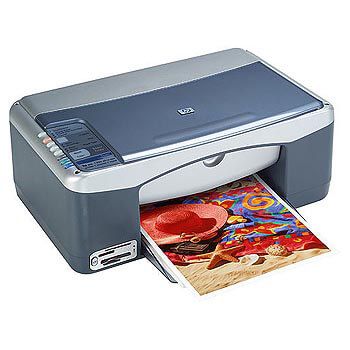 HP PSC 1350 Ink Cartridges
Free shipping on orders $50 or more
All ink & toner come with a one-year 100% satisfaction guarantee.
Our products will never void your printer's warranty.
Replacement HP PSC 1350 Ink Cartridges from $11.99
---
How to Install HP PSC 1350 Ink Cartridges?
Make sure that the printer is turned on.
Open the printer's ink access door.
The ink cartridge's carriage will automatically move, so make sure to wait for it to completely stop moving before you proceed.
Gently push down the ink cartridge that needs to be replaced to release it, then pull is out from the printer.
Get your new CompAndSave HP PSC 1350 printer ink cartridge. Open it over a sink or garbage can to avoid any mess in case it leaks as sometimes, factories tend to overfill the ink cartridges. Make sure to touch the black plastic part only, then remove the covering tape that is usually bright in color as well as the plastic protective case, if there is, before installing it.
Insert the new HP 1350 ink cartridge into its respective slot. Gently push it in until it snaps lock into place.
Close the printer's ink access door.
HP PSC 1350 Ink Cartridges FAQs
How do I get my HP printer to recognize a new ink cartridge?

By default, compatible, replacement, or remanufactured toner cartridges should automatically work without doing any configuration. But in case your printer didn't print after installing these types of cartridges, the first thing to do is to verify that you are installing the correct cartridge. To verify this, you may check the printer's manual or check the previous cartridge that works on your printer. In front or on the side should be a label with the model number. For example, the HP PSC 1350 can only and will only work with the ink cartridge that has the model code of HP 56, HP 57, and HP 58. Once this is verified, the next step is to remove the cartridge from the printer. Then wipe the copper part or the chip of the cartridge with a damp non-abrasive towel or cloth. Install the cartridge back into the machine and turn it off for 15 minutes. For more information, click our Troubleshooting Tips.

Can you use other ink cartridges in a HP printer?

Yes, you can. Just make sure that the ink cartridge that you are going to use is the right model for your printer. CompAndSave offers replacement, remanufactured, or compatible ink cartridges that are designed to match the OEM specifications. This means that you can get the same quality and number of prints without paying as much compared to original ink cartridges. For more information, click our Ink Knowledge Base.
Replacement HP PSC 1350 Ink Cartridges Reviews
Replacement cartridges

Review for

Replacement HP 56 Black Ink Cartridge & HP 57 Color Ink Cartridge 2-Pack: 1 x 56 Black, 1 x 57 Tri-Color

a little disappointed but using the cartridge

Review for

Replacement HP 57 Ink Cartridge - Tri-color - C6657AN

unfortunately, the tri-color inkjet cartridge does not show the red color as a vivid red, it comes in as a faint light yellow/pink color. The other color spectrums are good.

Review for

Replacement HP C6656AN Ink Cartridge - HP 56 - Black

So far the cartridge is working great. When I loaded it my printer even identified it as an HP Refill.

Replaced SP Cartridges 22 & 56 - work great!

Review for

Replacement HP C6656AN Ink Cartridge - HP 56 - Black

Review for

Replacement HP C6656AN Ink Cartridge - HP 56 - Black

Very easy to order and very quick delivery at incredible prices.

Review for

Replacement HP 57 Ink Cartridge - Tri-color - C6657AN

the inkjet cartridge worked beautifully in my old printer as to other cartridges I received from another source. Comp & Save will be my new source for future inkjet HP cartridges!

Review for

Replacement HP C6656AN Ink Cartridge - HP 56 - Black

Review for

Replacement HP 56 Black Ink Cartridge & HP 57 Color Ink Cartridge 2-Pack: 1 x 56 Black, 1 x 57 Tri-Color

great price, great shipping, I would buy from again.

Review for

Replacement HP 56 Black Ink Cartridge & HP 57 Color Ink Cartridge 2-Pack: 1 x 56 Black, 1 x 57 Tri-Color

super service amd quality

Review for

Replacement HP 56 57 Ink Cartridges Combo Pack of 5: 3 x 56 Black, 2 x 57 Tri-color

50% did not work and had to be sent back