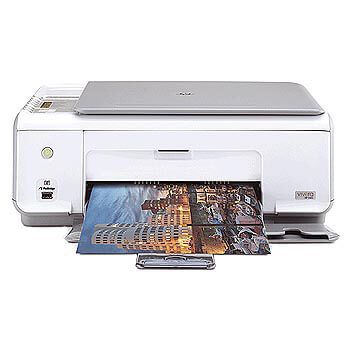 HP PSC 1510 Ink Cartridge Replacement
Free shipping on orders $50 or more
All ink & toner come with a one-year 100% satisfaction guarantee.
Our products will never void your printer's warranty.
HP PSC 1510 Ink Cartridge Replacement from $8.90
---
How to change HP PSC 1510 ink cartridge replacement on printer?
Make sure that the printer is turned on, then open the ink cartridge access door of the printer.
If the ink cartridge's carriage automatically move, make sure to wait for it to completely stop moving before you proceed.
Carefully remove the ink cartridge out from the printer.
Get your new CompAndSave's HP PSC 1510 ink cartridge, open it over a sink or garbage can to avoid any messes in case it leaks as sometimes, factories tend to overfill ink cartridges. Make sure to touch the black plastic part only, then remove the covering tape that is usually bright in color as well as the plastic protective case, if there is, before installing it.
Insert the HP PSC 1510 ink cartridge to its respective slot, you should hear a click indicating that it's locked in place.
Close the ink cartridge access door then try to print a test page.
Most Common HP PSC 1510 Ink Cartridge Replacement Questions
Does HP ink work for all HP printers?

HP has a variety of printer models that offer different usage and features. Therefore, a certain HP ink model will not work on all HP printer models. Ink cartridges that are designed for HP PSC 1510 for example will not work for an HP Envy 5012 printer and vice versa. HP ink has model codes that helps determine the correct cartridge for a certain printer model. To know what type of ink your printer is using, you can check the printer's manual or look at the label or sticker in front of the existing ink cartridge on your printer. Look for the model code which is usually a set of numbers or a combination of alphanumeric characters.

How do I fix incompatible HP ink cartridges?

There are various reasons why you might get an "Incompatible Ink" error on your printer. The most common and simplest one, is incorrect ink cartridge. HP has a variety of printer models that uses different types of ink cartridge, so check and make sure that the cartridge you are installing is the right one for your printer. To verify, you may check your printer's manual or check the ink cartridge that you are about to replace. In front or on the side of the cartridge is a label or sticker with the model number of your cartridge, check if the model number is the same as the model number of the new cartridge you are installing. If you already have it verified and your still having the same issue. Next step would be to clean the contacts of the ink cartridge with a non-abrasive paper towel or clothe with alcohol, gently wipe it then turn off the printer for 15 minutes before you reinstall the ink cartridge. For detailed information, just click troubleshooting tips and you will be redirected to the right page.
HP PSC 1510 Ink Cartridge Replacement Reviews