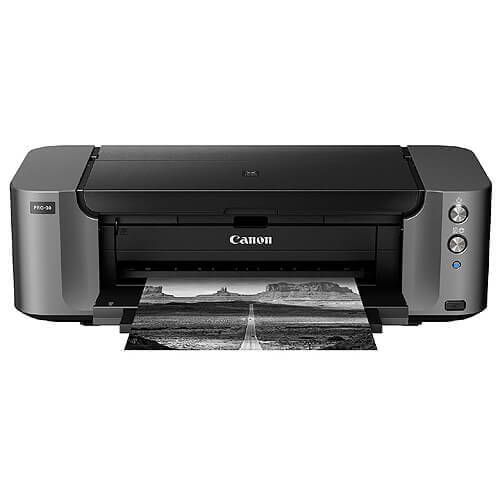 Canon PIXMA PRO-10 Ink Cartridges
Free shipping on orders $50 or more
All ink & toner come with a one-year 100% satisfaction guarantee.
Our products will never void your printer's warranty.
Compatible Canon PIXMA PRO-10 Ink Cartridges from $5.49
---
Canon Pro-10 Ink Replacement Guide
Ensure that the printer is turned on, then gently open the printer paper output tray.
Open the printer's cover, then press the RESUME/CANCEL and wait until the ink carriage moves to the replacement position.
Gently push the tab at the end of the ink cartridge that needs to be replaced to release it, then pull the cartridge out from the printer.
Get your new CompAndSave Canon PRO-10 ink cartridge and open it over a sink or garbage can to avoid any mess in case it leaks, as sometimes, factories tend to overfill ink cartridges. Make sure to touch the black plastic part only, then remove the covering tape that is usually bright in color as well as the plastic protective case, if there is, before installing it.
Insert the new Canon PRO-10 printer ink cartridge into its respective slot, then gently push it in until you hear a click indicating that it's locked in place.
Close the printer's top cover.
Canon PIXMA PRO-10 Ink Cartridges FAQs
What ink does the Canon PIXMA Pro-10 use?
The Canon PIXMA Pro-10 printer uses the Canon PGI-72 ink cartridges. It comes in matte black, photo black, gray, cyan, magenta, yellow, photo cyan, photo magenta, red, and chroma optimizer. Compandsave offers compatible Canon PGI-72 ink cartridges that will work as a replacement of the original Canon PGI-72 cartridges in a much lesser price. CompAndSave offers a wide variety of cheap ink cartridges that will work on your printer covered with a 1-year satisfaction guarantee.
Can you refill Canon PIXMA ink cartridges?
Yes, you can refill genuine cartridges. You just need to have the right instruction and tools in order to do so. But to avoid issues, we highly suggest you replace any empty ink cartridges. CompAndSave offers a wide variety of cheap printer ink cartridges at a much lower price without compromising its quality. Our cartridges are manufactured to meet or exceed the OEM specifications, which will save you from all the trouble of going through the process of refilling an ink cartridge. If you need a step-by-step instructions on how to refill an ink cartridge, check our ink refill guide, and you will be redirected to the right page.
Why are Canon cartridges so expensive?
OEM ink and toner manufacturers claim that the high cost of toner cartridges is due to the research and development of technologies to deliver high-quality ink and toner. However, it is worth noting that there are generic cartridges that exceed OEM requirements while being less expensive than their counterparts. CompAndSave's compatible and replacement ink and toner cartridges are engineered to meet or exceed OEM standards. That is to say, you can have the same print quality and page output without spending a fortune. Please keep in mind that using generic, remanufactured, or replacement cartridges will never void the warranty on your printer. For additional information, check our ink knowledge base, and you will be redirected to the right page.
Compatible Canon PIXMA PRO-10 Ink Cartridges Reviews
Nothing more needs to be said.

Review for

Compatible Canon PGI-72 Ink Cartridge 10-Pack: 1 Matte Black, 1 Photo Black, 1 Cyan, 1 Magenta, 1 Yellow, 1 Photo Cyan, 1 Photo Magenta, 1 Gray, 1 Red, 1 Chroma Optimizer

Perfect color at a third the price.

Review for

Compatible Canon PGI-72 Ink Cartridge 10-Pack: 1 Matte Black, 1 Photo Black, 1 Cyan, 1 Magenta, 1 Yellow, 1 Photo Cyan, 1 Photo Magenta, 1 Gray, 1 Red, 1 Chroma Optimizer

Ive always been wary of aftermarket brand ink cartridges, but these work great.

Review for

Compatible Canon PGI-72 Ink Cartridge 10-Pack: 1 Matte Black, 1 Photo Black, 1 Cyan, 1 Magenta, 1 Yellow, 1 Photo Cyan, 1 Photo Magenta, 1 Gray, 1 Red, 1 Chroma Optimizer

Fast delivery and worked like a charm Now I have to wait and see how long the ink lasts

A great deal

Review for

Compatible Canon PGI-72 Ink Cartridge 10-Pack: 1 Matte Black, 1 Photo Black, 1 Cyan, 1 Magenta, 1 Yellow, 1 Photo Cyan, 1 Photo Magenta, 1 Gray, 1 Red, 1 Chroma Optimizer

Review for

Compatible Canon PGI-72 Ink Cartridge 10-Pack: 1 Matte Black, 1 Photo Black, 1 Cyan, 1 Magenta, 1 Yellow, 1 Photo Cyan, 1 Photo Magenta, 1 Gray, 1 Red, 1 Chroma Optimizer

Really good inks. I left the prints out semi-exposed to sunlight (indoors of course) for two weeks to see if the inks would fade. Not exactly scientific but the inks behave just like OEM. No noticeable difference in image quality from my Canon Pro 10. I'm satisfied these inks will hold their own in the long run just like the OEM.

So far it is good result

Review for

Compatible Canon PGI-72 Ink Cartridge 10-Pack: 1 Matte Black, 1 Photo Black, 1 Cyan, 1 Magenta, 1 Yellow, 1 Photo Cyan, 1 Photo Magenta, 1 Gray, 1 Red, 1 Chroma Optimizer