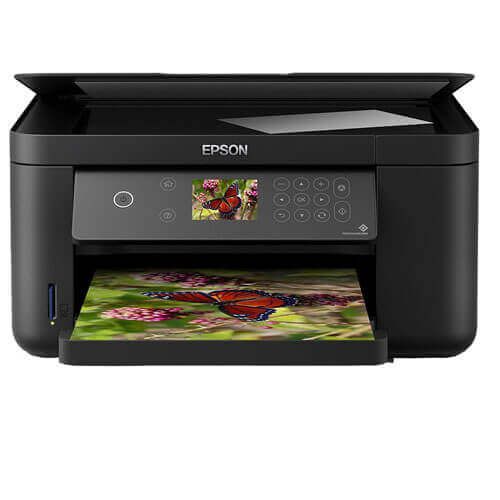 Epson XP-5100 Ink Cartridges - Expression Home XP-5100 Ink
Free shipping on orders $50 or more
All ink & toner come with a one-year 100% satisfaction guarantee.
Our products will never void your printer's warranty.
Remanufactured Epson XP-5100 Ink Cartridges from $10.99
---
Epson XP-5100 Ink Cartridge Replacement Guide
Make sure that the printer is turned on. If you are replacing the ink cartridge before it runs out, just press the 'Home' button, then 'Maintenance', followed by 'Ink Cartridge Replacement', then 'Next' and lastly select 'Start'.
Lift the scanner lid of the printer until it clicks and stays in place. Avoid moving the printhead manually and do not touch the white cables inside the printer.
To release the ink cartridges, just press the plastic tab at the end of the cartridge, then pull it out from the printer.
Get your new CompAndSave's Epson 5100 ink cartridge. If you are installing the black ink cartridge, shake it about four to six times before opening it from the package. If it's the color cartridge, then no need to shake it. Open it over a sink or garbage can to avoid any mess in case it leaks, as sometimes, factories tend to overfill ink cartridges. Make sure to touch the plastic part only, then remove the covering tape that is usually bright in color as well as the plastic protective case, if there is, before installing it.
Insert the new ink for Epson XP-5100 into its respective slot. You should hear a click indicating that it's locked in place.
Close the scanner lid, then select 'Completed' on the printer menu. The printer will go through the charging process and let it continue until it's done to avoid wasting ink and to avoid printing issues.
Epson XP-5100 Ink Cartridges FAQs
What ink does Epson XP-5100 use?

The Epson Expression Home XP-5100 printer uses the standard capacity Epson 202 and the high capacity Epson 202XL ink cartridges. high capacity cartridges can provide more prints compared to the standard. CompAndSave offers remanufactured Epson 202XL ink cartridges that can provide the same quality and performance as the OEM but at a much more affordable price.

What do you do if your printer doesn't recognize the ink cartridge?

If your printer doesn't recognize your ink cartridge, make sure the cartridge is correctly seated in its slot. Clean the printhead with a nonabrasive towel damped in water or alcohol while the cartridge is out of the printer to ensure that the cartridge chip and contact pin are free of debris. For detailed instruction, click Troubleshooting Tips, and you will be redirected to the right page.

Why is Epson ink so expensive?

OEM ink and toner manufacturers claim that the high cost of toner cartridges is due to the research and development of technologies to deliver high-quality ink and toner. However, it is worth noting that there are generic cartridges that exceed OEM requirements while being less expensive than their counterparts. CompAndSave's compatible and replacement ink and toner cartridges are engineered to meet or exceed OEM standards. That is to say, you can have the same print quality and page output without spending a fortune. Please keep in mind that using generic, remanufactured, or replacement cartridges will never void the warranty on your printer. For additional information, please visit ink knowledge base, and you will be redirected to the right page.
Remanufactured Epson XP-5100 Ink Cartridges Reviews
Review for

Remanufactured Epson 202XL Cartridges 4-Pack - T202XL - High Capacity: 1 Black, 1 Cyan, 1 Magenta, 1 Yellow

Never a problem with EPSON 202XL CARTRIDIGES . So easy to order and shipping is great.

Great price, great ink

Review for

Remanufactured Epson 202XL Black Ink Cartridge - T202XL120/T202XL - High Capacity

So great to be able to buy ink at a discount!

Just as good as the name-brand ones and less costly.

Review for

Remanufactured Epson 202XL Cartridges 4-Pack - T202XL - High Capacity: 1 Black, 1 Cyan, 1 Magenta, 1 Yellow

After Epson forced me to throw away a number of perfectly good cartridges due to their "software upgrade", I had to pay for their overpriced branded cartridges. I decided to try CompAndSave cartridges and they work just as well as the name-brand ones.

What one needs

Review for

Remanufactured Epson 202XL Cartridges 4-Pack - T202XL - High Capacity: 1 Black, 1 Cyan, 1 Magenta, 1 Yellow

No problem, just what one needs

I like the price and I can't see the difference.

Review for

Remanufactured Epson 202XL Ink Value Pack of 6 Cartridges - T202XL - High Capacity: 3 Black, 1 Cyan, 1 Magenta, 1 Yellow

I use a lot more black than color. So, I like your package of 6, 3 black and one for each color. The logistics of ordering and receiving the product is efficient and I like the price

Review for

Remanufactured Epson 202XL Cartridges 4-Pack - T202XL - High Capacity: 1 Black, 1 Cyan, 1 Magenta, 1 Yellow

The savings are great but for some strange reason my black prints purple, a very pretty purple~

Way to go

Review for

Remanufactured Epson 202XL Cartridges 4-Pack - T202XL - High Capacity: 1 Black, 1 Cyan, 1 Magenta, 1 Yellow

Review for

Remanufactured Epson 202XL Black Ink Cartridge - T202XL120/T202XL - High Capacity

Appears to be a great replacement for OEM Ink Cartridges.

perfect

Review for

Remanufactured Epson 202XL Cartridges 4-Pack - T202XL - High Capacity: 1 Black, 1 Cyan, 1 Magenta, 1 Yellow

excellent products

Review for

Remanufactured Epson 202XL Cartridges 4-Pack - T202XL - High Capacity: 1 Black, 1 Cyan, 1 Magenta, 1 Yellow