Help Center - Additional Pre-Purchase Questions
Additional Pre-Purchase Questions
Do You have Cartridges for My Printer?
To check, go to our website's search bar and type in your printer ink/toner cartridge for your printer. Press enter.

If you need further assistance you may contact our customer service via phone call or chat or feel free to check our printer brand pages for HP ink and toner, Epson ink and toner, Brother ink and toner, Canon ink and toner, Lexmark ink and toner or other cheap printer ink cartridges and search for your printer model through the list provided.
Will the Ink Cartridges Leak in My Printer?
A small amount of ink may come out when first opening the cartridge. Please, carefully follow the instructions included to properly open the cartridge, reducing the chance of that initial leakage.
The ink cartridge will not leak in your printer unless it has been physically damaged and may already be leaking. If a ink cartridge arrives damaged, please contact us for a replacement. You can reach us by phone through our toll-free number, 833-465-6888.
How can I Tell how Many Pages a Printer Cartridge will Yield?
You can check the cartridge packaging or manufacturer's website for the page yield of a printer cartridge.
In our website, simply scroll down to Product Specifications and look for Page Yield.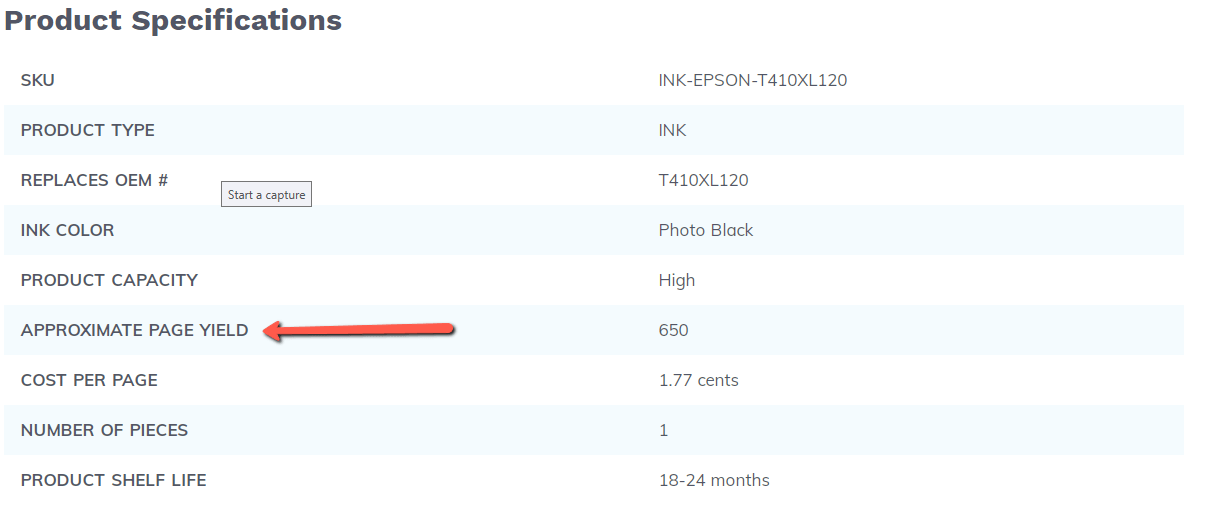 Canon, Hewlett-Packard, and Kodak are among the major manufacturers who have backed a standard proposed by the International Organization for Standardization (ISO) for determining how many pages a single cartridge should print.
Before this standard became more popularized, manufacturers could choose their own measurement standards, meaning you could end up with a cartridge with a low page yield. Not all manufacturer's use this standard, so it's important to be aware of this when purchasing a cartridge while looking for a good value.
---