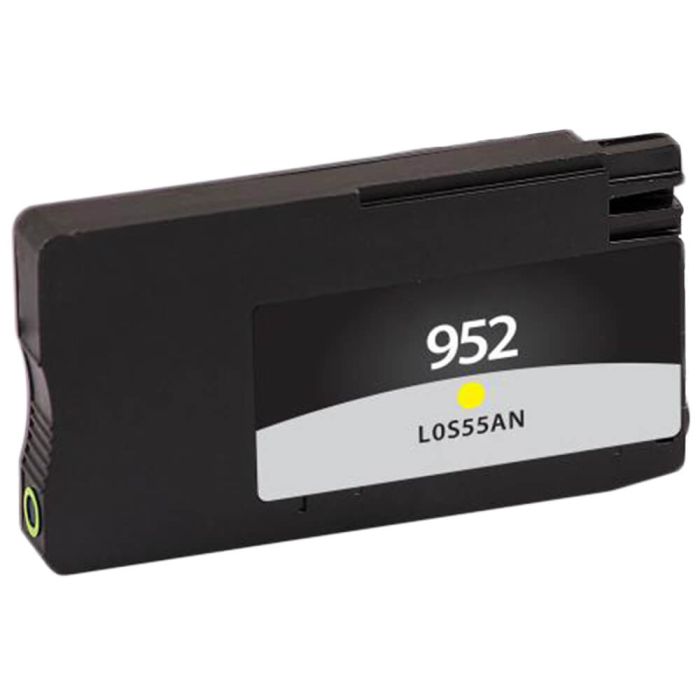 *Stock photo is for reference only.
Retail Price: $25.99
Save $13.04 (50% off retail price)
Buy 3 or more: $12.56 per cartridge
Free shipping over $50 and .
Subscribe and Save 15% off Today!
Subscribers will get free shipping on orders over $35. Plus, you'll receive exclusive email offers or news weekly. Don't worry. Your email address is never shared or sold. See our privacy policy for details.
HP 952 Yellow Ink Cartridge Related Products
About HP 952 Yellow Ink Cartridge
Replacement HP 952 Yellow Ink Cartridge - L0S55AN
CompAndSave offers HP 952 yellow ink cartridge with genuine-like quality and satisfaction. This cartridge will work as a replacement for the original HP L0S55AN ink cartridge but at a very affordable price!
WORKS LIKE THE ORIGINAL. Proven and tested to work like the OEM cartridge with a tested shelf-life of at least 20 months. Our HP ink cartridges are professionally engineered to ensure that CompAndSave's cartridges will work the same way as the original ones - from the installation process to print quality.
LOW PRICE GUARANTEE. CompAndSave's HP L0S55AN ink cartridge is designed to match the number of prints of the original HP printer cartridges but at a lesser price without compromising the quality. Talk about getting the most of your money.
MORE DISCOUNTS. Enjoy even bigger savings if you purchase our single pack for HP 952 yellow ink cartridge, black HP 952 printer ink cartridge (F6U15AN), HP 952 cyan ink cartridge (L0S49AN), and HP 952 magenta ink cartridge (L0S52AN) in bulk.
MORE PRINTS, PAY LESS. Do you print more often? Our cheap high yield cartridges are perfect for you then! Check our HP 952 black ink cartridge XL (F6U19AN), HP 952XL cyan ink cartridge (L0S61AN), HP 952XL magenta ink cartridge (L0S64AN) and HP 952XL yellow ink cartridge (L0S67AN).
NEXT DAY SHIPPING. HP L0S55AN ink cartridge orders placed before 2:00 p.m. PST will be shipped out the same business day. Visit our Shipping Policy for more information.
FREE SHIPPING. Enjoy free shipping on orders over $50 anytime, anywhere in the US!
SATISFACTION GUARANTEE. We offer a FULL refund within ten days based on the delivery date of your CompAndSave products. We even issue refunds and store credit up to 365 days from the purchase date. That is how confident we are in the quality of our replacement HP printer ink cartridge. Make sure to read our Return Policy for more details.
WILL NOT VOID PRINTER WARRANTY. Please be informed that using a replacement, compatible, or remanufactured printer cartridges will never void your printer warranty. To know more, check our Ink Knowledge Base page or contact us for any further questions.
Go ahead and find your printer from the compatible printer list provided below. Hurry and take advantage of our great prices for HP 952 yellow ink cartridge today. SAVE Now!
NOTE: Recently, HP released a printer firmware update that might affect the performance of our replacement ink cartridges. To know more about firmware updates and how to prevent it, feel free to visit our HP Firmware Downgrade Instructions page.
All ink & toner come with a one-year 100% satisfaction guarantee.
Our products will never void your printer's warranty.
HP 952 Yellow Ink Cartridge Specifications
| | |
| --- | --- |
| SKU | INK-HP-L0S55AN |
| Product Type | INK |
| Replaces OEM # | L0S55AN |
| Color | Yellow |
| Ink Type | Pigment |
| Product Capacity | Standard |
| Ink Volume | 9 ml |
| Approximate Page Yield | 630 |
| Cost per page | 2.06 cents |
| Number of pieces | 1 |
| Product Shelf Life | 18-24 months |
Replacement HP 952 Yellow Ink Cartridge Reviews