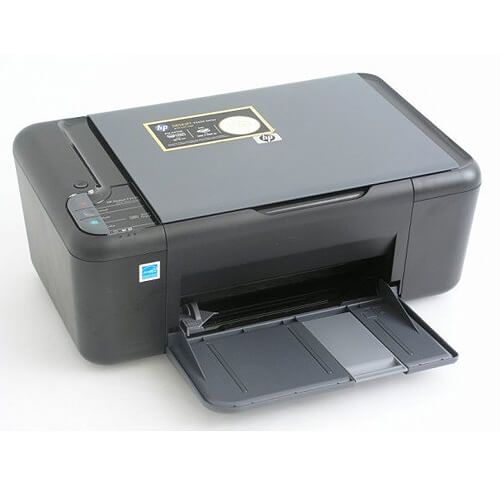 HP DeskJet F2418 Cartridges
Free shipping on orders $50 or more
All ink & toner come with a one-year 100% satisfaction guarantee.
Our products will never void your printer's warranty.
Replacement HP DeskJet F2418 Cartridges from $18.99
---
HP Deskjet F2418 Cartridge Replacement Guide
Make sure that the printer is turned on and open the ink cartridge access door in front of the printer.
The ink cartridge's carriage will automatically move, so make sure to wait for it to completely stop moving before you proceed.
To release the ink cartridge, just gently push it down then pull the cartridge out from the printer.
Get your new CompAndSave's HP DeskJet F2418 cartridge. Open it over a sink or garbage can to avoid any mess in case it leaks, as sometimes, factories tend to overfill the ink cartridges. Make sure to touch the black plastic part only, then remove the covering tape that is usually bright in color as well as the plastic protective case, if there is, before installing it.
Insert the new HP DeskJet F2418 printer cartridge into its respective slot. You should hear a click indicating that it is locked in place.
Close the ink cartridge access door.
HP DeskJet F2418 Cartridges FAQs
Do you need all ink cartridges to print HP?

The answer is yes. It needs to have both inks to print. Even if you only use black ink, the other cartridges must have ink for the printer to work since printers are built to use small amounts of ink from each cartridge installed, depending on your printing needs. You can change the printer software settings to print only in black if you want to reduce the usage of color cartridges if a few of your colors are low on ink, but we highly suggest replacing any low-ink cartridges to avoid printing issues. CompAndSave offers a wide variety of cheap printer ink cartridges without compromising its quality so you can print to your heart's content.

Can I refill my own HP ink cartridges?

Yes, you can refill genuine cartridges. You just need to have the right instruction and tools in order to do so. But to avoid issues, we highly suggest you replace any empty ink cartridges. CompAndSave offers a wide variety of cheap printer ink cartridges at a much lesser price without compromising its quality. Our cartridges are manufactured to meet or exceed the OEM specifications, which will save you from all the trouble of going through the process of refilling an ink cartridge. If you need step-by-step instructions on how to refill an ink cartridge, click Ink Refill Guide, and you will be redirected to the right page.

Can I use a non-HP cartridge in an HP printer?

Absolutely! CompAndSave's replacement, remanufactured or compatible ink cartridges are designed to meet or exceed the OEM specifications. This means that you can get the same print quality and the number of prints without paying as much compared to the original ink cartridges. Using these types of cartridges will not void your printer's warranty. To know more about these types of ink cartridges, click ink knowledge base, and you will be redirected to the right page.
Replacement HP DeskJet F2418 Cartridges Reviews
Review for

Replacement HP 60XL 2-Pack Ink Cartridges - High Yield: 1 Black, 1 Color

They work fine now, but other refills stop working and the printer puts up roadblocks. Waiting to see

Ink a little smudgy

Review for

Replacement HP 60XL Color Ink Cartridge - CC644WN - High Yield

Price was right Will order again

Al in all - Happy with the seervice, a little dissapointed the cartridge "failed."

Review for

Replacement HP 60XL Ink Cartridge Black - CC641WN - High Yield

Cartridge worked GREAT ... but only for a week! I received all kinds of info on how to trouble shoot and solve the problem but none worked. After exchanging a few emails I received authorization to return the cartridge for full credit and have done so.

Good company to go to

Review for

Replacement HP 60XL Ink Cartridge Black - CC641WN - High Yield

Always produces more yeild than it says.

Review for

Replacement HP 60XL 2-Pack Ink Cartridges - High Yield: 1 Black, 1 Color

Good stuff and reasonable

Review for

Replacement HP 60XL Ink Cartridge Black - CC641WN - High Yield

Good delivery and quality

Review for

Replacement HP 60XL 2-Pack Ink Cartridges - High Yield: 1 Black, 1 Color

Great price and quick delivery of the ink.

Good purchase again

Review for

Replacement HP 60XL Ink Cartridge Black - CC641WN - High Yield

Everything worked perfect..good products and fast delivery

these were not allowed on my printer

Review for

Replacement HP 60XL Ink Cartridge Black - CC641WN - High Yield

Unfortunately I couldn't use these on my printer. Customer Service was nice and suggested I watch their You Tube video to trouble shoot the issue. I think HP has programmed my printer to NOT accept any ink cartridges but their own. I sent them back, hopefully to get a refund.

Great price

Review for

Hewlett Packard (HP 60XL Combo-Pack of 3) CC641WN Black & CC644WN Tri-Color (High Yield) Replacement Ink Cartridge