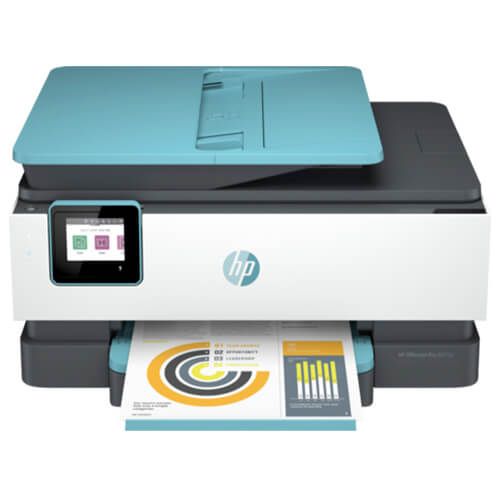 How To Install HP OfficeJet Pro 8025e Ink Cartridges
HP OfficeJet Pro 8025e Ink Cartridges
Free shipping on orders $50 or more
All ink & toner come with a one-year 100% satisfaction guarantee.
Our products will never void your printer's warranty.
Replacement HP OfficeJet Pro 8025e Ink Cartridges from $12.95
---
HP OfficeJet Pro 8025e Ink Replacement Guide
Make sure that the printer is turned on. Open the printer's front door, then raise the ink access door.
The ink cartridge's carriage will automatically move, so make sure to wait for it to completely stop moving before you proceed.
Gently press the tab at the end of the cartridge to release it. Then, pull the cartridge out from the printer.
Get your new CompAndSave HP 8025e ink cartridge. Open it over a sink or garbage can to avoid any mess in case it leaks as sometimes, factories tend to overfill the ink cartridges. Make sure to touch the black plastic part only, then remove the covering tape that is usually bright in color as well as the plastic protective case, if there is, before installing it.
Insert the ink for HP OfficeJet Pro 8025e to its respective slot until it clicks into place.
Close the ink access door and put the front cover back into place.
HP OfficeJet Pro 8025e Ink Cartridges FAQs
What type of ink does the HP OfficeJet Pro 8025 use?
HP OfficeJet Pro 8025 and HP OfficeJet Pro 8025e printer uses the standard yield HP 910 black, cyan, magenta, and yellow ink cartridges. This printer is also compatible with the high yield HP 910XL ink cartridges with the same color variation. CompAndSave offers discounted HP 910 and HP 910XL ink cartridges that will work as a replacement of the original HP ink cartridges but at a very affordable price.
Can you refill ink cartridges for HP?
Yes, you can refill genuine HP ink cartridges. You just need to have the right instruction and tools in order to do so. But to avoid issues, we highly suggest you replace any empty ink cartridges. CompAndSave offers a wide variety of cheap printer ink cartridges at a much lesser price without compromising its quality. Our cartridges are manufactured to meet or exceed the OEM specifications, which will save you from all the trouble of going through the process of refilling an ink cartridge. If you need a step-by-step instructions on how to refill an ink cartridge, click Ink Refill Guide, and you will be redirected to the right page.
Are all HP ink cartridges compatible?
No, not all HP ink cartridges are compatible. HP ink cartridges have different sizes, appearances, and fittings depending on their compatible printer. So make sure to only install the ink cartridge intended for your printer to avoid any issues. If you need help finding the right cartridge model for your printer, you can check our guide What ink does my printer use?, and you will be redirected to the right page.
Replacement HP OfficeJet Pro 8025e Ink Cartridges Reviews
They buried my husbands negative ...

Review for

Replacement HP 910XL Ink 4-Pack Cartridges - High Yield: 1 Black, 1 Cyan, 1 Magenta, and 1 Yellow

They buried my husbands negative review. These cartridges do not work in Office Jet Pro printers from HP. The printer sends a message saying the cartridges are altered and will not print ink.

ok for the price

Review for

Replacement HP 910XL Ink 4-Pack Cartridges - High Yield: 1 Black, 1 Cyan, 1 Magenta, and 1 Yellow

Black cartridge leaked but appears to be working other cartridges are fine.

Review for

Replacement HP 910XL Ink 4-Pack Cartridges - High Yield: 1 Black, 1 Cyan, 1 Magenta, and 1 Yellow

They work just fine and not rejected like others I've purchased.

Review for

Replacement HP 910XL Ink Cartridge - 3YL65AN Black - High Yield

I was treated very fairly and with courtesy. Thank you.

Review for

Replacement HP 910XL Ink Cartridge - 3YL65AN Black - High Yield

so far so good with the quality of the ink

Fits HP 8025e and Black ...

Review for

Replacement HP 910 Ink Cartridges Combo Pack of 4: 1 Black, 1 Cyan, 1 Magenta, 1 Yellow

Fits HP 8025e and Black XL lasts forever. Love it!

Review for

Replacement HP 910XL Cyan Ink Cartridge - High Yield - 3YL62AN

great price for ink and works properly

Great ink, great price.

Review for

Replacement HP 910XL Ink 4-Pack Cartridges - High Yield: 1 Black, 1 Cyan, 1 Magenta, and 1 Yellow

Wonderful color & black. It lasts & lasts & lasts Very economical. I recommend it highly.

I like the price of them. I just don't want to have problems having my printer to accept them.

Review for

Replacement HP 910XL Combo Pack of 10 - High Yield: 4 Black, 2 Cyan, 2 Magenta, 2 Yellow

Some times I have a problem with my HP printer wanting to accept your ink cartridges. I had problems with some of them that I had to return them. Mike

Works great

Review for

Replacement HP 910XL Ink Cartridge - 3YL65AN Black - High Yield