Knowing your printer cartridge parts is very important for you to know how it works, what to fix and how to fix it if an issue arises. There are two different types of printer cartridges - the printer ink and toner cartridge. Check our guidelines below to help you know more about your printer cartridges.
What is an ink cartridge?
If you are using an inkjet printer, you ought to use ink cartridges for your printing needs. An ink cartridge contains the liquid ink that will be used by your printer to produce printouts. The ink cartridge will depend on the printer model that you are using. CompAndSave offers a great selection of ink cartridges suited for your printer. You can see below the different shapes but the parts are the same.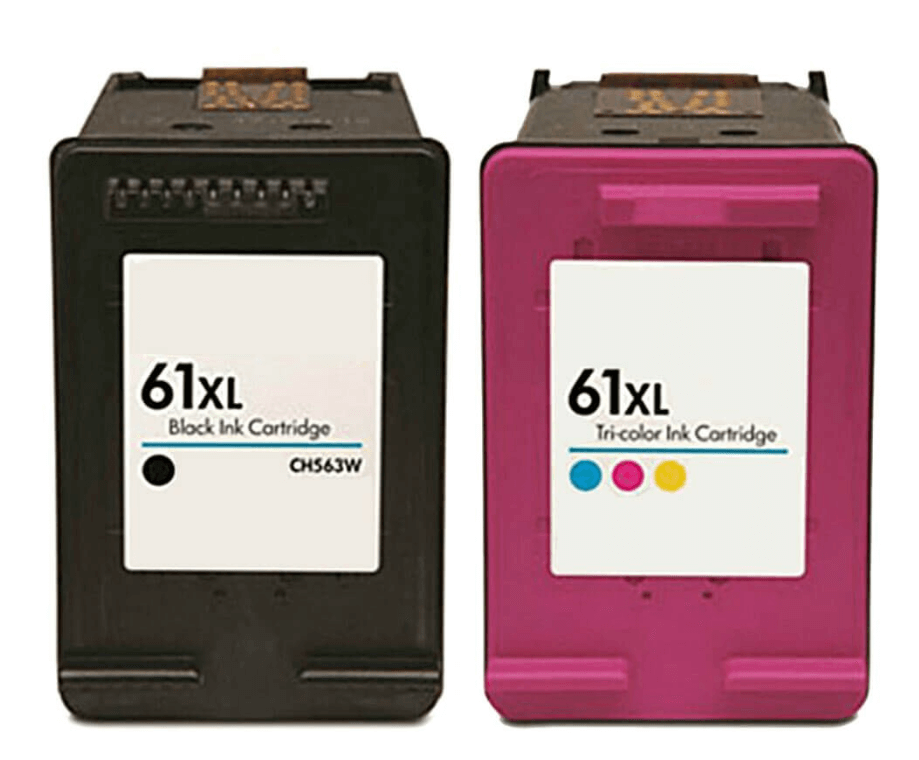 Replacement HP 61XL- Black and Tri-color Ink Cartridges
Replacement for Canon PG-240 Black and CL-241 Tri-color Ink Cartridges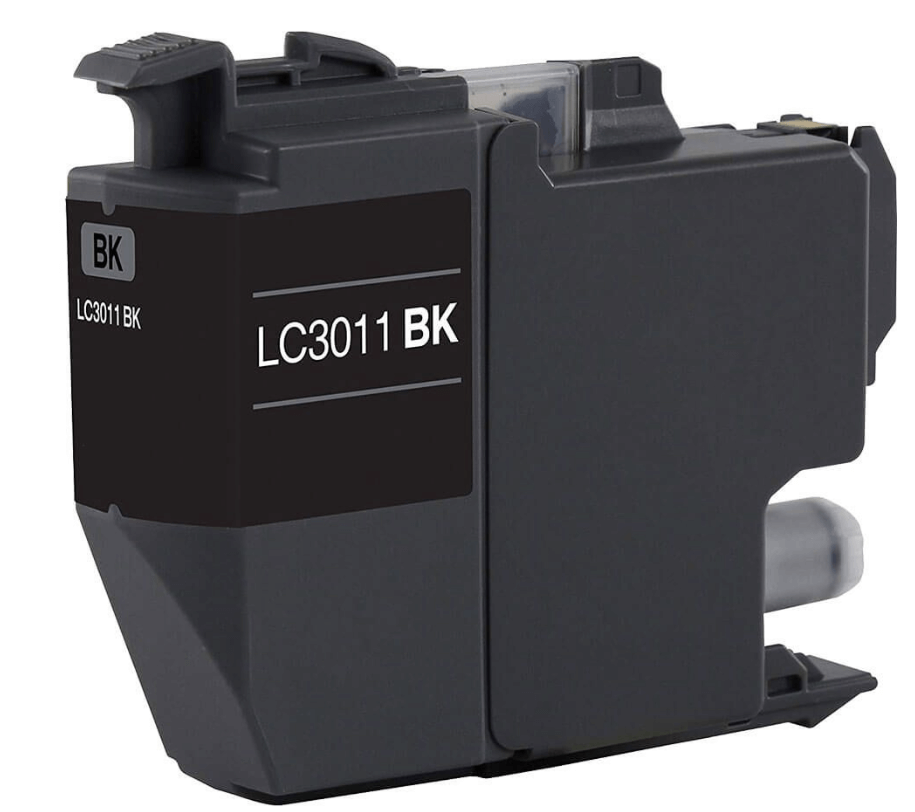 Compatible Brother LC3011 Black Ink Cartridge
---
What are the different parts of ink cartridges?
Printer ink cartridges have different parts that enable them to print quality images. If one of the cartridge parts is not working well, it will produce unsatisfactory printing results. Get to know your ink cartridge parts below.
What is a printhead?
The printhead is the most critical component of our printer - it is used to deliver the ink to the page that you are printing. Some printheads are integrated into the printer. When you remove the ink cartridge, you will be able to see it inside. Other printheads are located in the printer cartridge itself. You can see it at the back of your cartridge.
Printheads feed on ink through chambers and spray ink using the nozzles. There are two types of printhead available and it usually depends on the brand of your printer.
For Epson inkjet printers, they use the Piezo type printhead. To function, Piezo printheads rely on an electric charge to vibrate the thin film inside. This creates pressure that allows the ink to go out from the nozzles.
As for HP and Canon inkjet printers, they use the thermal printhead type. Based on its name, this type of printhead uses heat to boil the ink. The boiling process creates a bubble that makes the ink explode and come out from the nozzles. The printhead cools down and the cycle begins again
Never touch the printhead with your fingers. It may cause friction or build up of residue that can contaminate or damage your printhead. Thus, the printhead will not be able to function well or not function at all.
Your printhead is a consumable that can wear out over time, much like the brakes on your car. It requires proper installation and ongoing maintenance to ensure the long life of service for your printer.
Most print quality problems are a direct result of improper care of the printhead. Proper installation, ongoing attention, and maintenance are the keys to maximizing the life of a printhead. If you are wondering what does a printhead looks like, you can check our sample photos below.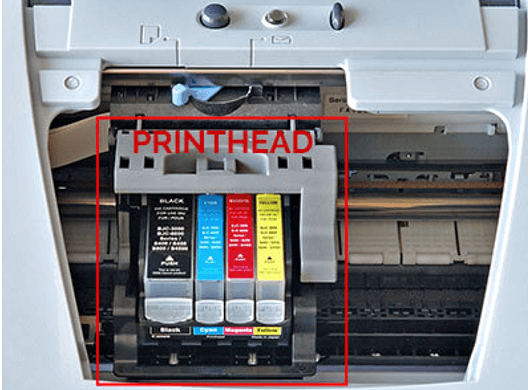 Printhead integrated into the printer with cartridges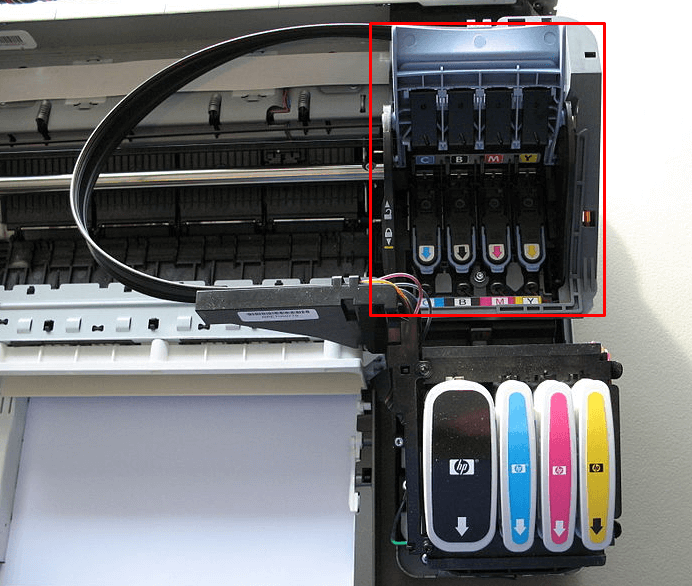 Printhead integrated into the printer without cartridges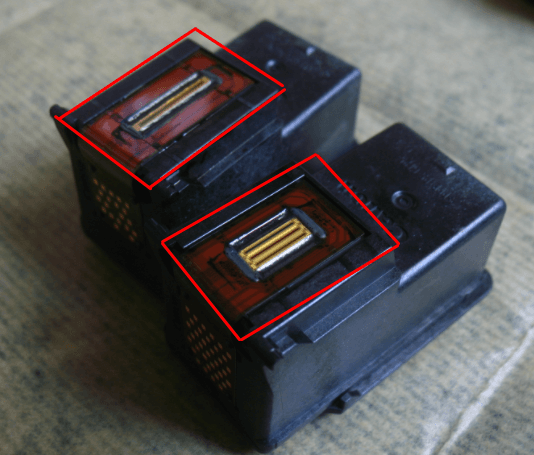 Ink cartridges with built-in printhead
---
What is a printhead nozzle?
Ink cartridge nozzles, or "jets" are located on the printhead. There may be anywhere from 48 to 320 printer nozzles on any printhead, and each of them is smaller than a human hair. The ink passes through the nozzles.
Each printer nozzle is connected electronically to a heater (resistor) that actually heats and cools the ink inside the cartridge. When the ink is heated, a bubble is formed. When the heat is removed, the bubble bursts and sends dots of ink through the ink nozzles and onto the paper in the printer.
This happens very quickly, creating dots that form print characters on the page at a rate of up to 6,000 drops per second. That is why you should never touch the nozzle or print head assembly with your fingers as it may result in a clogged ink cartridge. The photo below will help you recognize where the nozzles are located but you will not see them with your naked eye.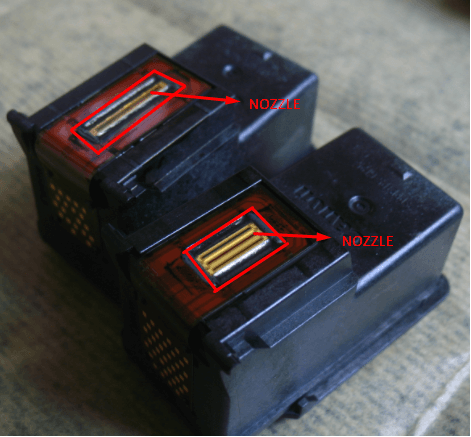 ---
What is the circuitry or gold chip on the cartridge?
The circuitry or gold chip that is seen on some cartridges is a system of nozzles that are used to push ink onto the paper. The role of the chip is to notify your printer that the cartridge is low on ink. To simply put, it is the communication device of your cartridge.
Keep in mind that you should not touch the circuitry or it may cause printing quality issues. Dust or fingerprints can cause the chip to malfunction. An error message will appear when you try to print. To avoid problems like this, be careful in handling your cartridges and make sure you turn off the printer before installation. Not all cartridges have chips like Brother inks and toners. HP and Canon use circuitry on their tones and cartridges. You can see below an HP ink cartridge with the gold chip.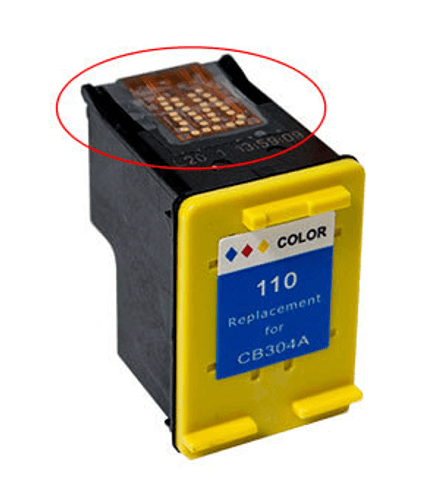 ---
What is a safety clip?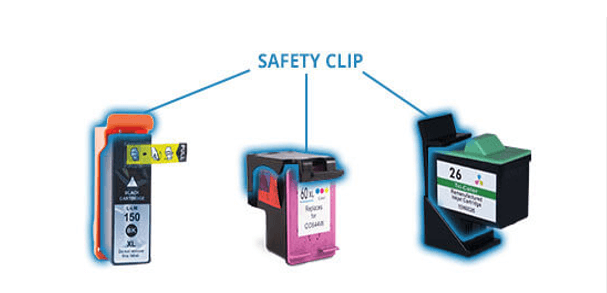 Some of our inkjet cartridges, particularly those for HP or Lexmark, are shipped in a protective plastic clip. This may cause the cartridge to appear like it won't fit inside the printer. Please remove the shipping clip. After removing the clip, the cartridge will look the same as your original cartridge.
---
What is this tape on my cartridge?
An adhesive tape can be found on some models of inkjets. It usually has a bright color so you can recognize it easily. The cartridge tape is used to protect the print head during transportation.
Please remove the adhesive tape before installing the cartridge into your printer. Also, please do not use any other type of tape to protect the print head of your cartridge when you remove it from the printer. Sticky tape will push the glue resin into the nozzles of the printhead, thereby clogging them.
---
What is a toner cartridge?
Toner cartridges, unlike ink cartridges that contain liquid, hold the toner dust to be used for printing in laserjet printers, These powdered colorants are melted by laser beams to produce print on paper. The toner cartridge can basically print up to 2,000 pages before it needs replacement. A monochrome laser printer will only print black texts with a toner cartridge while a colored laser printer can print both black and colored images.
For those who are using laser printers, toner cartridges are what you should use. Knowing the printer cartridge parts name is vital in purchasing the items you need. You will have the confidence that the product you bought is in perfect condition. It will also be easier for you to understand how your printer works, thus avoiding printing issues in the future. Here at CompAndSave we have a variety of toner cartridges you can choose from.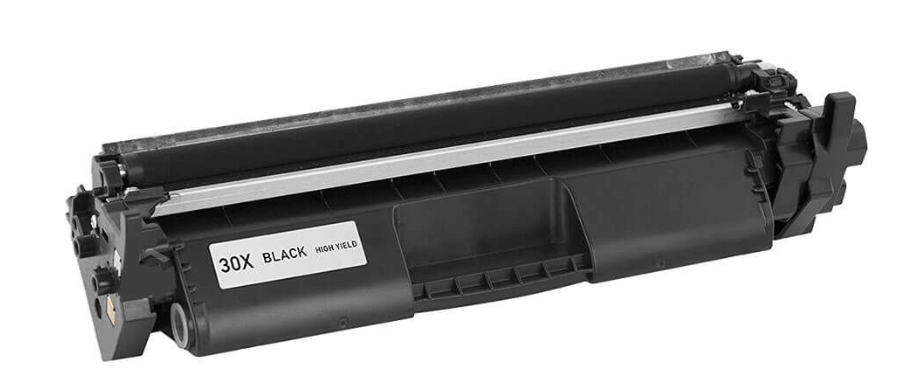 Replacement HP 30X High Yield Black Toner Cartridge - LaserJet CF230X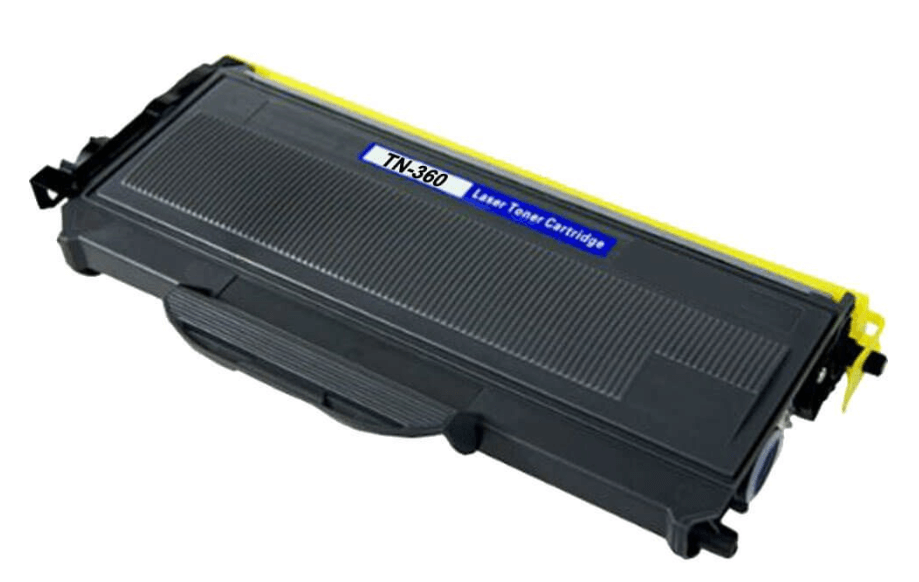 Compatible Brother TN360 Black Toner Cartridge - High Yield

Replacement HP 309A - Cyan, Yellow, Magenta Toner Cartridges
---
What are the toner cartridge parts?
For those using laser printers, this part is for you. The toner cartridge parts may be more complicated than the ink cartridge. It is one of the reasons why toner cartridges are more expensive since it requires a lot of parts to function. At the same time, it can produce a higher volume of printouts due to its different parts working together. This section will show you the toner parts, names.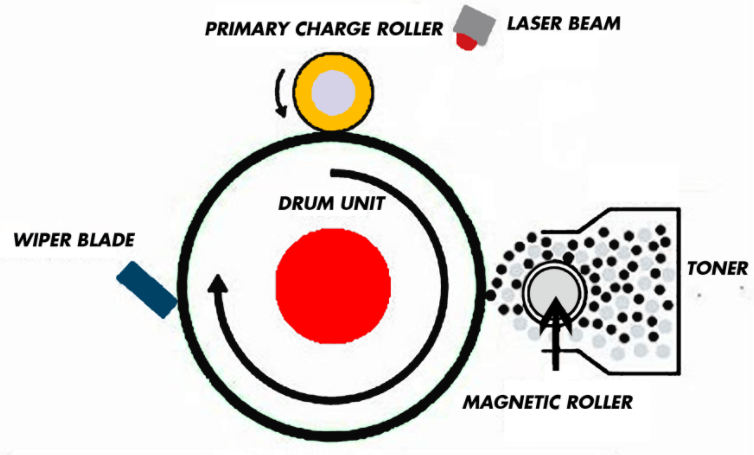 IMAGE A - Toner Cartridge Parts
---
Drum Unit
Most people confuse the drum unit and toner cartridge as the same thing. The drum unit is the electrical cylinder that transforms the powdered colorants into your paper. It is not the same with your toner cartridge. Your laser printer will not work without the drum unit. A drum unit and toner cartridge may be sold together or separately. If you are confused on how to install a toner with drum unit versus a toner cartridge alone, our ink/toner how-to installation and troubleshooting videos are here to save the day.
To have a concrete idea of how a drum unit looks like, you can see below CompAndSave's best-selling drum units.
Replacement HP 32A CF232A Toner Drum Unit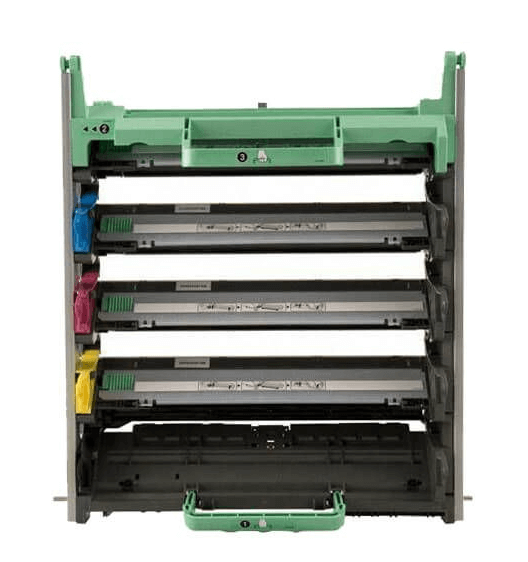 Replacement Brother DR110CL Drum Unit
---
Cleaning Blade/Wiper Blade
The cleaning blade or also called a wiper blade is responsible for removing toner residue after the laser printer produces an image. This is to prepare your laser printer to create another image. The toner residue is then stored in the waste receptacle in the toner cartridge. When remanufacturing toner cartridges, the receptacle must be emptied to avoid leakage. The cleaning blade must also be replaced to continue producing quality prints. This toner part comes along with your cartridge.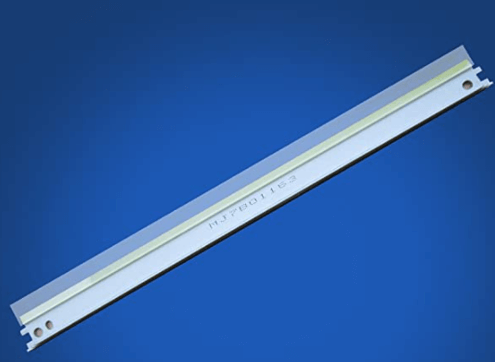 Cleaning Blade
---
Primary Charge Roller
The primary charge roller can either be located in the printer itself or the toner cartridge. For Lexmark printers, the primary charge roller is in the printer itself while HP has the roller inside its toner cartridges. This cylinder-shaped tool helps the drum core absorb the toner evenly and thus, avoiding lots of residues. To visualize how a charge roller works, you can refer to Image A - Toner Cartridge Parts above.
Developer Roller
The developer roller helps in transferring the toner from the reservoir to the drum unit. If black horizontal lines appear on your printed documents, chances are the developer roller has some damage on it. When the toner cartridges are remanufactured, the developer rollers must be inspected to check if it is still in good quality. You can scroll up to check how a developer roller looks like on Image A- Toner Cartridge Parts.
Now that you have the information about the parts of your cartridge, it will be easier to troubleshoot any issues in the future. CompAndSave has a wide variety of cheap printer cartridges you can choose from.
If you need more ideas, you can read our guide about Inkjet vs Laser Printer: All You Need To Know. You can also give us a call on our toll-free number 1-833-465-6888 from Mondays to Fridays from 6am-4pm PT if you need more assistance. CompAndSave always aims to help you with your printer cartridge needs.
Index
Related articles:
Need Help?
Our customer support is available from Mon-Fri, 6am-4pm PT