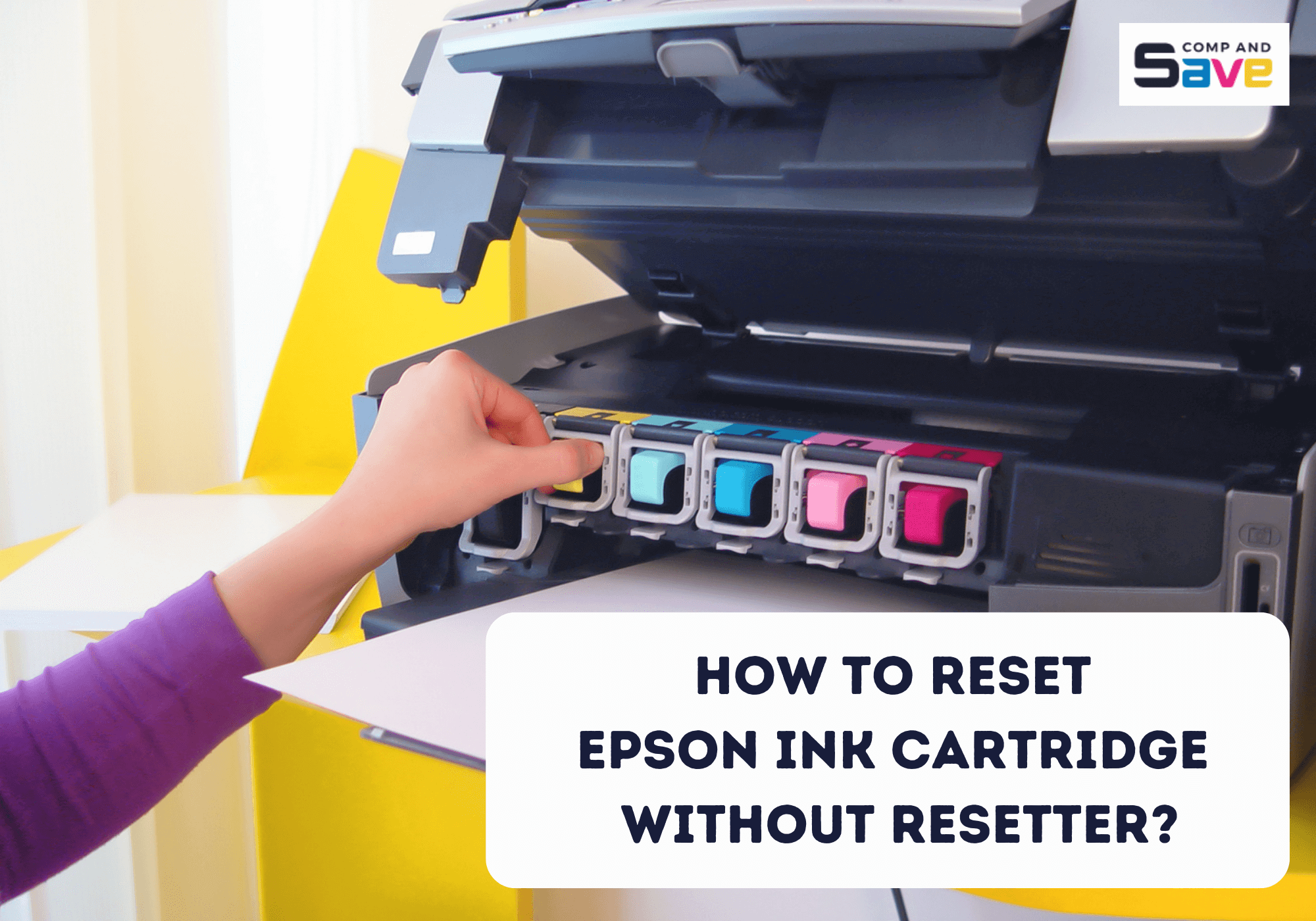 If you're wondering how to reset an Epson ink cartridge without a resetter or with a paper clip, you're in the right place. This comprehensive guide will walk you through the steps to resolve your cartridge problems and get your printer back in action.
In this guide, we will discuss the following:
---
Why Reset Epson Ink Cartridge
Epson ink cartridges, similar to those in many other printers, have a chip that monitors ink levels. When your cartridge's ink runs low, it sends a signal to your printer, telling you it's time to get a new cartridge. But guess what? Sometimes, you might have some ink left in there, and that chip stops you from using it. That's when you come into play – you must reset the cartridge to keep using it.
---
When to Reset an Epson Ink Cartridge
Low Ink Alert
When you receive low ink notifications but believe there's still ink left. This also happens when you install a new remanufactured or third-party Epson ink.
After Refilling
Whenever you manually refill an ink cartridge. Ensure to reset your Epson ink cartridge after every refill.
---
How to Reset Epson Ink Cartridge Without Resetter: 5 Different Ways
1. How to Reset Epson Ink Cartridge Using Reset Button
Not all cartridges are created equal. Some Epson ink cartridges have a reset button, such as the Epson 78, for refillable purposes. For this cartridge, you can find the reset button in the middle of the chip.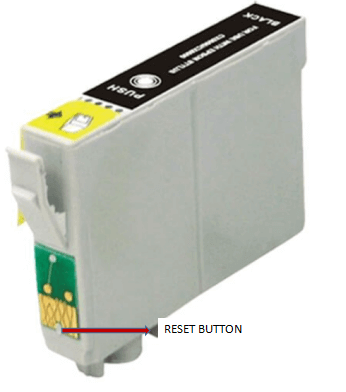 Step 1: Turn the ink cartridge to where the microchip can be found.
Step 2: Using the end of a paper clip, locate the reset button located just above the metal contacts in the center of the cartridge.
Step 3: Lastly, gently press the reset button with the paper clip.
2. How to Reset Epson Ink Cartridge with Paper Clip
Follow these steps on how to reset Epson ink cartridge with paper clip: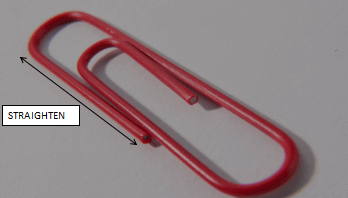 Step 1: To reset Epson ink cartridge with paper clip, take a paperclip and straighten it. Make sure it's easy for you to hold and use.
Step 2: Remove the Epson ink cartridge from the printer. A chip with a bit of opening can be seen underneath.
Step 3: Press the end of the paper clip into the hole. Take out the clip.
Step 4: Replace the printer cartridge in the printer's head and continue printing as usual.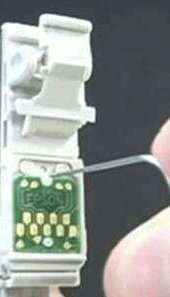 3. Troubleshoot Epson Printer Ink With Software
One popular way on how to reset Epson ink cartridge without resetter is a freeware solution called SSC Service Utility. Although the software supports over 100 Epson printer models, it may not operate with newer cartridges.
The software will allow you to reset or rewrite Epson chips and freeze or reset the internal ink counters. It also allows for cartridge replacement in real time.
4. Replace Old Cartridge Chips
Replacing old cartridge chips is a simple fix for printers not reading ink levels right. Here are simple steps to guide you:
Step 1: Power off the Printer. Ensure the printer is turned off to avoid any electrical hazards during the replacement process.
Step 2: Remove the Old Chip. Carefully remove the old chip from the cartridge to make way for the replacement.
Step 3: Attach the New Chip Securely. Properly affix the new chip to the cartridge to ensure a stable and functional connection.
Step 4: Reinstall the Cartridge. Place the cartridge back into the printer, ensuring it clicks into position.
Step 5: Power on and Test. Turn on the printer and print a test page to confirm the new chip is recognized, and ink levels are accurate.
5. The Cartridge Chip Swap
Some ink cartridges will notify you to replace an ink cartridge while still having a 30-40% ink level. This trick is fooling your printer using your Black and CMY cartridges.
Step 1: Properly uninstall both Black and CMY cartridges.
Step 2: Carefully slide the cartridge chips off. You may need a single-bladed razor to remove a chip's excess plastic to remove the chip from its cartridge effectively.
Step 3: Swap the chips on the cartridges. Put the Black cartridge chip on the CMY cartridge. Then, put the CMY cartridge chip on the Black cartridge.
Step 4: Properly install the ink cartridges back on the printer.
Step 5: Press the Ink Change button on your printer to signal to replace the ink cartridges. The computer will now show that the ink cartridges have full ink levels.
Step 6: Press the Ink Change button again. Uninstall both of your cartridges.
Step 7: Put the cartridge chips back on their respective ink cartridges. There is a black cartridge chip on the black ink cartridge. CMY cartridge chip on CMY ink cartridge.
Step 8: Install the ink cartridges again into your printer and press the Ink Change button. Both cartridges will now reflect the same level of ink.
---
How to Reset Using Epson Chip Resetter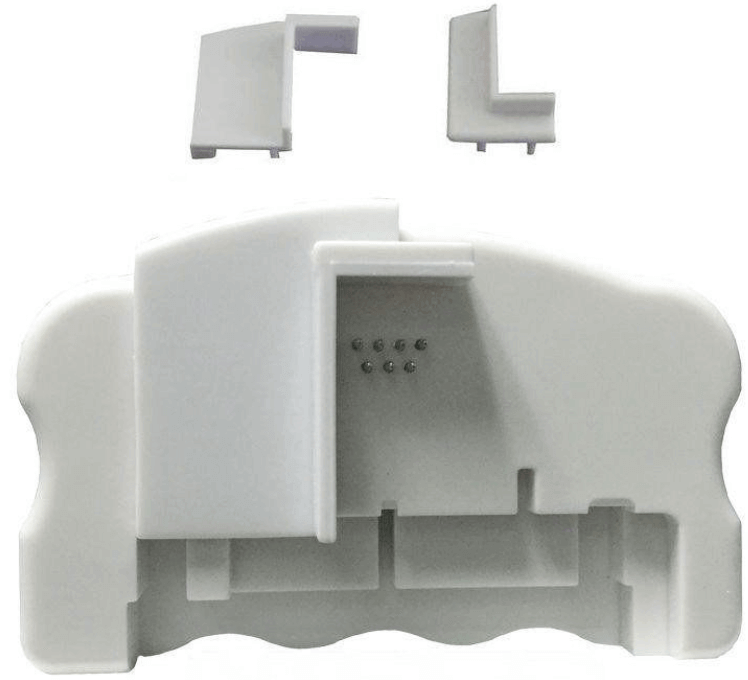 Epson sells a cartridge reset tool. The Epson chip resetter can reset the ink cartridge until the refilled cartridge is empty. It can also help you in filling your Epson printer ink. Resetting depends on the model and kind of Epson printer cartridge.
Before purchasing the Epson cartridge resetter, check the number of pins on your Epson ink cartridge. The number of pinholes in your cartridge should match the number of pins of your reset tool. It is best to compare it side by side to avoid problems after purchasing.
Here are the steps on Epson ink reset with the tool:
Step 1: Remove the print cartridge from the printer.
Step 2: Align the cartridge with the reset tool's base marks.
Step 3: For several seconds, press the reset tool pins firmly on the chip contacts on the cartridge. The cartridge and the device are in hard contact when you see a blinking red light.
Step 4: The cartridge has been reset if you see a blinking green LED light. If you're not seeing any green LED light, continue pressing the tool on the cartridge.
---
Conclusion
Resetting your Epson ink cartridge is a simple and cost-effective solution to common printing issues. By following the steps in this guide on how to reset Epson ink cartridge without resetter, like reset Epson ink cartridge with paper clip, you take control of your printer's ink levels, ensuring it's always ready to create those sharp, vibrant prints you deserve.
Key Takeaways:
Resetting an Epson ink cartridge is a simple and cost-effective solution to common printing problems, ensuring sharp, vibrant prints.
Use a resetter tool or software solutions provided by Epson to reset the cartridge conveniently.
Alternatively, you can reset Epson ink cartridge without resetter using a paper clip or the cartridge chip swap technique for manual resets.
If you need assistance ordering remanufactured or compatible cartridges or have any questions, don't hesitate to contact our friendly support team. Just give us a call at our toll-free helpline, 1-833-465-6888. We're here to help you Monday through Friday, from 6am-4pm PT. Your satisfaction is our priority, so reach out whenever you need it. Happy printing!
---
Frequently Asked Questions
Index
Related articles:
Need Help?
Our customer support is available from Mon-Fri, 6am-4pm PT