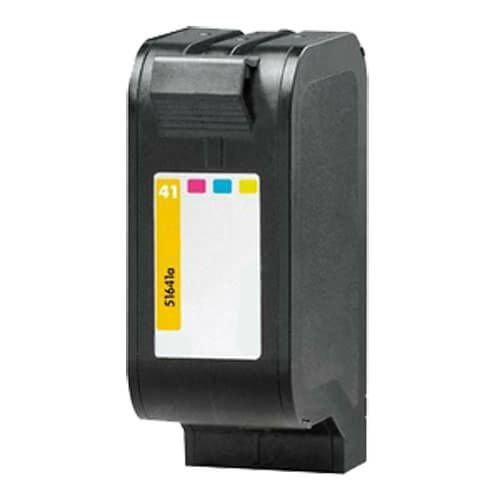 *Stock photo is for reference only.
Retail Price: $34.99
Save $20.00 (57% off retail price)
Buy 3 or more: $14.54 per cartridge
Free shipping over $50 and .
Subscribe and Save 15% off Today!
Subscribers will get free shipping on orders over $35. Plus, you'll receive exclusive email offers or news weekly. Don't worry. Your email address is never shared or sold. See our privacy policy for details.
HP 41 Ink Cartridge Tricolor Related Products
About HP 41 Ink Cartridge - Tricolor
Replacement HP 41 Ink Cartridge - 51641A - Tricolor
CompAndSave offers affordable replacement HP 41 ink cartridges that boast genuine-like quality and satisfaction. This cartridge perfectly works as the original HP 51641A ink cartridge without fail!
MADE WITH PRECISION. Every ink cartridge we sell is proven and tested to work like OEM cartridges, with a tested shelf-life of at least 20 months. Our HP 41 color ink cartridge is professionally engineered to ensure that CompAndSave's cartridges will function like original ones—from installation to print quality.
LOW PRICE, SAME QUALITY. The print capacity and quality of CompAndSave's cartridges match the original HP printer cartridges, but at a lesser price without sacrificing the quality. Purchasing an HP 41 cartridge from us means you get to save $20.00 (57% off retail price), talk about getting the most of your money!
BUMP UP YOUR SAVINGS. Want to enjoy even bigger savings? Purchase our HP 41 ink cartridge and HP 45 black ink cartridge (51645A) in bulk.
NEXT DAY SHIPPING. HP 51641A ink cartridge orders placed before 2:00 p.m. PST will be shipped out the same business day. Visit our Shipping Policy for more information.
FREE SHIPPING. For U.S. orders, checking out $50 or more means the shipping fee is on us!
SATISFACTION GUARANTEE. We offer a FULL refund within ten days based on the delivery date of your CompAndSave products. We even issue refunds and store credits up to 365 days from purchase. That is how confident we are in the quality of our replacement HP 41 color ink cartridges. Make sure to read our Return Policy for more details.
ECO-FRIENDLY SOLUTIONS. Did you know that our replacement or remanufactured cartridges are environmentally friendly? Instead of throwing away empty original HP cartridges, our manufacturer meticulously recycles them to function exactly like the originals. By purchasing our replacement HP 41 ink cartridges, you will not only save a ton of money, but you will also be helping to preserve the environment.
WILL NOT VOID PRINTER WARRANTY. Using replacement, compatible, or remanufactured printer cartridges will never void your printer warranty. To know more, check our Ink Knowledge Base page or contact us for other concerns.
Go ahead and find your printer from the compatible printer list for HP 41 ink cartridges provided below. Take advantage of our great prices for HP 51641A ink cartridges today. SAVE more now!
All ink & toner come with a one-year 100% satisfaction guarantee.
Our products will never void your printer's warranty.
HP 41 Ink Cartridge Tricolor Specifications
| | |
| --- | --- |
| SKU | INK-HP-51641A |
| Product Type | INK |
| Replaces OEM # | 51641A |
| Color | Tri-color |
| Product Capacity | Standard |
| Ink Volume | 39 ml |
| Approximate Page Yield | 461 |
| Cost per page | 3.25 cents |
| Number of pieces | 1 |
| Product Shelf Life | 18-24 months |
Replacement HP 41 Ink Cartridge Tricolor Reviews