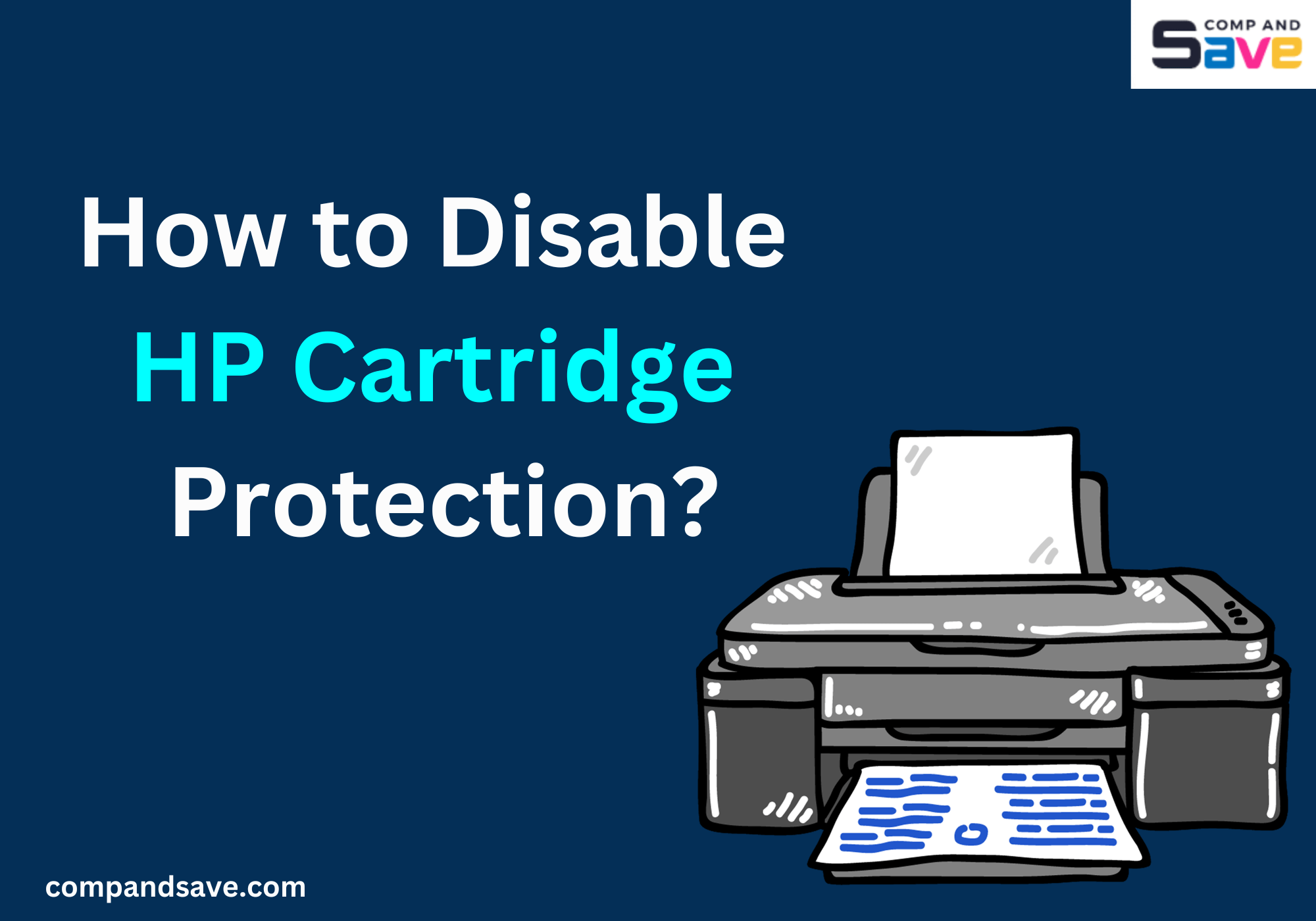 Are you tired of being held hostage by your HP printer and its constant warnings about "protected" cartridges? Well, fret no more! We have the ultimate guide on how to disable HP cartridge protection on both Laser and Inkjet printers - even if you're a Mac user! By disabling the HP cartridge protection, you can:
Take control of what ink or toner cartridge you will be installing, whether it's an original, self-refilled, or remanufactured cartridge, as long as it is compatible with your printer.
Install your cartridge in any printer model that is compatible with the cartridge, giving you the freedom to switch between printers without any limitations.
In this comprehensive guide, we will discuss the following:
1. HP Dynamic Security: What It Is and How It Affects You
HP Dynamic Security, also known as Cartridge Protection, is a feature designed to lock HP original cartridges to specific printers. Once you enable this feature and install a cartridge in your printer, it becomes "protected," leading to the following outcomes:
Your printer will only accept original HP ink or toner cartridges.
The 'protected' cartridge will not function in any other printer except for the original printer where cartridge protection was enabled.
But what about refilling your "protected" cartridge once it runs empty and using it in the same printer? Unfortunately, that's not possible. To add to the frustration, purchasing a remanufactured cartridge is not a viable solution either. The cartridge protection feature remains active, limiting your choices even further.
So, remember, once you install an HP original cartridge and it becomes "protected," it's a commitment that lasts until the end. Your choices become limited, and finding an easy way out seems unlikely. But there's a silver lining. You have the option to disable HP cartridge protection and regain control over your ink choices, which we'll cover later in this article.
2. HP Dynamic Security Enabled Printer: How to Identify One?
Identifying HP printer models equipped with dynamic security may seem challenging. However, according to HP, all new OfficeJet Pro printers and HP printers labeled as HP+ utilize dynamic security. These printers require the use of original HP ink or toner cartridges exclusively.
While we may not have the exact list of HP printers that have dynamic security enabled, we've got you covered with a list of printer models where you can disable the cartridge protection feature. These models include:
1. Printers manufactured before December 1, 2016:
HP Officejet Pro 6970, 7740, 8210, 8700
HP Officejet 6950
HP PageWide 300, 400, 500
Please note that if your printer was manufactured after the specified date, there is currently no known method to disable HP's dynamic security feature.
2. All printers, regardless of manufacturing date:
HP OfficeJet 6810, 6820
HP OfficeJet Pro 6230, 6830, 8610, 8620, 8630, 8640, 8660
HP X451dn/dw, X476dn/dw, X551dw, X576dw
3. Signs to Identify Cartridge Protection
Before proceeding, it's essential to verify whether your HP printer has cartridge protection enabled. You can identify this by checking for any of the following signs:
Your printer displays a message indicating that the ink/toner cartridges are protected.
An error message appears, preventing you from using remanufactured or refilled cartridges.
When you attempt to use a non-HP cartridge, the printer rejects it and displays an error message.
The ink/toner level indicator does not display the ink or toner level for non-HP cartridges.
These signs suggest that your printer has cartridge protection enabled, and you will need to follow the steps below to disable it.
4. How to Bypass HP Cartridge Protection? - Step By Step Process
HP has rolled out a firmware update that now allows you to bypass the frustrating HP cartridge protection feature. This update is specifically available for the printer models mentioned above.
However, it's crucial to complete the installation of your HP printer's latest firmware to activate the option to disable cartridge protection. To ensure a smooth printing experience in the future, we recommend turning off the automatic firmware update feature on your printer.
One important thing to note is that once you disable cartridge protection, the cartridges currently installed in your printer will no longer be recognized. But worry not! Simply replace them with new, high-quality third-party cartridges, and your printer will work flawlessly moving forward.
IMPORTANT NOTE: Remember that the below guidelines are general advice; your specific printer model may require different approaches. For further assistance, consult your printer's manual or seek support from HP's official website tailored to your model.
A. Disable HP Cartridge Protection on Windows 10 and Windows 11
The steps below will help you how to disable HP cartridge protection for both Windows 10 and Windows 11.
Locate and open the HP Printer Assistant or HP Solution Center software on your computer. If it's not installed, visit the official HP website to download compatible software for your printer model. Or you can download the HP Smart App from the Microsoft Store.
Upon opening the software, search for "Settings" or "Tools", or a similar menu item based on your software version and printer model.
Look out for an option titled "HP Cartridge Protection" or "Enable Cartridge Protection." It might be under the "Preferences" or "Tools" section.
Once you find the appropriate option, uncheck or disable it to turn off cartridge protection.
Save all changes and exit the software appropriately.
B. Disable HP Cartridge Protection on Mac
The following steps will guide you on how to disable HP cartridge protection on Mac.
Ensure your HP printer is connected to your Mac.
On your Mac, navigate to "System Preferences".
Click on "Printers and Scanners".
Select your HP printer from the list.
Click on "Options and Supplies".
Select the "Supply Levels" tab.
Click on "More Information." This will open a webpage displaying your printer settings.
Locate and click on the "Cartridge Settings" option.
You may need to enter a PIN for your HP printer. If required, input the PIN found at the back of your printer or inside the cartridge door.
Once you've entered the PIN, select either the "On" or "Off" option corresponding to Cartridge Protection.
Select "Off" to disable Cartridge Protection and click "Apply".
A message confirming changes were successfully updated should appear—click OK.
C. Other Ways to Disable HP Cartridge Protection
Turn off HP Cartridge Protection via Control Panel
If you have an HP printer with its own touch-based control panel, you can also bypass HP cartridge protection from there. Here's how to do this:
Open your HP touchscreen control panel.
Scroll left and tap on "Setup".
Scroll down and go to "System Setup".
Then scroll down and go to "Supply Settings".
Next, go to "Cartridge Policy" and tap "Off".
Now Go to "Cartridge Protection" and tap "Off".
Restore Printer to Factory Default Settings
Turn on your HP printer and navigate to the control panel display.
Locate the "Setup," "Tools," or "Settings" option, depending on your printer model.
Select "Printer Maintenance" or a similar term from the available options.
Scroll down and choose "Restore Factory Defaults" or similar phrasing.
A warning message will prompt you to confirm your selection to restore the factory settings. Click "Yes" or "Continue".
The printer will restore factory defaults and disable cartridge protection during this process. It will automatically restart upon completion.
Remember that any currently installed protected cartridges must be replaced with new ones since the printer software has permanently disabled them.
Reset Printer Memory
Turn off the printer.
Unplug it from the power source, wait for a few minutes, and then reconnect the power.
Sometimes, resetting the printer's memory can help clear any temporary glitches causing the error.
---
Parting Words
Now that you know how to disable HP cartridge protection on your Windows or Mac device, you're in the driver's seat when it comes to choosing the right cartridges for your HP printer. If you're on the lookout for affordable and reliable remanufactured cartridges, look no further than CompAndSave. We offer alternative cartridges that are HP-compatible and wallet-friendly compared to those pricey OEM ones.
By opting for remanufactured cartridges, you not only save some bucks but also contribute to a greener planet by reducing waste. So go ahead, print to your heart's content, knowing that you have the power to pick cartridges that fit your budget and printing needs.
Should you have other questions on how to bypass HP cartridge protection, or need any assistance, our friendly customer service team is just a phone call away. Feel free to dial our toll-free number: 1-833-465-6888. We're available from Monday to Friday, 6am-4pm PT to lend a helping hand.
---
Frequently Asked Questions
Index
Related articles:
Need Help?
Our customer support is available from Mon-Fri, 6am-4pm PT