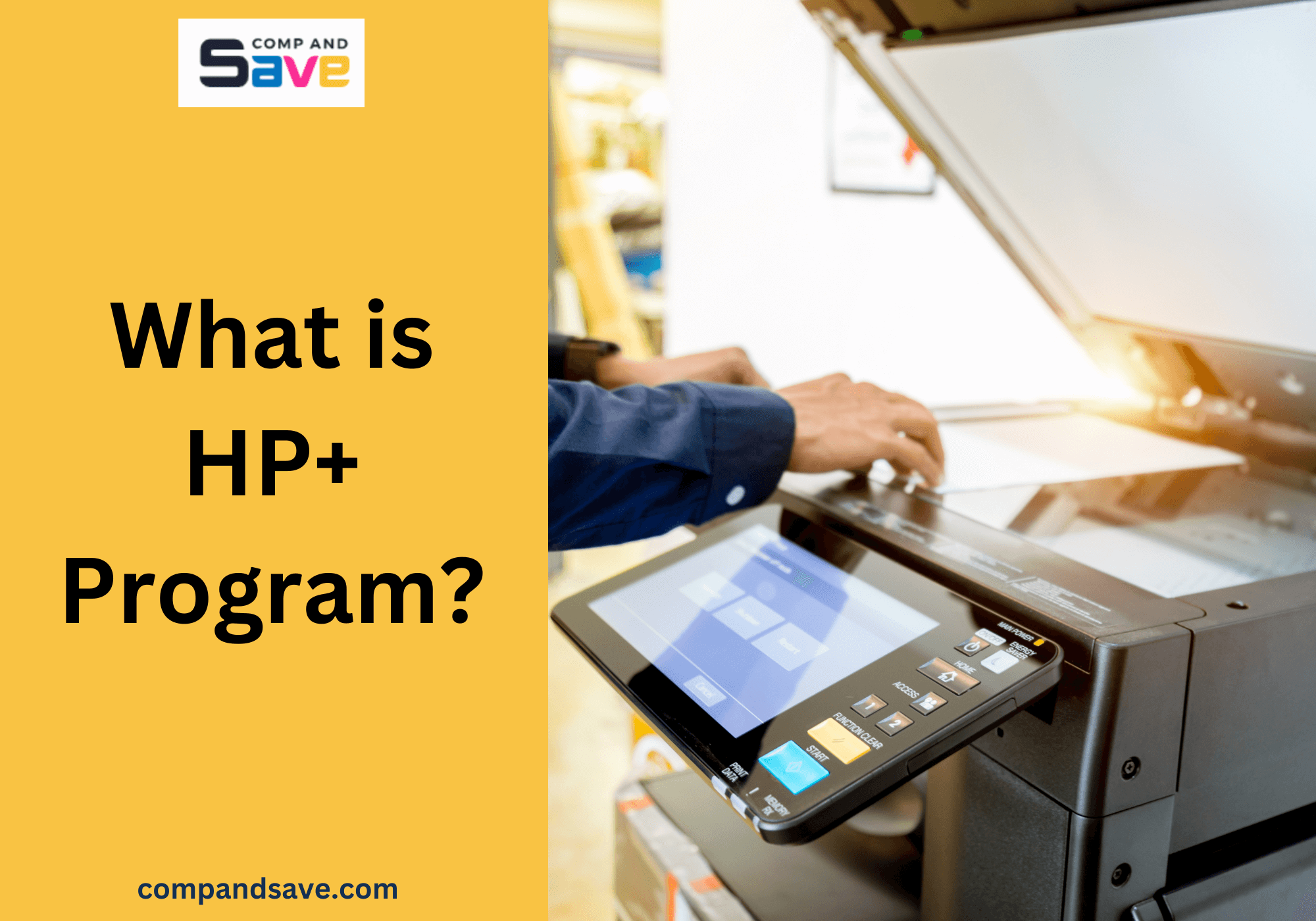 Do you own an HP printer and want to improve your printing experience while saving money? HP offers programs and plans that they claim to be both modern and wallet-friendly, but do they really suit your budget and needs?
While every printing plan has its perks, it also has its drawbacks. More often than not, the cons are not discussed as thoroughly as the pros. By the end of this guide, we aim to help you decide if the HP Plus Program matches your printing needs and budget. Let's get started.
Here are the important factors that we'll cover in this article:
What is HP+ for Printers?
What is HP+ Program? It's a free upgrade offered to select HP printers. HP+ offers free HP Instant Ink for six months, automatic bug detection and fixing, automatic printer update, and mobile printing to name a few, through the HP Smart app if you enable HP+ to an eligible printer. This offer, however, is for select printer models only as what we have mentioned above.
Now, this really sounds good, but what about the disadvantages? Let's discuss them below, so you can make an informed decision. But first, check out the list of eligible HP+ printers and their compatible cartridges:
Eligible HP+ Printers
HP Envy

HP Envy 6000e series (HP 67/67XL ink)
HP Envy 6400e series (HP 67/67XL ink)
HP Envy Inspire 7200e series (HP 64/64XL ink)
HP Envy Inspire 7900e series (HP 64/64XL ink)

HP OfficeJet

HP OfficeJet Pro 8025e (HP 910/910XL ink)
HP OfficeJet Pro 8034e (HP 910/910XL ink)
HP OfficeJet Pro 9015e (HP 962/962XL ink)
HP OfficeJet Pro 9025e (HP 962/962XL ink)

HP LaserJet

HP LaserJet M209dwe (HP 134A/134X toner)
HP LaserJet MFP M234we (HP 134A/134X toner)
HP LaserJet MFP M234sdwe (HP 134A/134X toner)
HP LaserJet M110we (HP 141A/141X toner)

HP DeskJet

HP DeskJet 2755e (HP 67/67XL ink)
HP DeskJet 4155e (HP 67/67XL ink)
Note: CompAndSave's ink and toner will not work, accepted, or recognized if HP+ is enabled in your printer.
---
How Does HP+ Work?
HP+ promises to modernize your printing experience. That said, once HP+ is enabled, you will have access to enhanced security features, an app to monitor your printing activities, and a free HP Instant Ink subscription for six months. Here's how it goes:
Purchase an eligible HP printer. These printer models usually end in 'e.'
Make sure that your printer is connected to the internet. Download the HP Smart App and create an HP account to set up the service.
For LaserJet printers, activating the program is required upon purchase. In the case of inkjets, you have the option of enrolling or not.
After enabling the program, you can only use genuine cartridges for the lifetime of your printer.
Now, let's dig deeper and tackle the pros and cons of upgrading.
HP+ Program Pros
Free HP Instant Ink Subscription for Six Months
For six months, you'll enjoy it for free with the HP Plus Program. After that, you'll need to pay the monthly fee. HP Instant Ink is a subscription program that monitors your ink levels and automatically sends you replacement cartridges before they get totally empty.
Extra Year of Warranty for Your HP Printer
The standard warranty HP gives its customers is one year. Activating HP+ will give you another year of warranty. It means the total printer warranty is two years.
Access to HP's Forest First Cartridge Recycling
Forest First is HP's commitment to protect the environment and plant more trees. Every page that is printed, there is an equal investment in projects that work towards protecting and restoring forests.
Advanced Features with the HP Smart App
Upgrading to HP+ will give you access to the HP Smart app and its advanced features which we have listed below. But there's something you need to keep in mind - these advanced features will only be free for the first two years. After that, you'll have to pay to continue using them. If not, you'll still be able to use the standard features.
Take a look at the comparison between the standard and advanced features of the HP Smart app:
Feature
Standard
Advanced

(Free access for 2 years)

Print, Scan, and Copy
✔️
✔️
Mobile Printing
✔️
✔️
Print from Cloud
✔️
✔️
Smart Tasks

(Create custom shortcuts to simplify repetitive tasks such as scanning to email or cloud storage.)

❌
✔️
Advanced Security and Management Tools

(Advanced printer security features include access controls, password policies, automatic fixing, malware notifications, remote data wiping, device management, usage tracking, and user access level assignments.)

❌
✔️
Printer Usage Monitoring

(Track usage, receive notifications when supplies are running low, and view detailed reports on printing activity. With HP Smart Dashboard for IT management.)

❌
✔️
Proactive Alerts and Support

(Get proactive alerts and support for issues such as low ink levels, paper jams, and connectivity problems. With HP Smart Assistant for enhanced support.)

❌
✔️
Note: HP Smart advanced features will only be free for the first two years. Also, this table is for illustrative purposes only and is not an exhaustive list of features. Actual features may vary depending on the HP+ printer model and the version of the HP Smart App.
HP+ Program Cons
HP+ Program is Irreversible
Once you activate HP+, there's no going back. As of this writing, there are no means to disable it. If you find the service incompatible with your printing needs and/or budget, you might as well purchase a new printer.
Unable to Use Third-Party or Refilled OEM Cartridges
We all know that third-party inks are more budget-friendly than genuine ones. Unfortunately, you can only use OEM cartridges once HP+ is enabled.
You will not be able to use remanufactured ink cartridges for the lifetime of your printer since it will only recognize the chips in your cartridge if it's OEM. Even if you cancel your HP Instant Ink subscription, you still won't be able to use third-party ink.
How about refilling your original HP cartridges? Although HP mentions that you can refill your original cartridges, they did not specify that it will work for HP+ printers. We haven't tested resetting or bypassing HP+ ink cartridges, so we can't say for sure whether it will work. What we know for now is that our customers who have enabled HP+ on their printers have reported that the printer does not recognize the refilled OEM ink cartridge, even if they refilled the ink themselves.
HP Instant Ink May Not Be Cost Effective
According to HP's disclaimer , you must sign up for HP Instant Ink within seven days of the printer being set up to get the first six months free. It can be a disadvantage, especially if you're still trying to determine the average monthly number of pages you print. After the free six months, you'll need to pay a monthly fee.
For people who don't print very often, the monthly fee may be more expensive than buying ink refills when they run out. Also, if a person goes over their page limit for the month, they may have to pay extra fees that can add up quickly.
Privacy Concerns
HP+ requires you to register your printer and create an HP account, which may raise privacy concerns for some users. Aside from personal information, HP can also track your printer usage, habits, and other data related to how you use the service. If you have concerns about sharing your personal information or data related to your printer usage, you may want to consider other printing options.
Internet Connection is Required
The internet seems like an essential commodity nowadays, but there can be days when it's not working properly. Activating HP+ will require constant Internet access to use the HP Smart app for printing jobs.
Although you can still use your printer without Wi-Fi, the printing process may not work correctly. Monitoring your ink levels or the printed pages for your HP Instant Ink may cause delays and incorrect data. Without an internet connection, you will not be able to fully access the features and benefits of HP+.
---
Is HP+ Worth It? - What to Check Before Activating the Program
The decision to activate the HP printer program will significantly depend on your printing needs, usage patterns, and budget.
When deciding if HP+ is worth it, you might want to consider the following:
1. Evaluate Your Printer Usage
The HP+ benefit of free ink or toner for six months might be useful to you if you print frequently and require a steady supply of ink or toner. But if you only print a few pages a month, it's better to stick to buying per cartridge.
2. Calculate the Costs
If you want to save money on printer ink and toner, make sure your printing budget matches the benefits. Take note that joining the HP printer program entails using only original ink and toner, which is more expensive than remanufactured cartridges. Calculate your printing costs ahead of time to check if they match your budget.
Now, let's say you have chosen the 700-page monthly subscription plan for HP Instant Ink, which is compatible with your HP OfficeJet Pro 8025e printer that uses HP 910/910XL cartridges. The cost for this plan is 24.99 cents, which means that the cost per page would be 3.57 cents.
On the other hand, the remanufactured high-yield HP 910XL black ink cartridge can print 825 pages at a cost of just $18.95, with a cost per page of 2.3 cents. This option would save you $6.04. You save more with each printed page.
3. Think Long Term
What is HP+ Program's benefits in the long run? Using your printer for a long time may mean you must consider long-term costs and other factors. If your main concern is savings, it's essential to bear in mind that since the free HP Instant Ink program is only for six months, you may need other options to save on printing costs, primarily if you use the machine for home office needs or a small printing business.
If you're worried about keeping your computer safe, you should know that the advanced features of HP Smart App will only be free for the first two years. However, the only things that really matter for your security are the updates and extra features you get with the free HP app. These aren't new, though - these updates and features have been available for free and have been a standard for a long time.
Factors That Make HP Plus Program Worth It
Sustainability. Forest First is HP's sustainability initiative which is aimed at protecting forests.For every page you print through the HP+ program, HP pledges to protect and restore forests equivalent to the paper used.
Convenience. Ease on mobile printing through the HP Smart app, automatic ink delivery through HP instant ink, and automatic printer updates. You can also easily manage your account and printer settings through the app.
Advanced Features. Perks of advanced mobile scanning, photo printing, access to exclusive templates and designs, and fixing bugs can all be done automatically, which is convenient. However, keep in mind that the advanced features of the HP Smart app are only free for two years.
Factors That Make HP Plus Program Not Worth It
Unreliable Internet Access. If your internet connection is unstable, it is recommended to avoid enabling HP+ as it requires internet access to utilize its features and benefits, such as automatic ink delivery and access to HP Smart App's advanced features. An unreliable connection may hinder you from taking full advantage of the program, which defeats its purpose.
Infrequent Printer Use. If you don't print often, you may not benefit from the cartridge replacement program and may not see significant cost savings. Additionally, the advanced features of the HP+ Program, such as automatic issue detection and resolution, ink monitoring, and ordering, may not be necessary for you.
High-Volume Printing Needs. Even though the program claims you can save money on printing costs, it may not be ideal for heavy users. Going beyond the page limit of your monthly subscription will incur an overage fee of $0.99 for every additional 10 pages. Additionally, using third-party ink and toner cartridges is not an option with HP+ printers, which can be costly even when buying cartridges in bulk or using high-yield versions.
Printing on a Budget. The HP Plus Program mentions that it's budget-savvy due to the free HP Instant Ink for six months. But how about after that? You'll need to pay a monthly fee. Also, budget-friendly printing means that you have the option to use cheap yet quality ink. Since HP+ printers won't be able to use generic ink cartridges anymore, you may need to spend more than you intended. Not to mention that you will also need to pay to continue using HP Smart App's advanced features after 2 years.
Privacy Risks. As mentioned in the cons of HP+, registering your printer and creating an HP account with HP+ may not be worth it if you are concerned with privacy since HP can track your printer usage and data related to your service usage.
Unfamiliar wih Modern Technology. Not everyone is comfortable with modern printer technology. It requires knowledge of navigating the app and its features, which may not be a hassle-free experience for those who are not tech-savvy.
Final Tip: Read HP+ Reviews
When considering whether or not to activate HP+ services for your HP printer, it's essential to read reviews about the program beforehand. Researching and reading comments from other users in forums who have already activated the service can provide valuable insights into the program's reliability, ease of use, and customer service. This information can help you make an informed decision about whether or not HP+ is the right choice for your printing needs and budget.
---
HP+ Program Alternatives
Are you in search of a printing program that suits your needs but aren't sure if the HP+ Program is the right fit? Well, you're in luck! There are plenty of ways to save on printing costs and enjoy similar benefits with HP+ services.
Let's explore some of the options together and find the perfect fit for you!
1. Alternatives for Low-Cost Printing:
Try an Ink Tank Printer.

Use printers with refillable inks since bottled inks have the lowest cost per page. You can try an Epson EcoTank, Brother INKvestment Tank, or Canon MegaTank printer.

Opt for High-yield Ink or Toner Cartridges.

Choose high-yield cartridges that can print more pages since you'll be able to save more in the long run. There are remanufactured cartridges that have higher yields but are cheaper compared to standard OEM cartridges.

Use an Ink Refill Kit.

You can purchase an ink refill kit and do the refilling process yourself. It's not just for low-cost printing goals, but for environmental causes as well. Refilling your cartridge instead of buying a new one reduces your carbon footprint. Take note that refilled cartridges will only work if you did not activate HP+.

Buy Third-Party Ink or Toner.

Using compatible and remanufactured cartridges can save you money compared to OEM cartridges. These alternatives offer the same page yield as genuine cartridges at a lower cost while still maintaining high-quality print output. If you have an inkjet printer, you can use generic ink cartridges, but it's important to note that HP+ activation will prevent you from doing so. For laser printers, avoid buying models with "e" in the printer model as these typically restrict the use of third-party toner.
2. Alternatives for Advanced Features:
Download Printer Apps.

Major printer apps have their own ways to improve your printing experience. Epson has Epson iPrint , Canon has Canon Print Service, and Brother uses Brother iPrint&Scan. These apps can be downloaded for free and have features such as mobile printing and management of printing tasks.
3. Alternatives for Reducing the Environmental Footprint:
Remanufactured cartridges are the way to go when you want to help save the environment in your own small way. These are recycled cartridges that have been inspected, cleaned, and refilled to match OEM cartridge standards.
Major primer and cartridge brands offer different ways to recycle your consumables. So even if you're not using the HP+, you can still recycle your cartridges by shipping them back to the manufacturer or dropping them off at recycling stations.
Conclusion
Ultimately, whether or not the HP Plus Program is worth it will depend on your preferences, priorities, and budget. The benefits may sound good at first glance, but the program may limit your choices and flexibility when it comes to handling printing jobs and may actually cost you more in the long run. That said, it is crucial that you dig deeper to know if its the right choice for you.
To conclude, here are some key points to keep in mind that HP did not highlight:
Even if HP Instant Ink is free for the first six months, additional charges will still apply if you exceed the monthly page limit.
Enabling HP+ is a one-way decision, and you cannot disable it. Once activated, your printer will only work with original cartridges, even if you decide to cancel your HP Instant Ink subscription.
You won't be able to use third-party ink cartridges, limiting your options and potentially increasing your costs.
Even if you refill your empty original ink cartridge yourself, once you enable HP+, your printer will not recognize it. This leaves you with no option but to purchase expensive ink cartridges.
After two years of free access to HP Smart App advanced features, you will will need to pay additional fees to continue using it.
You need to register your printer, create an HP account, and download apps, which can be a security and privacy concern for some users.
You must keep your printer connected to a reliable internet connection at all times or you won't be able to fully take advantage of its perks.
Hopefully, our what is HP+ Program guide can help you decide if the upgrade is worth it. Before making a decision, you should carefully read over the terms and conditions of the HP+ Program.
Keep in mind that CompAndSave's ink and toner will not work if HP+ is enabled in your printer. If you want to keep using cheap HP cartridges avoid enabling the services.
If you need further assistance, feel free to contact our customer service department regarding your CompAndSave products. Talk to us at our toll-free number: 1-833-465-6888 from Monday to Friday, 6am-4pm PT.
Frequently Asked Questions
Index
Related articles:
Need Help?
Our customer support is available from Mon-Fri, 6am-4pm PT