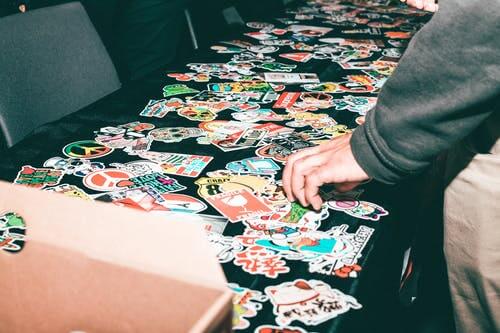 Inkjet printers are not only for printing photos and documents. How about printing photo magnets? Whether you're doing it as a personal project or as a small business, it's a new method to spice up your printing process. Are you thinking of a cutesy personalized photo magnet or perhaps selling some magnetic souvenirs? Magnetic printing can be easy if you use the correct printer and paper.
Magnet paper is an innovative and helpful product that you can use for printing. It's compatible with inkjet printers that can accommodate specialty paper or card stock. In this guide, let's get to know what is the best printer for magnetic sheets. But first, let's discuss what magnet printing is.
What is magnet printing?
Have you noticed that DIY items are a trend nowadays? Personalized magnets are a hit. Magnet printing is simply the idea of using magnet paper on inkjet printers. These are commonly used in advertising and marketing. It is also used for custom fridge magnets, business cards, educational tools, and many more. You can make your custom magnets at home or turn them into a profitable business.
---
What is the best photo magnet printer?
What is the best printer for printing magnets? Magnet paper will work with inkjet and photo printers supporting technical paper or handling card stock, but you can also narrow down your choice to get the best one. It's also worth noting that when printing magnetic sheets, you must consider the size capacity of the photo printer. We recommend the Epson Expression Photo HD XP-15000 for since it produces impressive photos. photo magnet printers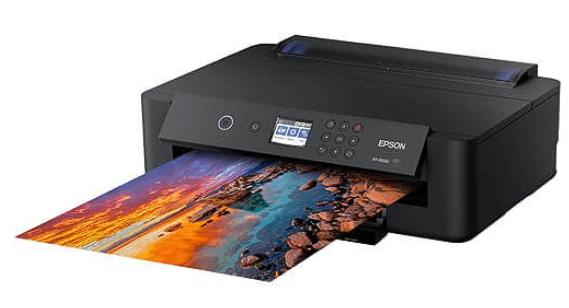 Epson Expression Photo HD XP-15000
The Epson Expression XP-15000 printer can print up to A3-sized signs, pictures, posters, and documents, which is perfect for a magnetic photo printer With a speed of 27 seconds, it can print photographs up to 13 x 19 inches and borderless photo printing up to 4 x 6 inches. The autocorrect feature allows you to print directly from your smart device. This feature will also optimize your photographs for a professional look. These are the main reasons why it's the best printer for printing magnets. The best magnet photo printer should also use high-quality ink cartridges. The Epson Expression Photo HD XP-15000 uses Epson 312XL and 314XL for ink cartridges
PROS
Wide range of uses and functions to choose from.
Can print excellent quality photos.
Compact and light for a wide-format inkjet printer
CONS
Printing speeds may be slower compared to other competitors.
Running this printer daily may be costly.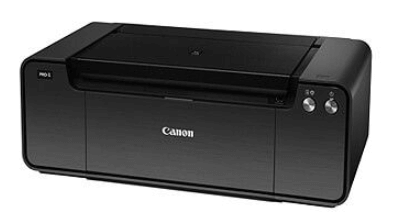 Canon Pixma PRO-1
Take your photo magnets to another level with Canon Pixma PRO-1. This printer for magnets is aimed to make photographs look professional. Photo printing in A3+ is at a fast speed. The Canon Pixma PRO-1 can also accommodate many kinds of a special paper, even thick ones. Using magnetic sheets will not be a problem. You can also print directly from your DSLR with its PictBridge feature. Take note, though, that it only supports wired connection. There is no scanning feature since this printer is designed for professional photography. Paired with the Canon PG1- 29 ink cartridges , the Canon Pixma PRO-1 produces long-lasting photos of exceptional quality, which is perfect for custom magnet printing.
PROS
Exceptional photo quality.
Accommodates up to 14 inches thick special paper.
Uses pigment-based ink for long-lasting prints.
Fast photo printing speed.
CONS
Quite heavy at 27.7 kg.
High printer price.
No wireless printing.
Running this printer daily may be costl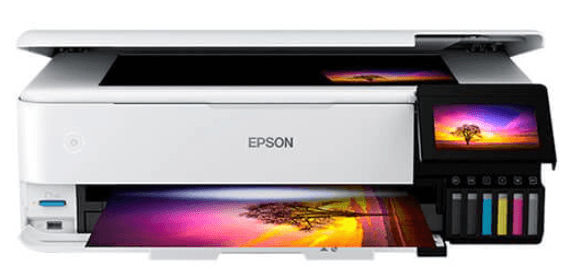 Epson EcoTank Photo ET-8550
The EcoTank Photo ET-8550 is a low-cost wireless all-in-one device that is also a great photo magnet printer. It produces lab-quality, wide-format color pictures, graphics, and daily documents for roughly 4 cents apiece. You may print personalized CDs/DVDs to borderless 13" x 19" magnet prints. On top of that, it offers wide connectivity options for easy mobile printing. Compatible ink for EcoTank Photo ET-8550 are the Epson 552 ink bottles , which are high-quality and cost-efficient. This printer is your best bet in attractive printed magnets that won't hurt your budget.
PROS
Exceptional output quality.
Low running costs.
Prints are borderless, from 4 by 6 inches to 13 by 19 inches.
Fast printing speed.
---
What is magnetic paper?
There are different ways to produce magnet prints. First is printing on the magnet paper directly. This option requires magnetic paper that is thin enough to go through your inkjet printer. It's easy to cut magnetic paper with scissors or a paper cutter because they're as thin as paper. Using these magnet photos outside is not recommended since they can fade under direct sunlight. Take note that you can't use laser printers for magnet photo paper. It may damage your printer.
CompAndSave offers magnet sheets in different sizes. For more detailed information, check the tables below: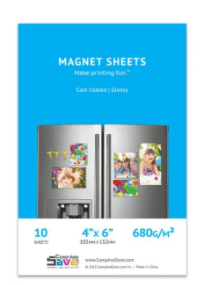 Glossy Magnet Sheet
Glossy magnetic paper:
Best for: Printing colorful magnet photos such as images or graphics.
Not suitable for: Labels or printables that are often touched.Glossy magnet sheets can be prone to smudging.
GLOSSY MAGNET SHEETS
SIZE (INCHES)
NUMBER OF SHEETS
PRICE
4" x 6"
10 sheets
$4.49
4" x 6"
50 sheets
$19.95
8.5" x 11"
10 sheets
$13.99
8.5" x 11"
50 sheets
$59.95
Do you prefer eye-catching and vibrant prints? Get the glossy magnet photo paper . Choose from the sizes available for your magnet printing essentials.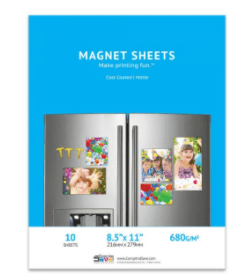 Matte Magnet Sheet
Matte magnetic paper:
Best for: Magnet photo prints that have subtle colors such as labels and tags.
Not suitable for: Decorative designs since it can subdue colors.
GLOSSY MAGNET SHEETS
SIZE (INCHES)
NUMBER OF SHEETS
PRICE
4" x 6"
10 sheets
$4.49
4" x 6"
50 sheets
$19.95
8.5" x 11"
10 sheets
$13.99
8.5" x 11"
50 sheets
$59.95
If you want subtle and clean prints, try the matte magnet sheets . Perfect for small business labels and custom printed magnets.
If you want a more weather-resistant option, try using vinyl stickers, then stick it to a magnetic sheet. This process is similar to printing photos. You can print the image or design on vinyl sticker paper. Stick the image at the front part of your magnetic sheet. Now, you can cut the magnetic sheet according to the size of your printed sticker. This process will create longer-lasting magnet prints. The Photography Paper for Inkjet Printer guide gives you more details on how to choose the right photo paper for your projects.
---
How to print on magnetic sheets?
Now that you know the essential tools you need to print magnet photos, it's time to learn the steps on how to print on magnetic paper.
Step 1: Print on the white side of the paper. You can use printable magnet sheets that are either matte or glossy.
Step 2: When printing magnetic sheets, always use the highest resolution available.
Glossy Magnetic Paper Printing Guide:
For Epson printers:
Click on the Photo Quality.
Select Glossy Film when choosing a Media Type.
Resolution should be at least 1440 dpi. The higher, the better.
For HP printers:
Select Other Photo Papers.
Click Best for the Photo Quality.
For Canon Printers:
Select High Glossy Photo Film as the Media Type.
Make sure to set the print quality to Maximum.
Matte Magnetic Paper Printing Guide:
For Epson printers:
Select Epson Matte or Photo Quality Inkjet Paper as the Media Type.
Click Photo or Best Photo for Print Quality and choose Epson Vivid for Color Control.
For Canon printers:
Choose High-Resolution Paper when choosing a Media Type.
Select High for Print Quality and Auto for Color Control.
For HP printers:
Click HP Premium Paper as the Media Type.
For Print Quality, choose Normal or Best. For Color Control, choose ColorSmart/sRGB or defaults.
Step 3: Make sure you're printing on the right side of the paper. Printing on the wrong side of the magnet paper can cause your printer to malfunction.
Step 4: After printing, let the print dry for a few minutes before touching it.
Step 5: Once it's completely dry and ready to cut, you can apply it to any metal surface you like. Just make sure to keep the printed magnetic paper away from direct sunlight. It may decrease its magnetic hold and make it brittle.
Now that you know what is the best printer for magnetic sheets, are you ready to start printing your magnetic cards or photos? Whether you do it as a hobby or a side business, it's a surefire way to spend your time productively. In need of further assistance? Don't hesitate to contact our toll-free number: 1-833-465-6888 on Mondays to Fridays from 6am-6pm PT. CompAndSave aims to provide you with budget-friendly products of high quality.
Index
Related articles:
Need Help?
Our customer support is available from Mon-Fri, 6am-6pm PT