Retail Price: $34.99
Save $27.20 (78% off retail price)
Buy 3 or more: $7.40 per cartridge
Free shipping over $50 and .
Subscribe and Save 15% off Today!
Subscribers will get free shipping on orders over $35. Plus, you'll receive exclusive email offers or news weekly. Don't worry. Your email address is never shared or sold. See our privacy policy for details.
Epson 252 Black Ink Cartridge XL Related Products
About Epson 252 Black Ink Cartridge XL
Remanufactured Epson 252 Black Ink Cartridge XL - T252XL120/252XL - High Capacity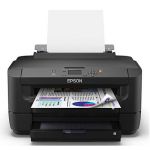 Buy cheap printer ink cartridges for your Epson Workforce WF-7110 printer at CompAndSave! Our replacement for the Epson 252 black ink cartridge XL that works for your Epson Workforce WF-7110 printer will cost you a fraction of what you pay for original Epson cartridges.
As printer users ourselves, we understand the frustration someone might feel when they have to purchase expensive OEM cartridges just to get their printer up and running again. Well, you don't have to worry anymore because here at CompAndSave, we offer a remanufactured Epson 252 black ink cartridge XL that can match the OEM's performance at a much lesser cost.
You may be wondering what the term remanufactured cartridges means. Well to sum it up, remanufactured cartridges are derived from recycled OEM materials. They went through a process of disassembling, cleaning, and reassembling to ensure that they met the OEM's specifications. Below are the other facts and benefits that you can enjoy with our remanufactured Epson 252XL black ink cartridge:
Same performance as OEM for less. CompAndSave uses the same ink formulation as the OEM in our Epson 252 black ink cartridge XL. This means that you can get the same streak, fade, and water repellent outputs that look stunning on any kind of paper. We also ensure that you can get the same page capacity as the OEM which is up to 1,100 pages for each black XL, cyan XL, magenta XL, and yellow XL at 5% page coverage.
Get up to 78% savings or more compared to OEM. Our Epson 252XL black ink cartridge works just as well as the OEM but only costs $7.79 per cartridge. That is $27.20, or 78% less than the OEM price of $34.99 each.
More savings with each print. Get more value for your money with our Epson 252 black ink cartridge XL which will only cost you 0.71 cents per print. OEM cartridges, on the other hand, will cost you 3.18 cents per print. Talk about getting the most from your hard-earned money.
Environmentally-safe ink cartridges. CompAndSave is concerned with environmental protection in addition to providing high-quality, low-cost ink cartridges. This is why the majority of the components in our Epson 252XL black ink cartridge are made from recycled materials, allowing you to save money while also helping to protect the environment for future generations.
Warranty-void-proof ink cartridges. You might be thinking that using remanufactured Epson 252 XL black ink cartridges will invalidate your printer's warranty. Well, as stated in the Magnuson-Moss Warranty-Federal Trade Commission Improvements Act, manufacturers are not permitted to forbid customers from purchasing a specific consumable, so you can use our ink cartridges without any worries.
So what are you waiting for? Take advantage of our great prices today! Learn more about real-life customer experience with CompAndSave and our products by checking our ResellerRatings or Google Reviews
Epson 252 Black Ink Cartridge XL FAQ's
Are Epson 252 and 252XL interchangeable?
Yes, Epson 252 and Epson 252XL are interchangeable. They both have the same appearance and printer compatibility. The only difference between the two is Epson 252XL is a high capacity ink cartridge, therefore it can print more pages compared to the standard capacity Epson 252 ink cartridges.
Can I just replace the black ink cartridge Epson?
Yes, but by default, most Epson printer models stops printing when a color ink cartridge runs out. You may temporarily print with just black, but remember it is recommended to always replace any empty ink cartridges to avoid printer issues. To temporarily print with only black, stop and cancel any pending print job through the Epson printer program. Next is, to access "Printer Settings". Go to main tab and then select "Quality Option", followed by selecting "Plain Papers" or "Envelope" for the type setting. After this put a check in "Grayscale" option and press "OK".
All ink & toner come with a one-year 100% satisfaction guarantee.
Our products will never void your printer's warranty.
How To Install Epson 252 Black Ink Cartridge XL
Epson 252 Black Ink Cartridge XL Specifications
| | |
| --- | --- |
| SKU | INK-EPSON-T252XL120 |
| Product Type | INK |
| Replaces OEM # | T252XL120 |
| Color | Black |
| Ink Type | Pigment |
| Product Capacity | High |
| Ink Volume | 15 ml |
| Approximate Page Yield | 1100 |
| Cost per page | 0.71 cents |
| Number of pieces | 1 |
| Product Shelf Life | 18-24 months |
Epson 252 Black Ink Cartridge XL Compatible Printers
Remanufactured Epson 252 Black Ink Cartridge XL Reviews