While Epson printers are known for their accessibility and user-friendliness, occasional issues may arise. We've compiled a helpful resource of common Epson printer problems and solutions to assist printer owners like you in resolving basic printer issues. By learning how to troubleshoot Epson printer, you'll stay one step ahead and be well-equipped to tackle any printer gremlins that come your way. Without further ado, let's dive in and get started!
How to Troubleshoot Epson Printer: Essential Tips and Techniques
One of the most frequently encountered issues by Epson printer owners is the need for assistance in connecting their machine to the computer or experiencing difficulty in printing. That said, let's first learn how to troubleshoot Epson printer based on these issues. As a starting point, we will discuss how to fix an Epson printer that is not printing.
Why is my Epson printer not printing?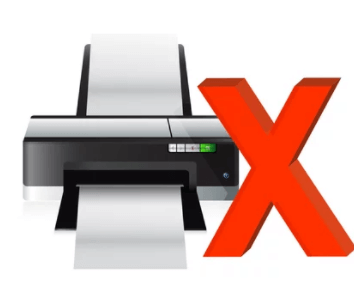 Make sure your printer is on.
Check if the cable is properly connected from the computer to your Epson printer.
If you are using wifi, check if the devices are connected to the same network.
Check for ink levels or paper jams.
Flashing ink out light means low ink. Refill or install new ink.
If the paper out light is on, load more paper.
For paper jams, gently pull the paper from the printer. Remove remaining pieces slowly.
Restart your computer and printer.
Contact your dealer or a technician if your Epson printer still won't print.
Why is My Epson Printer Offline?
Is your Epson printer not printing anything? Another probable reason is that your printer is offline. Wrong cable connection or system error can be the culprits. It can sometimes be due to a paper jam or a stuck printing job. You can quickly resolve these common reasons with our guide.
How to connect Epson printer to wifi?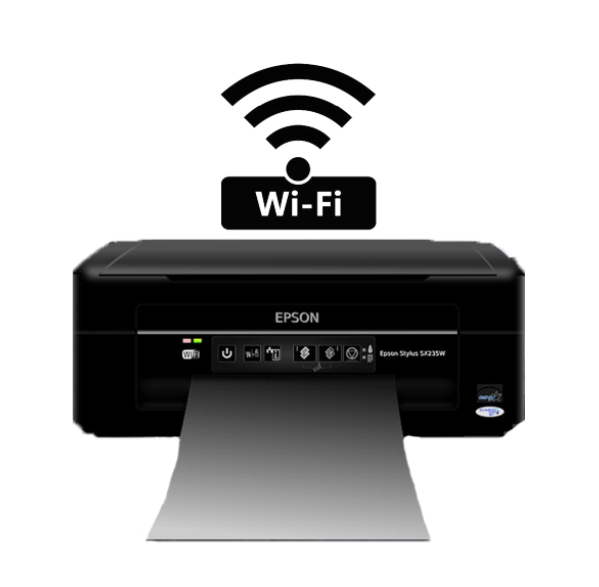 Turn on your Epson printer. Make sure your Epson printer is on its latest driver update.
Tap the Home button on the printer's control panel.
Select WiFi Setup. Press OK.
Select WiFi Setup Wizard. Press OK.
It will now search for an available network.
Select your network connection and enter the network password.
Wait until the setup is complete. Press OK.
It should now connect successfully to your wifi.
How to connect Epson printer to computer?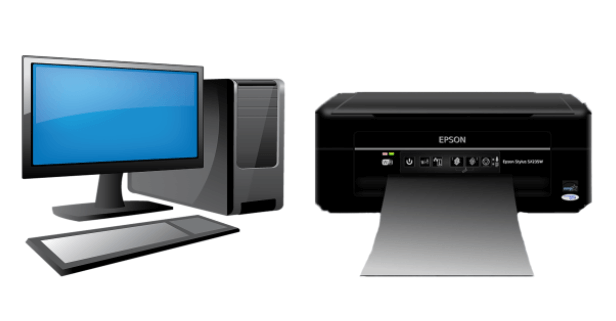 Turn on your Epson printer.
Download and install Epson product unit driver software according to your Windows version.
Check the terms in the License Agreement box. Click Next.
Click Install.
Select your Epson product, click Next.
Select Printer Registration, click Next.
Select Agree, click Next.
Register your printer to Epson Connect. Click OK.
Create an account or sign in with your existing Epson account.
Click Close.
How to clean Epson printhead?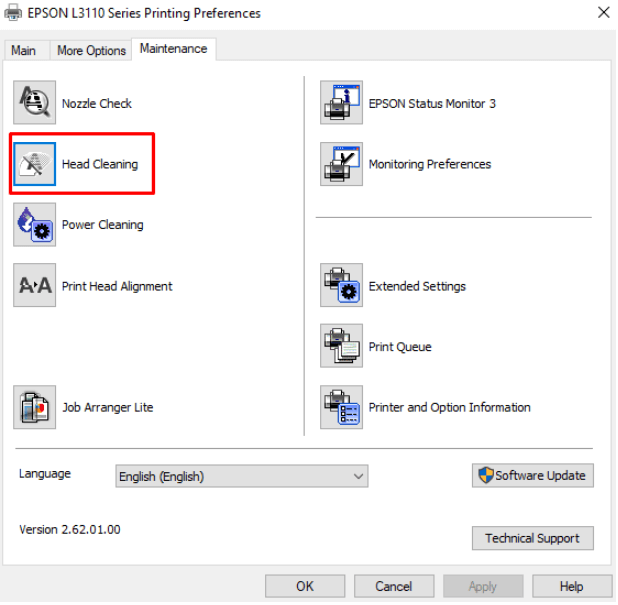 Turn on your Epson printer. Make sure that you still have enough ink before starting.
Click on the Start menu. Navigate to Settings or Control Panel.
Click Devices and Printers.
Right-click on your Epson printer. Select Printing Preferences.
Click on the Maintenance tab.
Click the Head Cleaning button.
Follow the instructions. Do not turn off your printer to avoid damage.
Click Print Nozzle Check Pattern, then choose Print.
Check the printout. If the lines are clear and solid, click Finish.
If the lines are faded or broken, repeat the process until you get satisfying results.
How to Refill Epson Ink Cartridges?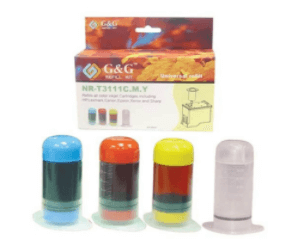 Make sure supplies are complete such as the ink, drill, and syringe.
Remove your Epson cartridge from the printer.
Strip the label of your cartridge to reveal the tiny hole. There are three small holes on a multicolor cartridge, and each hole indicates a separate ink color chamber.
Drill the hole to make it bigger and to make way for the syringe.
Draw the correct ink color and inject it into the proper hole. Use one syringe per color.
Fill the cartridge slowly. Wipe any spills with a small amount of rubbing alcohol on a paper towel.
Seal the cartridge with tape when you are done. Poke a needle-like hole to allow cartridge ventilation.
The tape should be secure to avoid spillage. Install the cartridge and start printing.
CompAndSave offers a universal ink refill kit not only compatible with Epson ink cartridges but with other major brands as well such as Canon, Brother, HP, Lexmark, Xerox, Compaq, and Okidata. Enjoy economical inks with excellent quality.
How to Reset Epson Printer?
Turn off your Epson printer.
Locate the reset button at the back of your printer.
Press and hold the reset button with a pin.
Turn on the printer while holding the reset button for 5 seconds.
The printer will print a warning page. Release the reset button.
After a few seconds, your printer will print the default IP address.
Reconfigure the printer to the computer with the printed IP address.
How to Scan on Epson Printer?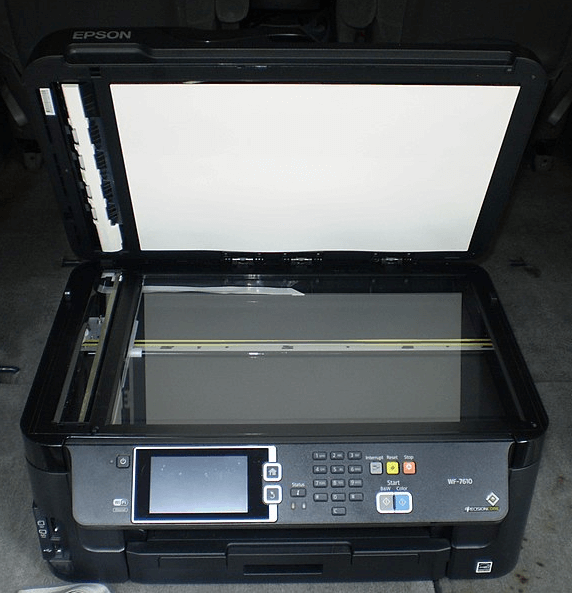 Make sure your Epson printer is connected to the computer with a cable, or the two devices should be connected to the same network.
Install Epson Scan 2 and Event Manager.
Place the document on the printer.
Press the Home button and choose Scan then Computer.
Click OK to close the information screen, then choose Select a computer.
Select USB connection if your computer is connected via cable. For network connection, choose the correct Epson printer from the display.
SelectSave as PDF. You will see several options on how to save your document according to your preference. Choose one.
Click Save to scan.
How to check ink levels on Epson printer?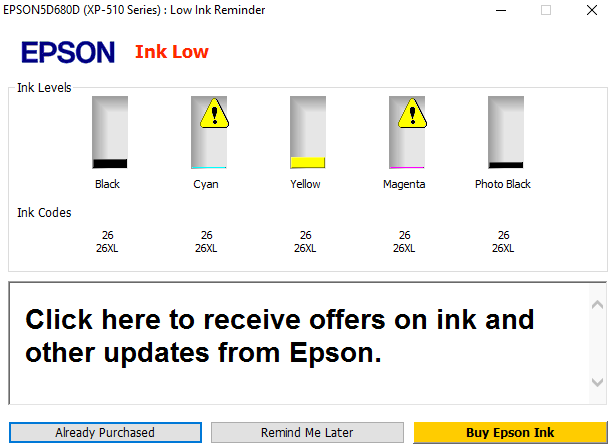 Make sure that you have downloaded the Printer Driver using the CD provided in your printer package. You can also check it on the Epson site.
Open the Printer Driver.
Click Maintenance.
Select EPSON Status Monitor 3.
The graphic will show the ink levels.
If the paper out light is on, load more paper.
How to Bypass Ink Cartridge on Epson Printer?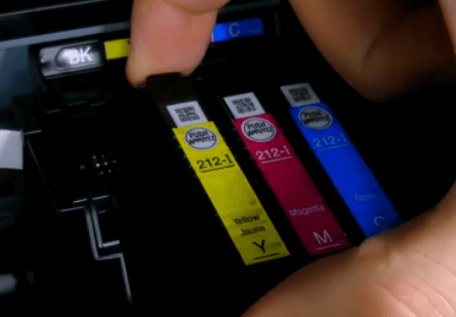 Open the ink cartridge lid.
Hold the ink button until the ink holder moves back to its original place.
Open the lid of the empty ink cartridge, then close it. Do not remove the cartridge.
Close the ink cartridge lid. Start printing.
Shaking the cartridges
Turn on your printer.
Lift the printer cover. Wait for the cartridge holder to stop moving.
Press the cartridge tabs and remove the ink cartridges one by one.
Turn off the printer. Wait for it to shut down completely before removing the plug.
Shake the cartridges to redistribute the ink.
Reinstall the cartridges in the printer.
Wait a few minutes before plugging the printer again and turning it on.
How to reset Epson ink cartridges?
Remove the cartridges.
Find the small buttons above the copper contacts of the cartridge.
Use a paperclip to reset the button. Reinstall the cartridges.
Take note that the reset button is not available for all cartridges.
How do I get my Epson printer to print without color ink?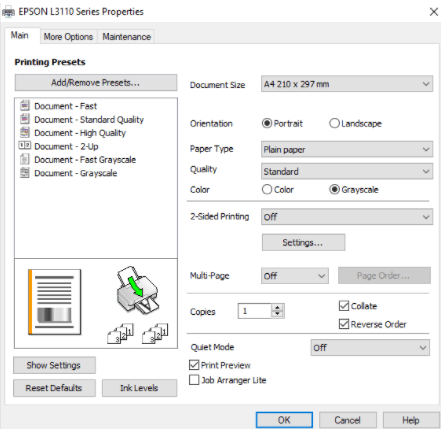 Click Stop or Cancel Print to cancel your print job.
Load paper. Go to Printer Settings.
Choose the Main tab and then the Quality Option setting.
Choose Plain Papers or Envelope as the Type setting.
In Print Options, select Grayscale.
Click OK, then Print.
When Epson Status Monitor 3prompts, click Print in Black.
How to Fix Epson Printer Ink Problem?
Are you in need of assistance in resolving Epson printer ink problems? You don't need to look further. We got your back. Our ink cartridges troubleshooting tips will give you detailed steps on how to resolve common cartridge issues. You can check the steps to fix leaking cartridges, print quality issues, and more. Epson printer problems and solutions will be easier and quicker with this ink guide.
How to Change Ink in Epson Printer?
A common question that users usually have is the process of replacing ink in Epson printer. Changing ink can be easy as pie if you know the proper steps. Read our guide on how to change ink and toner cartridges for a step-by-step process. If it is easier for you to install cartridges by watching a video, we got several ones for you. CompAndSave's 'How to change ink in Epson printer' video guide can easily direct you to the process. Now you will be equipped with the proper knowledge on how to replace ink in Epson printer.
How to do Epson Ecotank Ink Refill?
If you are wondering how to fill Epson EcoTank, we got the answers for you. Compared to ink cartridges, it is easier to refill your Epson EcoTank with your ink bottles. We have a video guide to show you the steps in refilling your Epson EcoTank. As for a written guide, you can check our how-to change ink and toner cartridges article for the steps you need. You will be done refilling your ink tank in no time with the help of these guides.
Now armed with knowledge about common Epson printer problems and solutions, you'll be able to optimize your printing process for greater efficiency. However, it's important to note that for more complex or serious printer issues, it's recommended to seek the assistance of a professional. If you have questions or clarifications about our how to troubleshoot Epson printer guide or inquiries about our remanufactured Epson cartridges, you can contact CompAndSave's customer service department. Call our toll-free number: 1-833-465-6888 from Mondays to Fridays from 6am-4pm PT.
Index
Related articles:
Need Help?
Our customer support is available from Mon-Fri, 6am-4pm PT