Help Center - How do I Bypass Epson 4880 Cartridge Ink Warning?
How do I Bypass Epson 4880 Cartridge Ink Warning?
Non-Genuine Cartridge Warning Message:
When you install a new remanufactured Epson cartridge for the first time in an Epson Stylus Pro 4880 printer, a message may appear on the LCD display warning you that the cartridge is non-genuine and might invalidate Epson's warranty. Here is how to bypass the Epson 4880 cartridge warning message.
The printer will first enter a wait state for approximately 45 seconds from the time you lower the ink lever.
The illustrations that follow show the sequence of the messages you will see on the printer display. Because the LCD panel can only display one line at a time, you must scroll through the entire message to reach the Yes/No prompt. Press the down arrow after each portion of the messages to progress.
The order of these messages follow the illustrations from left to right.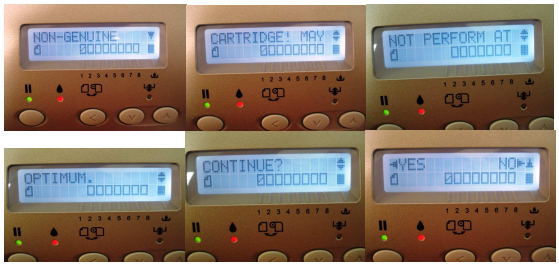 The next portion of messages warns it may void your printer's warranty. Continue scrolling to reach the Accept/Decline prompt.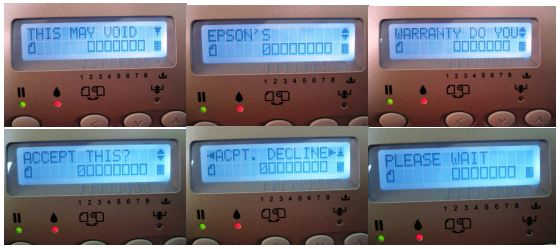 The next message informs you the printer is ready to use.
Low Ink/Replace Cartridge Message: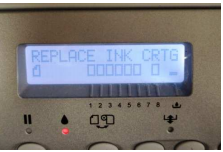 When ink in one or more Epson 4880 cartridges are low but there is still sufficient ink to continue printing, the printer will display an INK LOW warning on the LCD printer display. Although no indication is provided on which cartridge(s) is/are low, you can safely continue printing.
When the cartridge has fully emptied, the printer will stop printing, and it will display this warning on the LCD panel: REPLACE INK CRTG. At this point, briefly raise and lower the ink levers, and the icon corresponding to the empty cartridge will flash on and off (in the illustration above, the icon is shown in the off cycle).
You may also need to reset your Epson ink cartridge if it keeps telling you that your ink cartridge is empty even after you replace it.
---